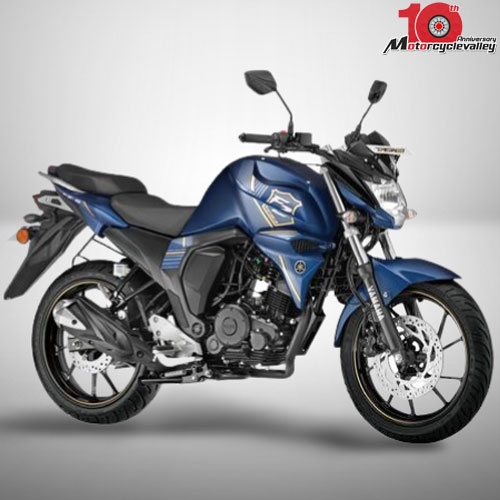 Yamaha is a very popular motorcycle brand and they are bringing a new bike with the flow of time and their popularity is rising day by day. From the perspective of the Bangladeshi market, there are 165cc limits and 165cc bikes are gaining a lot of popularity and companies are offering some of the best features in this CC. Yamaha offered many outstanding bikes which touched the user's heart. Among them, Yamaha FZS included, and not only in Bangladesh this bike also got great popularity in India. Ever since its launch, this 150cc bike is one of the most popular bikes in its segment in Bangladesh. Among the bikes in this segment, it is very beautiful to look at and now Yamaha has launched an updated version of their bike Yamaha FZS which is known as FZS Version 2.0 Fi. Today our team Motorcycle Valley will introduce this Yamaha FZS V2 bike feature review. So let's have a look at which features remain in this bike. 
Take a look at the features of this bike


Armada blue color combination


Latest blue core technology.


FI ( Fuel Injection System )


Double disc breaking.


Split seating position


Full digital meter.


Thick tires on the front and rear.


Yamaha never compromises on the design of their bikes. This bike has a standard design that is matched by all ages of riders. On the other hand, besides design, it has a nice color combination. From the front to the rear, every part of this bike has a perfect design that is able to attract customers very easily.
The dimension It has a 1990mm in length, 770 mm in width, and 1005 mm in height. The seat height of the Yamaha FZS V2 is 790 mm and the wheelbase is 1330 mm. To ensure a long ride, this bike has a capacity of 12 liters of fuel and the total carb weight of the bike is 133 kg. The dimensions of a bike show how good the balance of the bike will be and the Yamaha FZS V2 bike has very nice dimensions that help a rider on the road. 
We know that Yamaha makes the engine of each of their bikes very perfectly. This bike has a 149cc single-cylinder, air-cooled, 4 strokes, 2 valves blue core engine which can produce 13 Bhp @ 8000 rpm max power and 12.8 Nm @ 6000 rpm of torque. For better mileage, it has FI ( Fuel Injection System) which allows getting better mileage by keeping performance good. Meanwhile, Blue Core technology has produced more energy with less fuel. There is only an electric start option to start this latest engine. Many people are thinking why only the electric start option? The answer is that the FI engine is able to start very easily with less battery consumption. The engine transmission system has a 5-speed manual gearbox.
At the comfort, Yamaha is one step ahead all the time. Especially the Yamaha FZS V2 bike particularly provides very good comfort. Looking at the suspension, it is seen that there is a telescopic suspension at the front and a mono-shock suspension at the rear. The combination of these two suspensions is able to provide outstanding comfort on the highway and on different roads. 
The braking system has a double-disc braking system which provides good braking feedback. The size of the front disc plate is 282 mm and the size of the rear disc plate is 220 mm. All in all, this Yamaha FZS V2 bike also gives much better support in terms of braking.
For better balance and control for a rider, this bike comes with high-quality thick tires at the front and rear. The front side has a 100/80-17M/C section and at the rear has a 140/60-R17M/C section tubeless tire. Both tires are good enough for braking time and perfect cornering. Meanwhile, there are alloy wheels in the front and rear that can absorb more pressure.
Meter Console and Instrument Cluster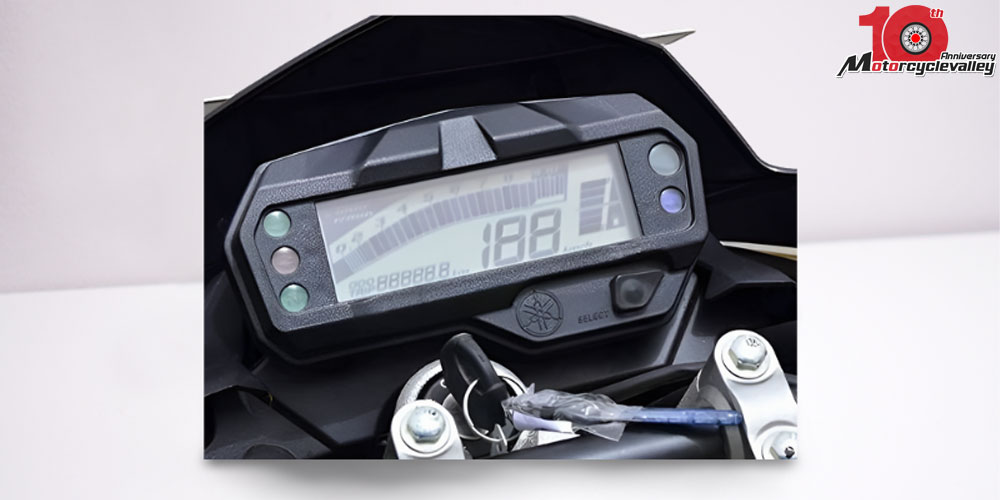 This Yamaha FZS V2 comes with a full digital meter which has all the necessary features of a rider. we can see here the full digital Speedometer, digital fuel gauge, and digital trip meter. You can enjoy the ride by knowing about each of the required features.
Yamaha FZS V2 is available now in all the authorized Yamaha showrooms in Bangladesh. The motorcycle market of Bangladesh is rapidly growing and growing also customer demand. This bike has gained a lot of popularity in the market and has demand in the local market. Hopefully, this bike will get much more demand in the future.