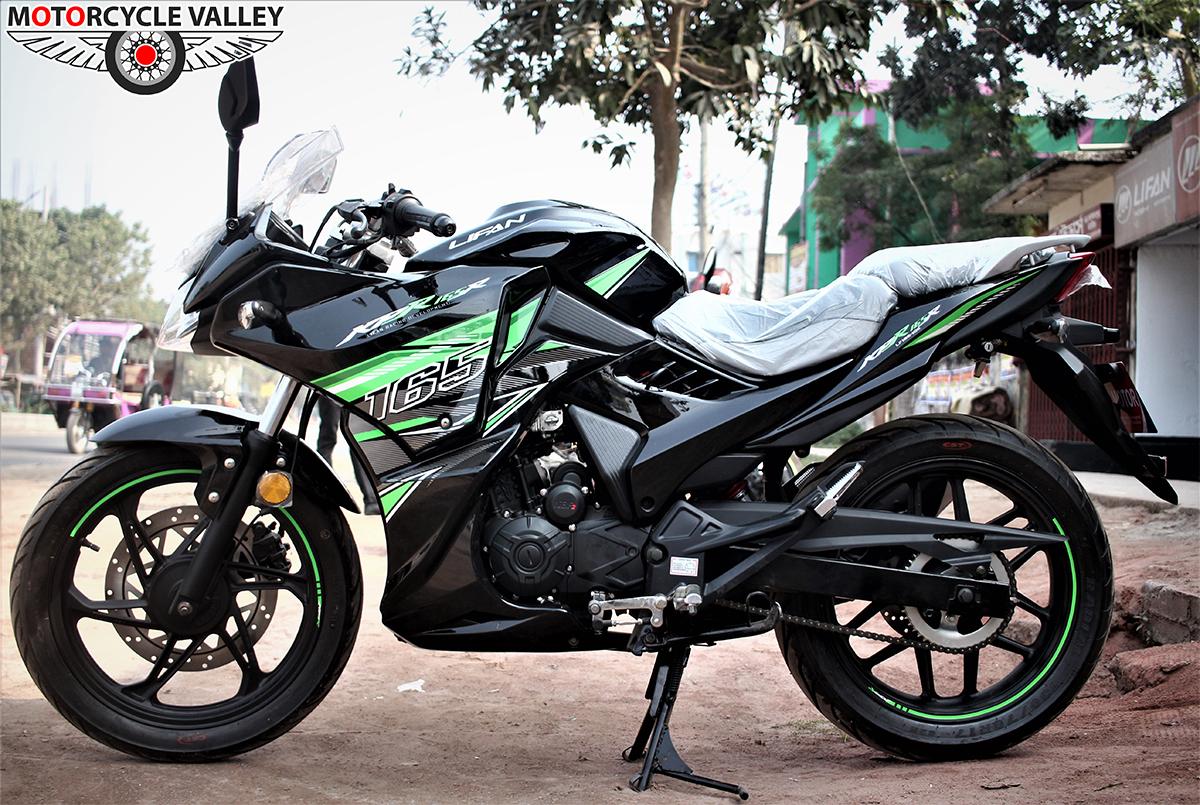 Sports bikes! These are kind of dream bikes in our Bangladesh, because of cc limit or many other issues we the bike lovers cannot buy our desired bike, even if we have money. Therefore, we have to buy which we had in our local market, and if we look down into our local market then one of the most affordable and eye catching sports bike in Bangladesh is Lifan KPR 165R. The bike's sporty outlooks, smooth acceleration and consistent engine (according to the users) makes this bike famous in very short time. It has two variants and they are Carburetor and EFi version, both of these versions are really well performing on roads. Last year through Dhaka bike show the new version of KPR 150, which is 165R was introduced, but due to some reasons it was not available in our local market all the time. Using the same platform this year they started providing the carburetor version of KPR 165R.
While its arrival this bike got some graphical change as well as some engine upgrades, and that makes the bike more powerful and attractive. It is a sports bike which made with affordable price tag and unbelievable performance, results in,so much popular in a very short period. So let us not waste any time and checkout all the necessary specifications this bike has for us.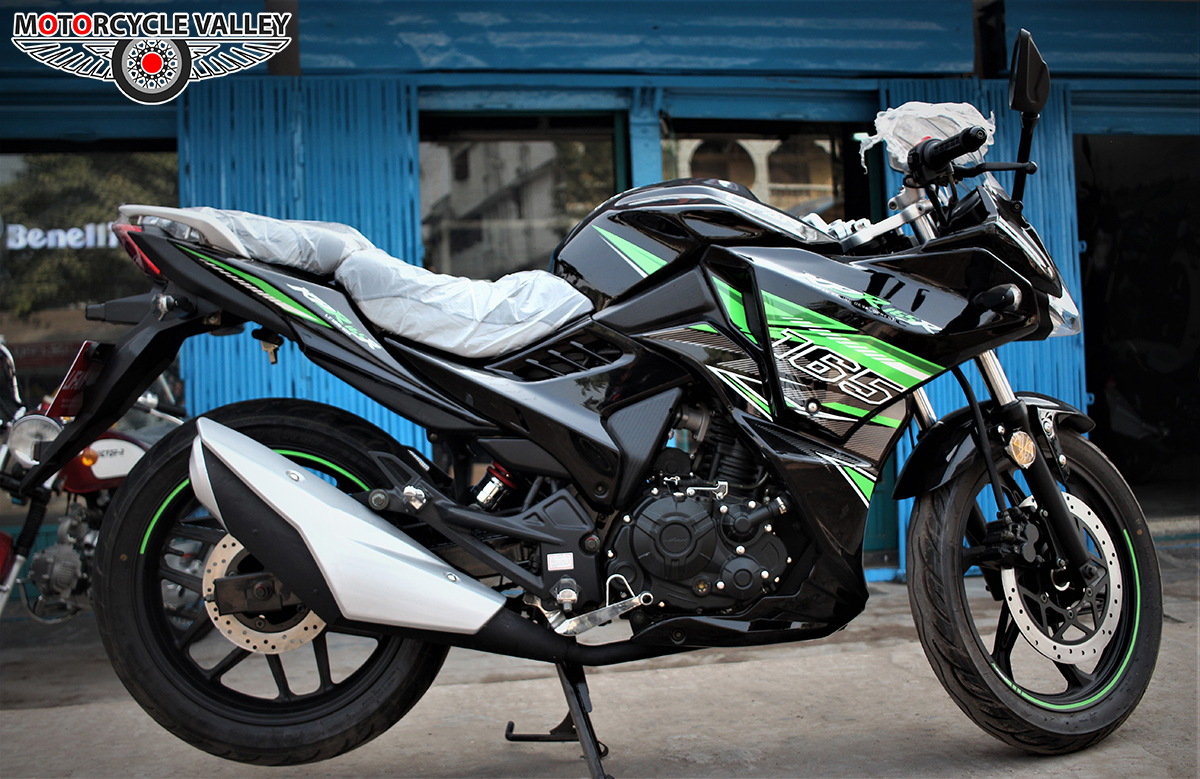 Design & Colors
As it is mentioned, after the announcement this bike was not that much available in our local market but now after its availability Lifan KPR 165R looks absolutely stunning with its upgraded graphics. The bike has a sporty and muscular type body with fully faired body kits make its look much sportier. If we say about a full faring machine, then it is one of the best looking motorcycles due to its full faired body kit. If we look from the front a lovely Projection LED headlight is placed and along with the excellent dynamic look it looks appealing indeed.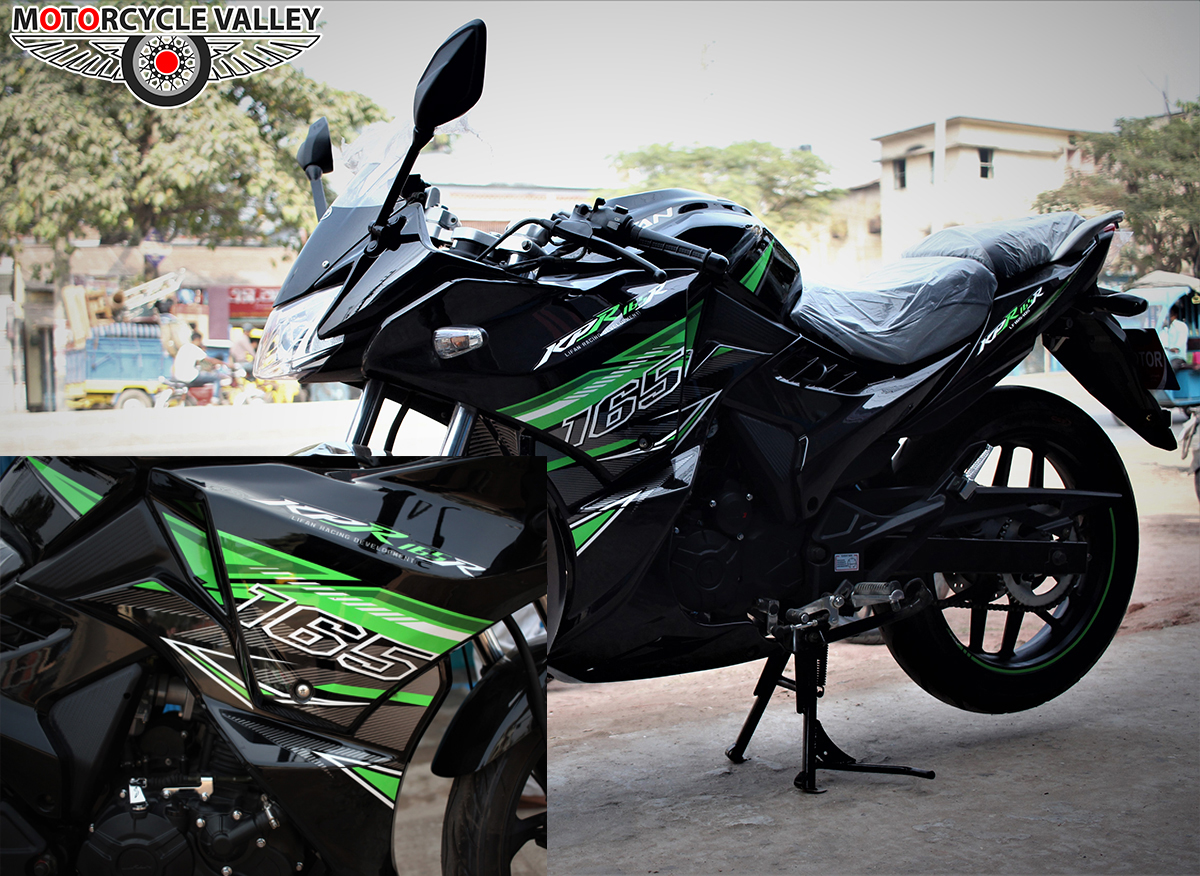 Comparing to the previous version KPR 150, this bike also has split pillion seat, fuel tank, and indicator. On this model they added a new exhaust pipe, which is giving a new look to the bike. Looking back in to the previous models, the color combinations were simple and mostly one colored but now this bike gets the mixture of good colors and those makes the outlook more attractive. KPR 165R is available in 3 eye-catching colors.
Engine & Transmission
Lifan KPR 165R is equipped with165cc liquid-cooled 4 stroke single cylinder, Carburetor type vertical engine. It also has EFi (Electronic Fuel injection) version. This engine give more power and smooth then its previous model, because now it has NBF2 engine support. Now the question is what NBF2 is, it is New Balanced-Shaft Functional engine, let us have a short discussion about it. It is not that the power output will increase because of it, power remains still same as before, but the crankcase being changed, the coolant intake system has been increased, and it also includes a new transmission. Additionally, this system includes oil filter which wasn't present in the previous KPR. Lifan believes adding all these will help to soften the gear change of the motorcycle and the overall engine performance like the acceleration and others will be smoother than before. Furthermore, they installed KEIHIN PZ30 carburetor which they hope will increase the fuel efficiency of this bike.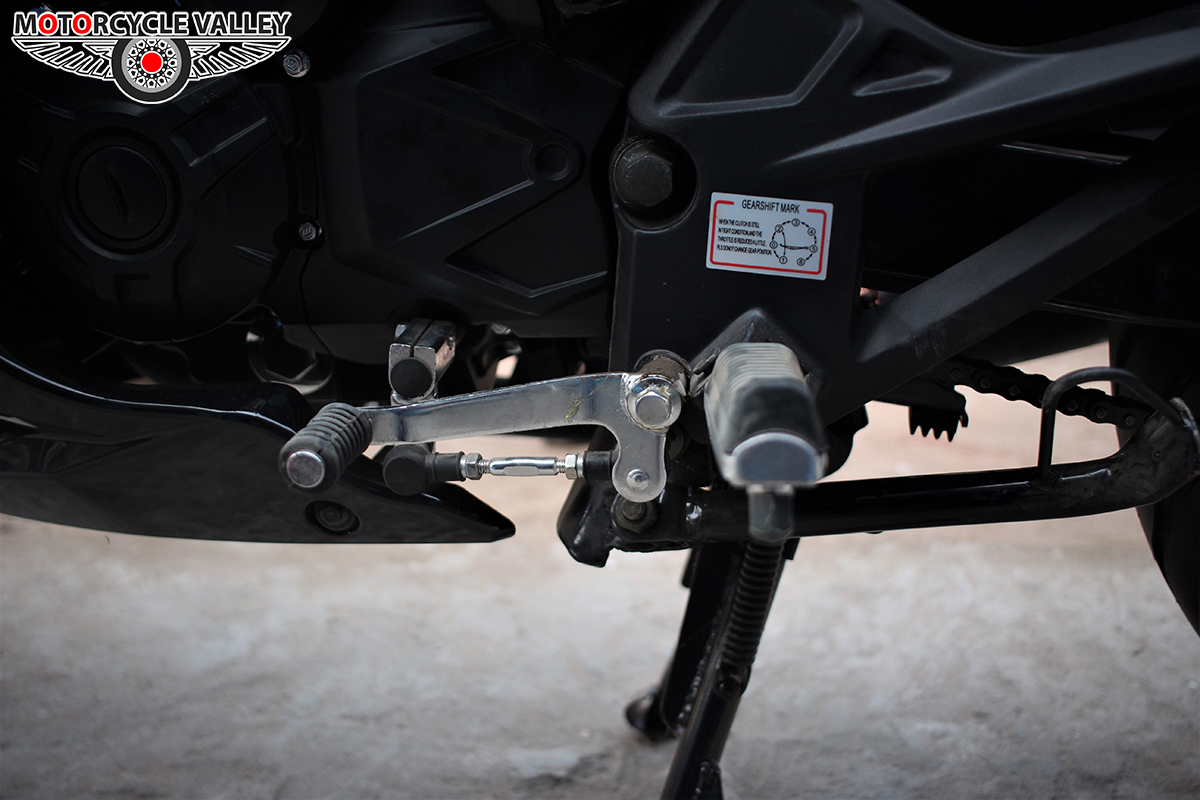 This engine can produce a maximum power of 17Bhp @ 8000rpm and maximum torque is 17 Nm @ 6500 RPM. One of the interesting thing about this bikes engine is mated with 6-speed transmission system.This engines compression ratio is 11.1, and its starting method is only electric. According to the manufacturing company this kind of engine will satisfy the riders with a good riding experience in both short and long journeys, they don't have to worry about the speed, and they also claimed at least 45 KM/L mileage.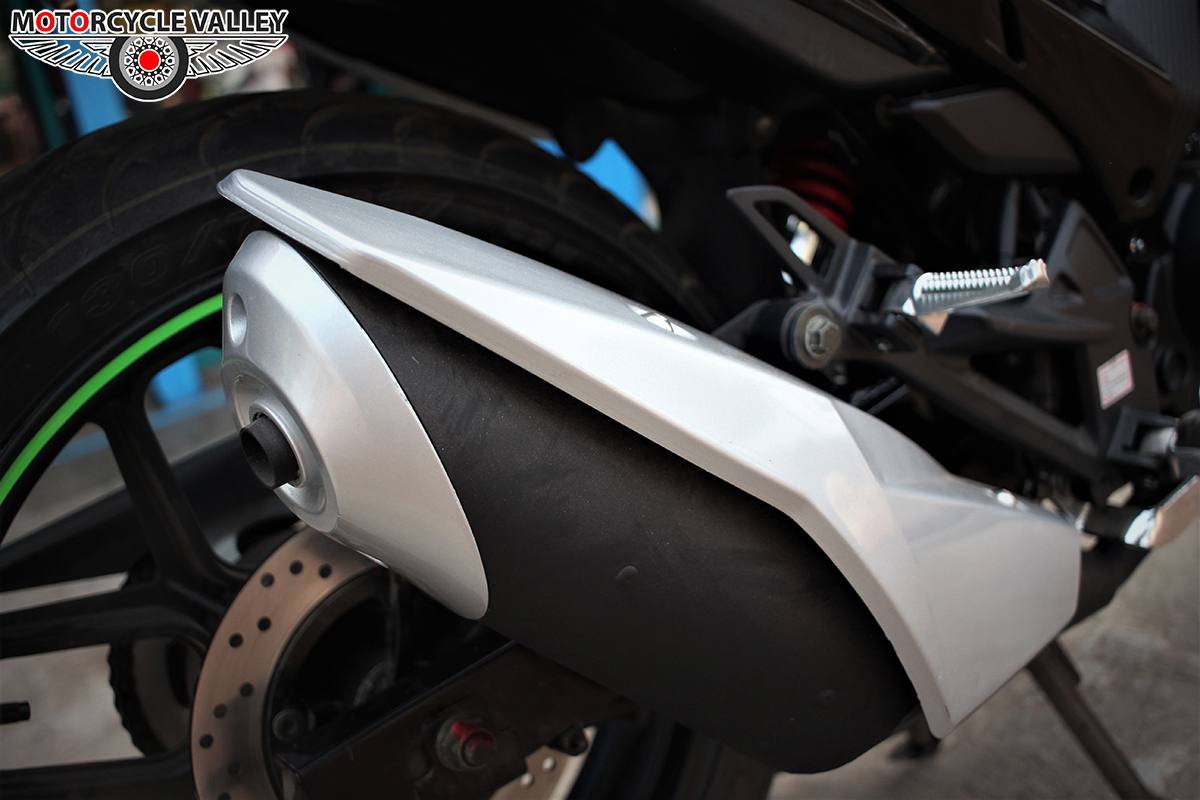 Body
Overall body dimension of KPR 165 is similar to its previous models. Its overall dimension is Length 2050 mm, height 760mm and width 1105mm. Ground clearance of this bike is 180 mm which is pretty much fair enough any road condition. The seat height of this bike is 775 mm and the wheelbase, which is really important to ride with good control is 1330mm. including all these things the Kerb weight of this bike is 152 kg and it has 14 Liters fuel capacity.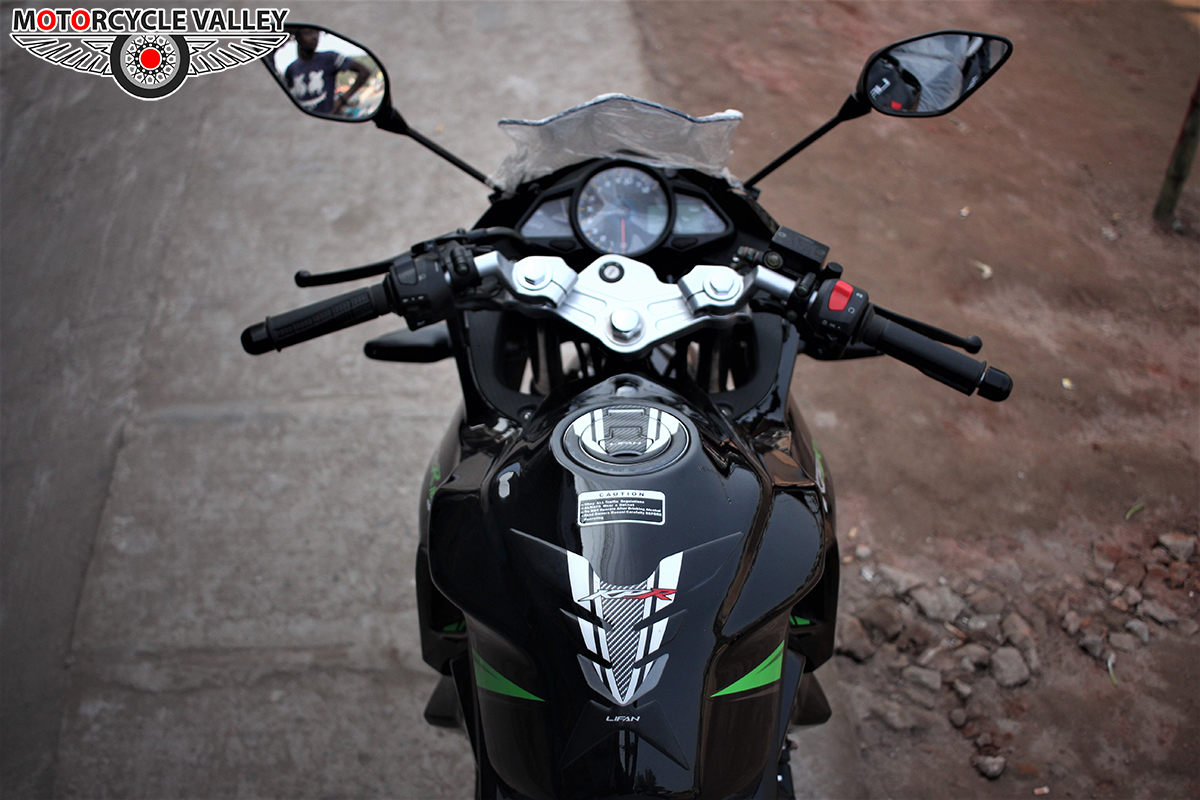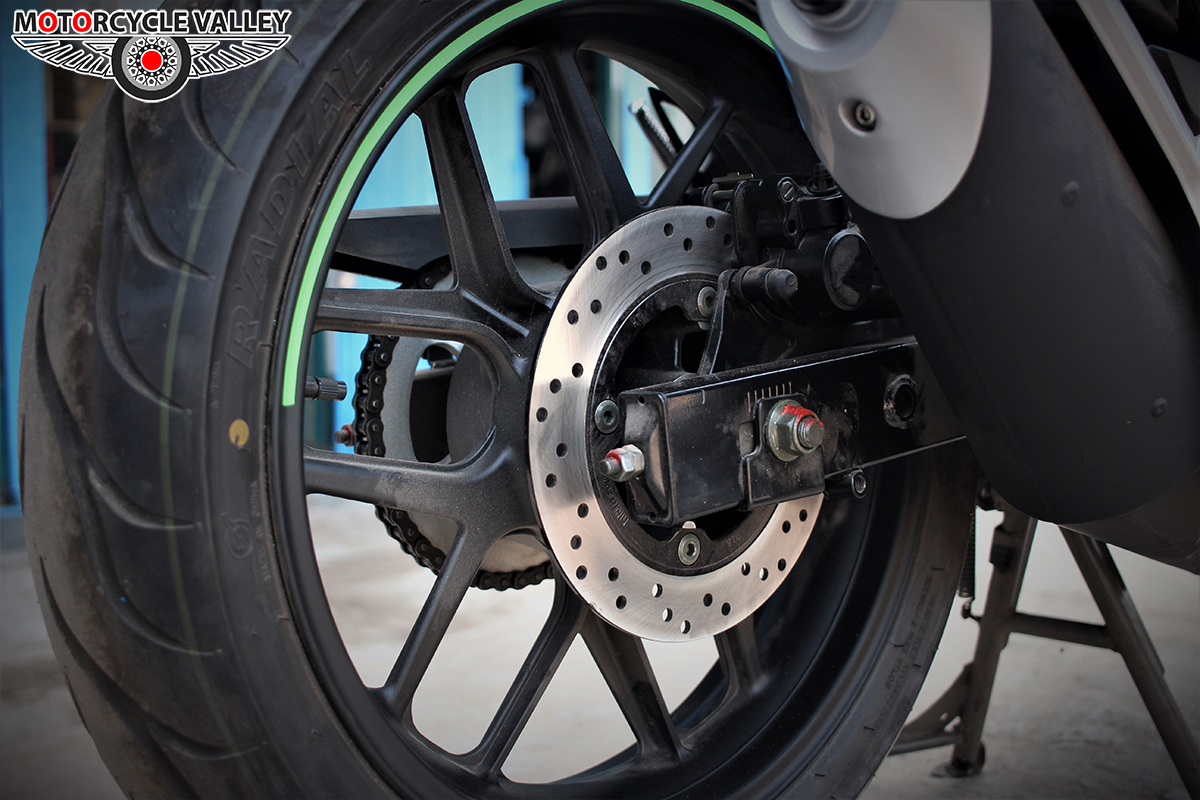 Wheels & Tires
The bike now comes with a new attraction on the tire section as well. The front tire remains the same 90/90-17 tubeless tire but the change has been done on the rear side. From now this bike will be available with 130/80-17 in the rear section which will provide better stability on the road. Both the tires are placed over stunning new alloy wheels.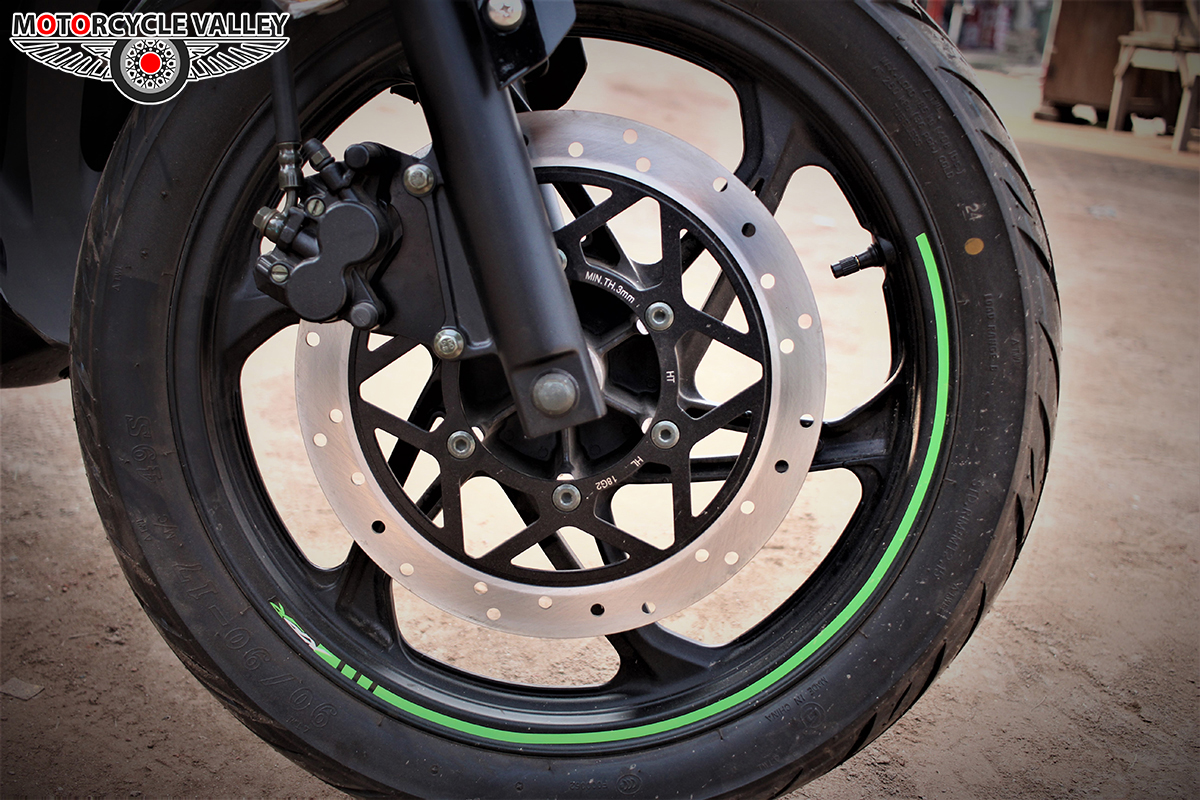 Brakes & suspensions
Looking into the brakes, KPR 165R has 300mm disc brake in front and also has disc brake in the rear. On the other hand, this bike comes in with a telescopic fork in the front and mono-shock suspension in the rear side. For better comfort and control these features are well enough to ensure your pleasing ride.
Electrical& Meter console
Lifan has placed and charming projection lamp for the headlight and alongside that the LED tail lamp is also beautiful to look at. Other lamps like side indicator, pass light all are same as the precious model, which is Bulb type. All these electrical features are maintained and operated with maintenance free 12 V Battery.
The new KPR 165R has the same digital instrumental console with an analogue tachometer as previous model KPR 150. Meter console includes, RMP meter, Odometer, speedometer, clock etc. all the necessary stuffs a rider will need to ride with.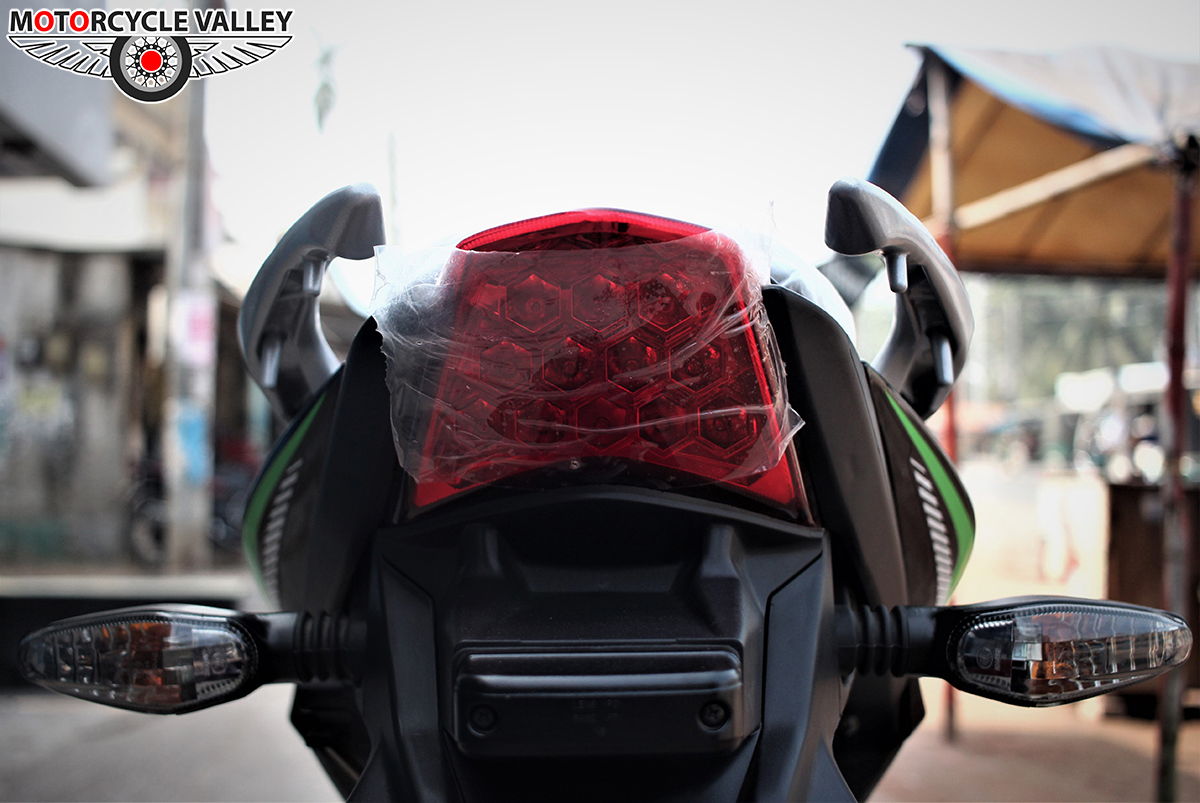 Verdict
Overall, comparing this bike with the previous models like KPR 150 or without NBF2 engine tis bike is really well equipped and attractive. Available competitors based on its price, we can clearly say that this bike really is the most affordable sports bike available in Bangladesh. Some precious changes in graphics, engine, power, and mileage now this bike can be considered as the upgraded beast, and not doubt that the performance is really acceptable already.