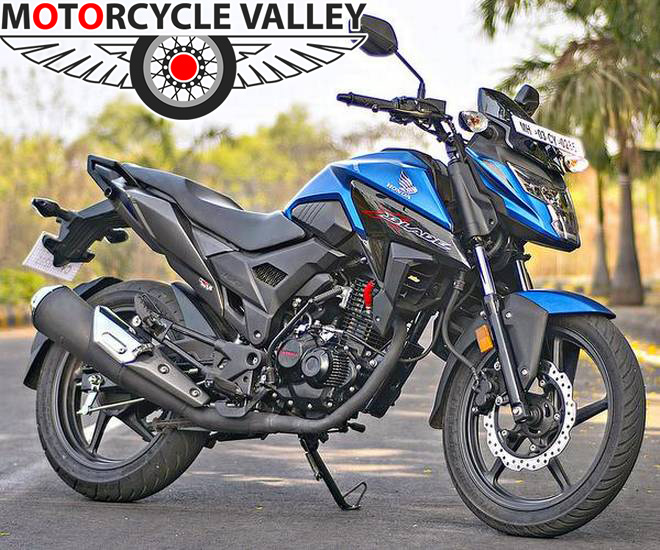 Honda has always maintained their reputation worldwide at the motorcycle market. No one has ever complained about the products of this renowned company and so that they are offering their new products with dignity. More or less they have all segment bikes for their lovers and most of them are available at every country as well. they produces bikes from 80 cc to 1800 cc and no doubt they are popular, talking about all categories of motorcycles Honda has recently introduced a new 160cc segment bike named Honda X blade. This new machine comes with naked sports category outlook and to put more impact it has few specialties as well which is not seen very often at any other bikes of Honda. Countries like ours where the cc limitation is not that much higher here we can have all the fun of sport type X blade type of machine which Honda is offering. The Honda X Blade is another product based on the compact 160cc platform that also similar with the CB Unicorn 160 and the CB Hornet 160R but based on the features and looks it might put an extra ordinary impact among the users. So let us checkout the new things of this newly introduced bike from Honda.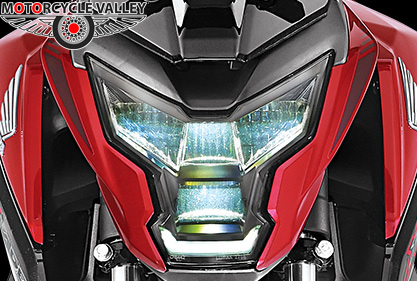 Attractive new features
- First in class robo face LED headlamp
- Street tech digital meter
- Dual outlet muffler
- Razor edged led tail lamp
- Aggressive-sculpted tank design
- Wide rear tyre with hugger fender
- Powerful 160cc engine
- Groovy grab rail
- Hazard switch
- Low maintenance seal chain
Design
Most important an interesting part of this bike is the design and the ingredients which make the design exceptional. This is an impressive 160 bike for sure. Starting with the "Robo-Face" LED headlight to the RAZOR EDGED LED T-shaped tail light it is seen that the X-Blade looks strongly shaped bike and very together despite being such a busy design like the fairing models. For that the rider can leave a mark on the ones following them in the street. Overall design is exceptional, muscular and aggressive shape of the fuel tanker warped with body kits carefully placed to make it look good, the seat is a mildly stepped unit not split, Groovy grab rails which Sharply designed to highlight the rear side, dual outlet muffler which enhances the sporty looks all are the new added things to make the design extraordinary. Not only them five step alloy and excellently deign of the disc plates, wonderful color combination makes the bike gorgeous and eye catching, so the overall things made this bike easy and slick to go with.
Dimension and chassis
This exceptionally constructed motorcycle from Honda is built in a diamond type chassis. And talking about the overall body dimension we can see X blade has 2013 mm length, 786 mm width, and 1115 mm height. Ground clearance of this bike is 160 mm and the wheelbase is 1347 mm. the muscular size fuel tanker holds 12 liters of fuel and including all these the over body weight of this bike is 140KG.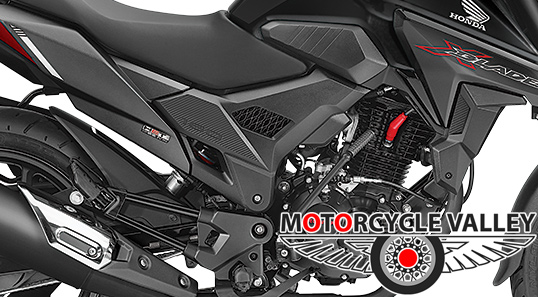 Engine
Mainly the base engine in the X-Blade is the same as it siblings Unicorn 160. Powering the new Honda X-Blade Honda has used 162.71 cc HET single cylinder, air cooled engine which gives out a maximum power of 13.93 BHP @ 8,500 rpm and develops a max torque of 13.9 Nm @ 6,000 rpm. The engine is mated with a 5-speed gearbox and Honda says that the engine has been specifically designed to deliver good low and mid-range performance. Because of the HET (Honda Eco Technology) this bike will offer good mileage and speed as well without hampering the smoothness or longevity of the engine. Compression ratio of this bikes engine is 10:1 and the bore is 57.3mm and 63-093mm stroke. Viscous Paper type air filter is placed at this bike. And to start up the engine this engine has both kick and electric starting options.
Suspensions and brakes
Nothing new at this side from Honda this bike also comes with the same features like the siblings of this bike has. Telescopic type front suspension and Mono shock rear suspension is paced for the smoothness and comfort for the users.
For better controlling and safety maybe CBS or ABS was expected at this new edition but it has the regular braking type which is the combination of Disc and drum, but they are not alike the other bikes they are little bit more effective. 276 mm diameter disc plates are seen at the front side and 130mm rear drum brake is located at X blade.
Tyre and wheels
Both side 5 step alloy wheels and tubeless tyres are placed and for better gripping and cornering wider tyre is seen at the rear side with hugger fender. At the front side 80/100-17 – Tubeless tyre and at the rear side 130/70-17 – Tubeless tyre is seen. So the handling and controlling might be the same as expected after watching the siblings of this bike like Honda Hornet.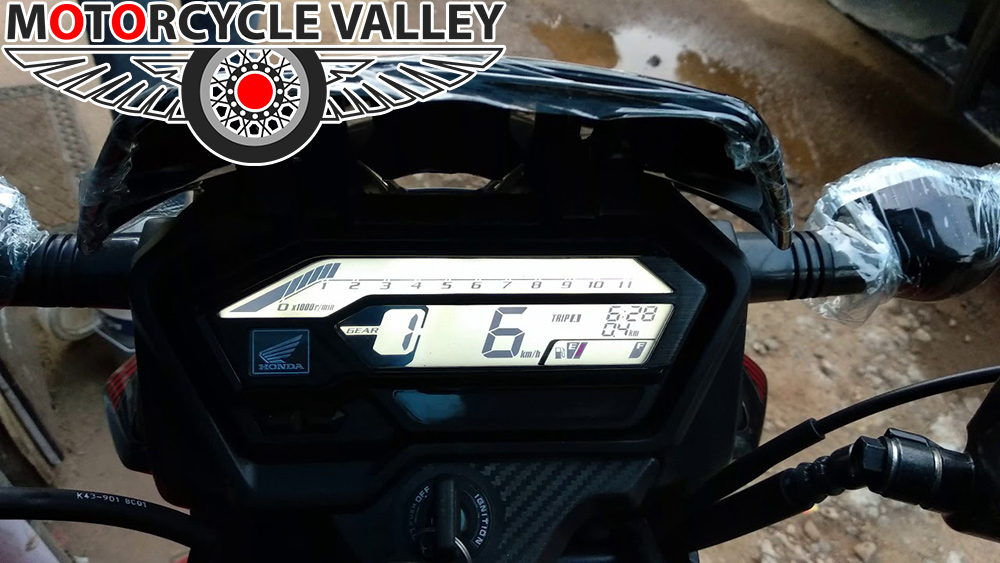 Meter panel and electrical
The X-Blade gets all-digital instruments that look good and that is also called street tech digital meter which can be liked by all at first glance, they are easy to read. Across the top is a RPM meter, there is a gear indicator as well as the speedometer is on the right side, a clock, two trips and an odometer and the fuel gauge is also seen at the x blades meter panel.
Taking about the electrical side we already said this bike has the new first in class Robo face LED headlamp and Razor edged T shaped LED tail lamp as well. On the other side new added important features is Hazard lamp it is a flashing indicator that lights for low visibility conditions when the rider needs. Without that all the necessary electrical features are here and to function them 12V 4Ah (MF) battery is placed for X blade.
Verdict
On the whole it is now clear that Honda all their effort to give this bike the best they can offer. So now it is up the performance level which will decide this bikes reputation which Honda never wants to be bad at all. Let's hope for the best.