Runner! One of the trusted names in the Bangladeshi motorcycle market. They are the very own Bangladeshi manufacturer. They have a perfect combination of the bike price with the quality. Because of their dedication, within a concise time, they earned the trust of our country biker. The Very first alphabet of Runner is "R" and R for "Respect customers' feelings" that is why they always try to give the best to their customers and talking about the best, Runner just introduced one of the best bike in town "RUNNER BOLT 165R". This bike is stylish, contains a powerful 165cc engine, and most importantly one of the unique body design that runner ever introduced. At this cc segment runner didn't have any of their product, but now they have, and it seems like they really respect customers. This solid sporty bike comes with all the modern features that a rider could expect and what they didn't expect that is also here. So let us not waste any time and go straight to the features of this mesmerizing newcomer of RUNNER.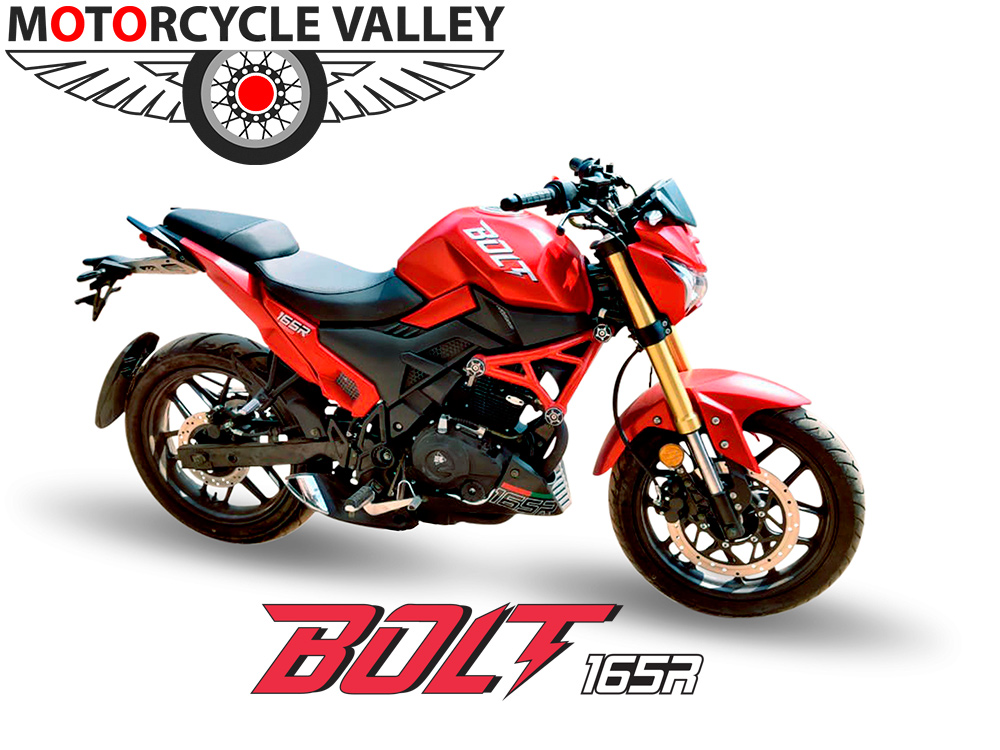 Striking Key Features:
- Ducati style frame
- Most aggressive retail pricing
- Attractive & modern design
- Upside down front suspension
- Large front disc brake
- Under body muffler
- Tubeless tire
- Dual disc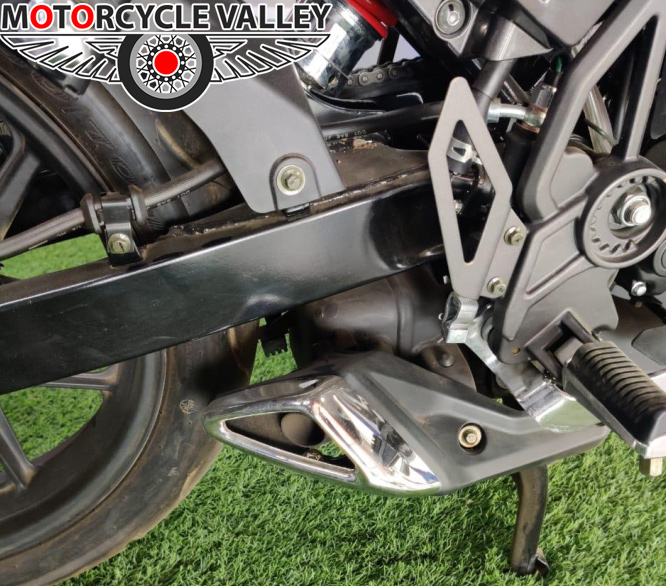 Design and style:
Ducati style body frame has been chosen for this new bike design, it gives the whole bike a dense and sporty look. Besides, both side Thunder LED Lights with uncommon design give this bike a new charm and a robotic look from the front. Single color with black shades in common excels the charm and the style becomes cooler. The under-body muffler system not only gives better sound and fuel efficiency but also provides extra charm for the outlook. It give the fell of real sporty bikes. Moreover, the larger front disc plates, sporty handlebar, split seats, attractive and well-positioned tire hugger and stylish engine guard fulfills the real sporty charm altogether.
Body measurements:
For Runner Bolt 165R not only unique design but also outstanding dimension is set. Bolt 165R has overall 2000mm length, 730mm width and 1080mm height. For the riding seat height the measurement is set 775mm and the wheelbase measurement is 1350mm. With all these measurements, other kits and stuff this bike weighs 150KG kerb weight. 12 L fuel tanker is also included with the entire body weight.
Engine transmission:
A machine is known by its running capacity, therefore, the engine should be pleasing. Runner has tried to give their best for this 165 cc Bolt R. this bike is mated with 164.74cc Single cylinder 4 stroke air cooled engine, which produces 13.2Bhp @ 7500rpm maximum power and 14Nm@7500rpm maximum torque. Based on that Runner is claiming this bike will surely exit the max speed of 110 KM/H. the compression ratio is set for 9.3:1 and this has both kick and electric firing power to start up. For smooth transmission and better performance, 5 speed gear box is located on Runner Bolt 165R. Besides, Runner is claiming, this engine is able to provide consistent performance, quick and hassle free choke operation, and better torque and power management.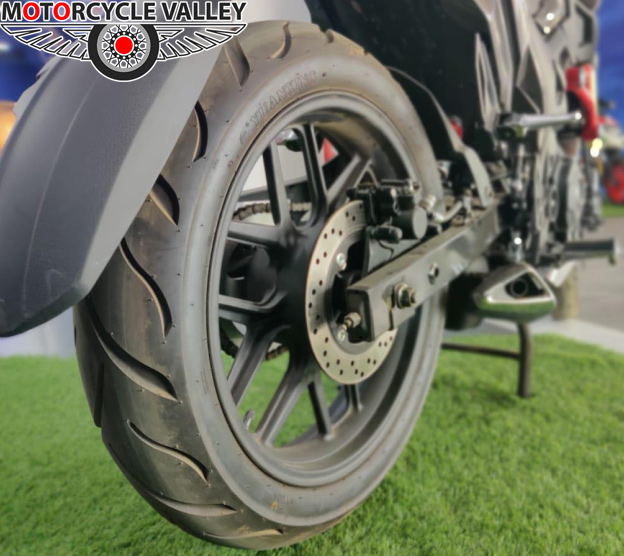 Tire and brakes:
As we have seen, at the attractive features this bike has a larger size disc at the front and regular disc brakes at the rear side. The reason behind placing a larger size Disc is, more controlled braking, an extra bit of stopping space and more torque spreading to the wheel. Another side, the rear Disc will also ensure the controlling perfect stopping.
Runner uses both side tubeless tires for Runner Bolt 165R, these tires are capable of running at lower pressure, make the body weight lighter while riding, and offers stability and comfort, more durable and it has excellent gripping and traction for better acceleration. What more we need from this bike. Tire measurements are 100/80-17 front & 130/70-17 rear tire. They are wider and placed over 17 inches aluminum steel wheels, so hop on and ride free.
Suspensions:
Suspensions are the most important thing that gives us stability, perfect cornering experience, distributes the bike weight for comfortable riding and most importantly save our bike from unexpected bums. Bearing all these in mind runner placed upside down (USD) suspension in front, which is one of the best in all available suspensions. It takes care of proper weight distribution, gives stability while hard braking, chasing with extreme odd bumps and cornering. Runner is not done yet, to make this bike more stable and comfortable they placed the trendy and fashionable Mono Shock absorber at rear side. This type of absorbers offers, safety, trendiness, easy adjust and better cornering, on top of all great comfort.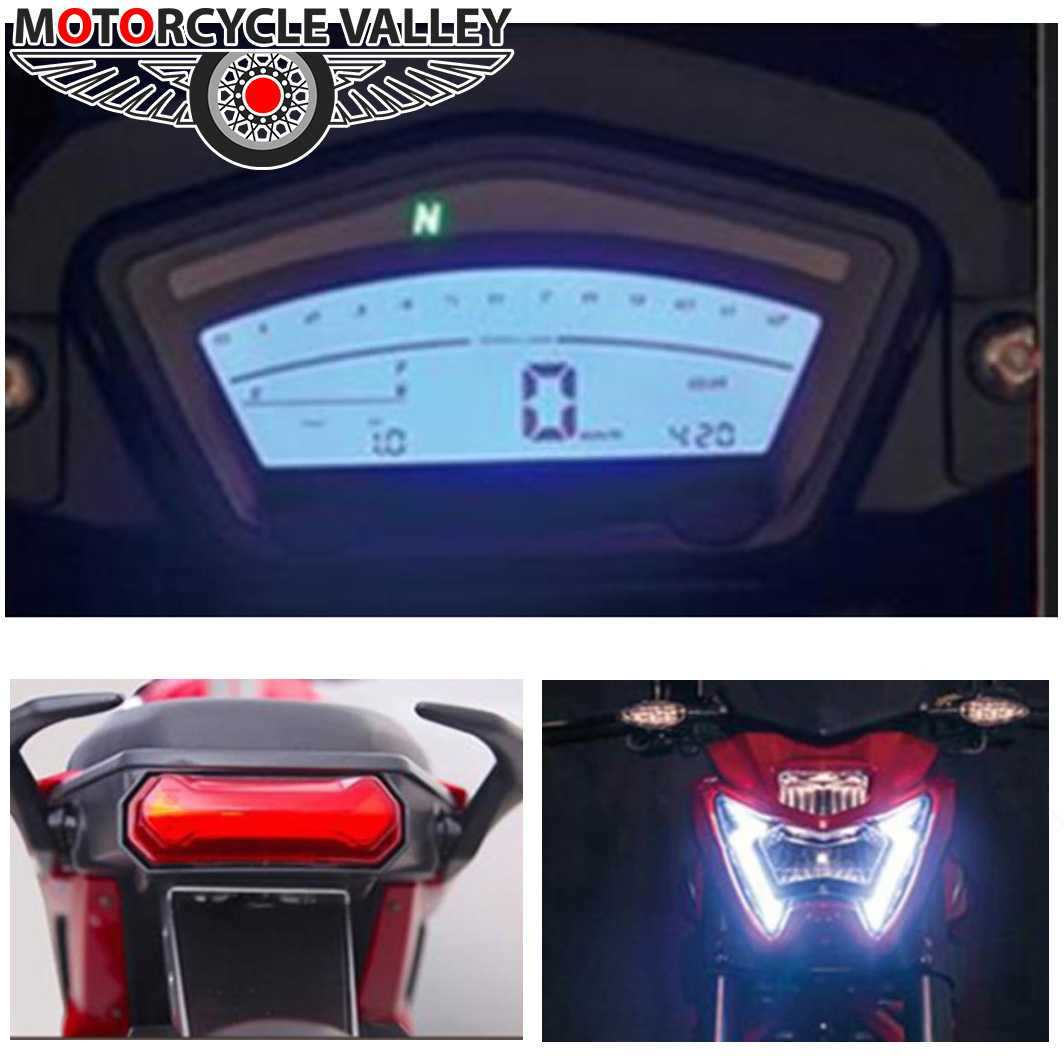 Meter cluster and electrical:
Fully digital meter console is marked on Runner Bolt 165R. Most importantly it is well equipped. It is dual-colored display and provides better looks, not only that it comes with, Digital RPM indicator, Clock, Gear Indicator, a speedometer that delivers accurate exhibition of speed and last but not the least it consumes less battery power.
For the electrical operation, 12V maintenance-free battery is placed that operates, LED front light and rear, electric start, and all the other stuff that is related to battery power.
Verdict:
To wrap it up, watching all these features in details we can say, Runner Bolt 165R is a classy piece in 165cc segment. As far as we all know Runner the price margin will also be in our reach. Therefore, expectations are high, features are lighting, now it's up to the performance.