2016-11-21 Views: 5735
Yamaha R15 V2 ownership review by Mizanur Rahman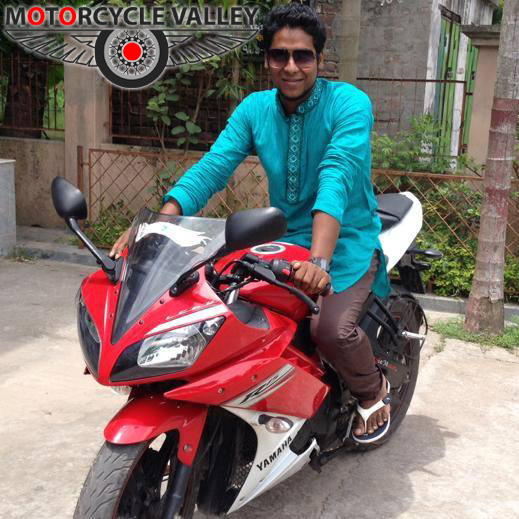 Better communication is now became essential part of our day today life. For better communication we always need a better vehicle or good transportation system. As we all know countries like Bangladesh where road jam is always a big issue we cannot have better vehicle than a motorcycle. Though it is my personal consideration and I always stick to this thinking because I am very much passionate about bikes from my young age.
Hello viewers my name is Mizanur Rahman, by the profession and my passion I am a cricketer. By the grace of Allah and my hard work, I have been playing our top national leagues such as BPL, premier league etc for last few years. I used to ride my way to my practice grounds with my lovely motorcycle. As I said I am a motorcycle lover from early on my youth so I always wanted to learn motorcycle riding very early. At the year 2003 I learned to ride motorcycles and started riding with different motorcycles. Since then I have also owned different motorbike such as Yamaha RX, Hero Honda CBZ, Yamaha R15. At present I am using Yamaha R15 V2 and my riding experience with it is really remarkable. I am riding this bike for two years and today I want to share few of those outstanding experiences along with some of its performance for the other users.
Reason to buy this bike:
Yamaha bike are always lovable to all and I personally uses Yamaha bike so there is nothing to know more above all. Before I purchased R15 V2 I was using the first version of R15. I was pretty much happy because on that time it was the latest among all. One of my friends name Lorel have this bike and one day I made a wish to ride this stylish motorcycle from him. After I ridden this bike my feelings were superb about this bike. When I first saw this bike at the first glance I loved the outlooks but after riding I fall in love with its controlling and comfortness. Nothing to complain everything is perfect. So I made my mind and few days later I changed my bike. I am glad that my judgment was acceptable and I am enjoining my ride for two years without any facing any kind of difficulty.
Controlling and comfort:
These two things attracted me the most about this bike. Whenever I got time I travel with my bike and my motorcycle has pass through 11000 Kilometers. In this 11000 kilometers I never feel bad with my bike that much. In my personal opinion this bike contains the finest controlling and because of this reason its comfortness is also outstanding. This bike contains high quality suspension which can provide you smother journey at any kind of roads and because of the terrific braking and arrow dynamic design of this bike it can be controlled at different situation. Its overall structure is made perfectly for city traveling and also long journeys. Controlling of this bike at slippery roads is also better because this bike contains very good tyres. So I will say I just love all these at the riding period.
Good sides:
- Superior speed.
- Great exhilaration, 0-60 at 3-4 seconds.
- Much better controlling than the other 150cc bikes.
- Stylish outlooks with good color combination.
- High feature suspension.
Bad sides:
- cannot ride this bike with pillions.
- Less mileage.
Long drive experience:
Generally I use my bike for city traveling but as a long journey experience I have travelled 150 kilometer in a day. My journey destination was from my own city to our neighbor city Chapai. Because this bike contains a good seating position for the rider my journey was very comfortable. But the back seat is not made for long journeys. Rider pillion cannot be comfortable at the long distances. Overall performances of the engine, mileage, speed and controlling was very enjoyable at that journey.
Speed and mileage:
Yamaha R15 V2 is made with sports category and for this reason it is very important to provide good speed for its own reputation. I think I am very much satisfied with the speed. I have got 125KM/H top speed with my bike by my own and I think if a better rider then me gets a chance he will increase more. At the mileage it is little bit of disappointment for me because my bikes mileage has decreased badly in two years. At the begging I have got 42 KM/L mileage which has now became 27 KM/L. It cannot be acceptable to all but I have no problem with it because I am pleased with the top speed. Till now my bike is able to cross 120 KM/H speed any time.
Few changes:
Almost every parts of my motorcycle are giving me better performance and for this reason I didn't need to change any bigger parts in these two years. I have changed few small things such as brake shoes, air filter; seat covers etc and these are obvious for any kind of bike. one big change I have made intentionally which is the headlight. I have placed Halogen headlights as an alternative of my previous one for better riding at night. Electrical side of my motorbike is still intact nothing needs to be changed or replaced. So I have no complains at the electrical and with the other spare parts of my bike.
These are my observation and experiences with my bike. Every machine will generate troubles if the maintenance is not perfect, so it is also an important a matter which every rider should be concern about for better performance. If anyone asks my opinion about this bike I would say if you have enough funds to buy this bike then you should go for it undoubtedly. It is a complete package of speed, style, comfort and durability. In my overall view I will give my bike 10 on 10.