2016-06-06 Views: 2839
Owned for 1year+ [] Ridden for 10000km+
User Ratings about this bike

Design

Comfort & Control

Fuel Efficient

Service Experience

Value for money
TVS Apache RTR 150 ownership review by Washim Sarwer Rahi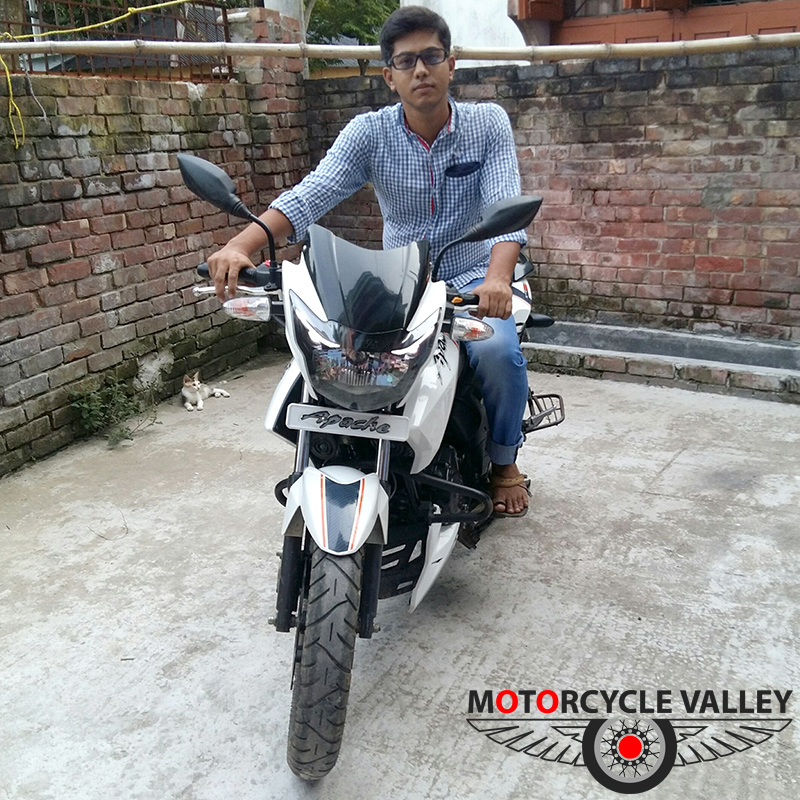 Two wheelers are now very popular vehicle across the world. In Bangladesh its popularity are also very pleasant. Because of this reason I also become passionate about this vehicle. Like the other riders I was not very much attracted to bikes. Few years have passed I am riding a motorcycle named Apache RTR. This motorcycle belongs to Indian motorcycle manufacturer TVS Company. In my opinion am very glad to have this kind of motorcycle for my personal use. There was no special cause to buy this motorcycle from TVS but few people suggested me then after few days I saw this bike and purchased it. No wonder it can be said that I am very happy to have it. From bellow the lines I will share some of my experience about this bike such as caring performance etc. I hope this conversation will be helpful to other riders who want to buy or using this bike.
Why I buy this model?
As I said before I don't have any intension to buy this model but after I saw the speciation and the looks paid some attention and became determined to purchase this bike. This bike is very stylish and according to the price features are really awesome. One of the main reason was this bike is fuel efficient thus it is a sports category bike.
Purchasing experience was also very well of mine. I had purchased this bike very easily from Mridha motors which is placed at Taherpur. I like the way they behaved with customers along with me. They provide their products at installment. I purchased my bike by paying 1lack 20 thousands and within two months I paid the rest.
Riding experience:
If I want to describe the riding experience of mine I have to say it is very pleasant. I have enjoyed a lot with my bike. My travelling experience with this bike is very pleasant because my travelling coasts are not so expensive like the other bikes. I have travelled few long journeys and all of them were very good I mean to say I didn't face any kind of difficulties. I travelled 136 KM in one day. And at the city roads this bike is one of the best for use. At long journeys this bike can provide comfortable journey but sometimes this bike vibrates much at the top speed but other things are great with their performance. I have
Mileage and speed:
One of the most pleasant two things about my bike which makes me very satisfied is these two things. From the very beginning my bike is able to provide good mileage and top speed. If I talk about the mileage I have got near about 45 to 50 KM/L mileage from my bike which is one of the best mileages at the 150cc category. At the speed this bike is also great. I have personally experienced the speed of 102 KM/H speed but other riders claim that this bike can cross the speed of 130 KM/H easily.
Controlling experience:
I like the controlling system of my bike because other motorcycle sometimes skid during braking or sometime slips but my bike stop perfectly when I hit the brakes in need. This motorcycle contains very good dimension and because of this it's controlling at the roads are perfect. User will enjoy the riding with great comfort as like me without any doubt.
The way I take care of my bike:
I take great care of my bike because I just love it. I wash my bike with eater and others instruments at least twice in a month and regular cleaning is a daily part. After running 1000 KM I always change the engine oil for the better performance of my bike.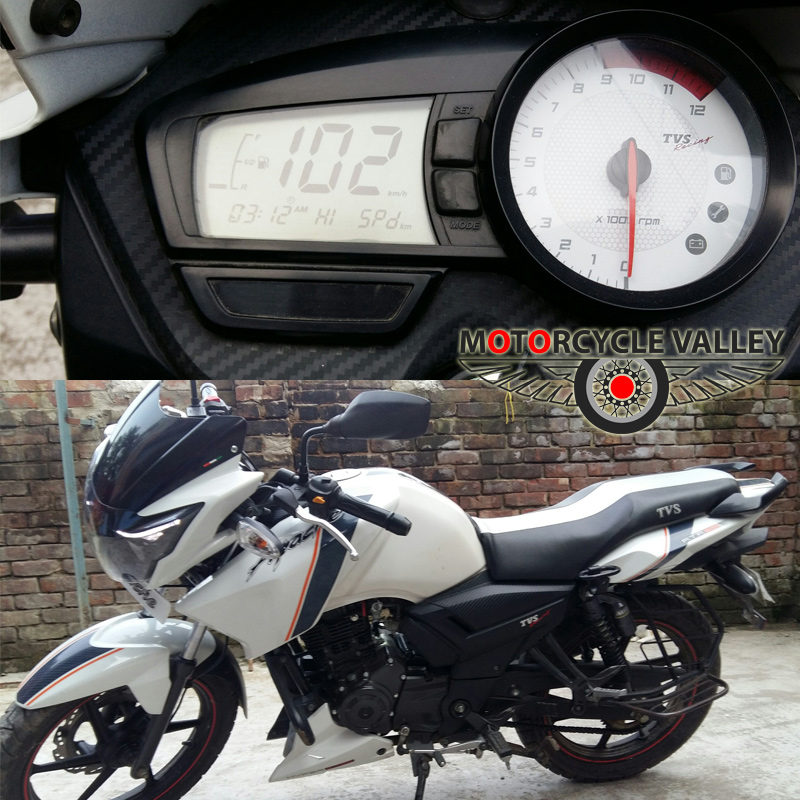 These things I like most about my bike:
1. Controlling is good doesn't vibrates during braking.
2. Tyres are excellent.  
3. Headlight of this bike is so powerful.
4. Throttle works very fine.
5. 0-60 at 5/6 seconds.
6. Engine sound is really sweet.
7. Two years have passed I didn't serviced the engine and without any problem it is running.
These things I doesn't like about my bike:
1.  Bike parts are very costly.
2. Engine heated up really early.
3. Chain gets loosed very early.
4. No chain cover.
I am using this bike for couple of years I very much satisfied with it. This bike is really durable and good for use but it cannot be used for long times.