2016-07-23 Views: 3321
Owned for 1year+ [] Ridden for 10000km+
Apache RTR 150 motorcycle ownership review by Shumon Chowdhury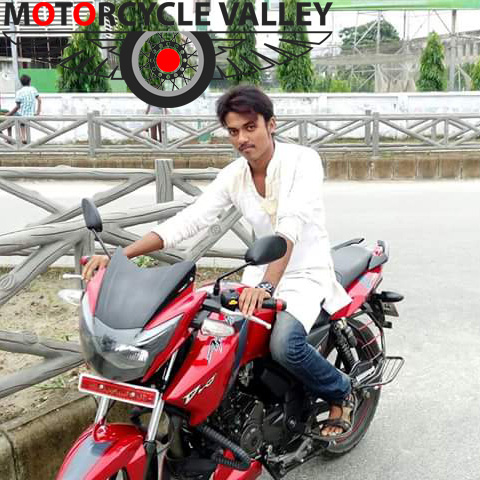 I am shumon Chowdhury and I live in Rajshahi. Motorcycle is a vehicle which attracted me always but for many reasons I can't buy a motorcycle, one of the best reasons was my age. I think in our country roads motorcycles are perfect as a vehicle. From the childhood I love motorcycle because there were two motorcycles in my house. I have learned riding motorcycle at age of fourteen from my elder brother, since then I have used my father's motorbike. Last year I have passed my higher secondary exams and after the result I asked my father for a motorcycle. I was very shocked because my father agreed and wanted to give me money. After my father's approval I started to search for a motorcycle which will fit my budget and my personality. Few days later I made my decision to buy Apache RTR. Almost one year is running and I am very happy to have this bike but I have faced few problems also. From bellow the lines I want to share the performance of my bike for other motorcycle riders.
Reason to buy Apache
When my father gave me permission to have a motorcycle I come to a decision to have a 150cc motorcycle. It wasn't preplanned to buy Apache RTR because I was thinking about pulsar 150. But few of my brothers and friends recommended me about this bike. I saw this bike at the city roads but I never had any attention about the features. After people suggested me I observe the features carefully and they were very charming according to the budget. So I made my mind and bought this bike last year at October.
Controlling of my bike
At this side I am not totally satisfied because Apache RTR is known for its speed and when I ride my motorcycle at good speed like 80 KM/H plus this bike vibrates so much. Because of this reason sometimes controlling this bike is very bothering. Without that there is no problem with the controlling, at average speed this bike provides good controlling and for this reason riders feel very comfortable. I have asked few RTR riders about this problem few of them faced this problem but not all of them. This bike contains good dimension and for this reason controlling this bike at the crowded areas are very easy in my opinion.
Long drive experience
At the long journeys this bike can provide speed, mileage, and comfortness all three. I have made two long journeys and the only problem I face is the vibration at good speed. Better riders then I won't feel this as a problem but I can't control this bike at this type of situation for long. Engine heated up very early and started to vibrate. At that time this bike needs some rest. But I would say that is not a bigger problem this might occur. I have ridden 259 KM in one day with my bike. Overall I am satisfied.
Riding experience
I am satisfied at this side. Riding experience of mine is very enjoyable at the city roads. This bike can provide comfortness and for this reason riding with this bike is very pleasurable. Because this bike generates good speed in sort time I am pleased with the riding experience. One of the best parts of riding this bike is this bike doesn't skid at the braking time.
Speed and mileage
With the speed and mileage I am very confident no Apache user has any complain about this side. I have crossed 120 KM/H speed with my bike twice. With one rider pillion I have exit 100 KM/H. I think if the bike won't vibrate much this speed can be increased. At the mileage I am getting 45 KM/L mileage from the begging and at this moment it is very much same. There are no complains at this side of my bike.
Good things
- Extra mileage as a sports category motorcycle.
- Attractive outlooks.
- Durable and long lasting
- Outstanding speed.
- Reasonable body parts.
- 0-60 in 7/8 seconds.
 Bad things
- Engine hated up early.
- Vibrates at good speed.
- No Chain cover.
At the upper lines I have shared my own watching with my motorcycle, according to other riders and same models this observation and the performance can be changed. Over all I can say this bike can satisfy with its features and performance. I think this bike will last long if the user takes good take care of it.