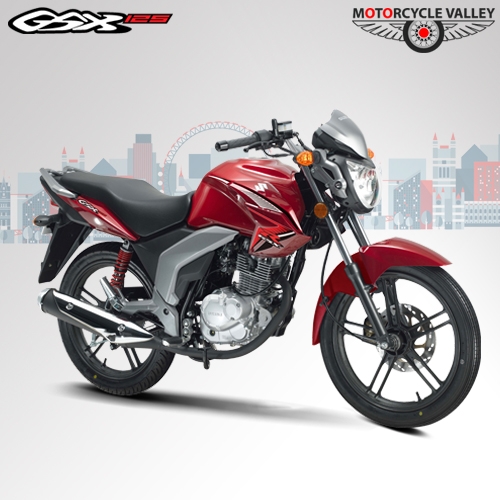 If we mention the popular bike brand surrounding the world we have to bring in Suzuki. They are one of the leading motorcycle manufacturer from Japan. No doubt, they introduced classy bikes over the year and they are still doing. They are mostly known for sports category bikes, like Suzuki GSX series. But countries like Bangladesh requires commuter segment bikes as well. So, they are offering a few commuter segment bikes and one of the latest new product at commuter segment is Suzuki GSX 125. Though Suzuki GSX 125 is a standard commuter segment bike from Suzuki, but as it carries the name of popular GSX series people's expectations were more that Suzuki has given. This bike is carrying the tagline of legendary GSX-R series but it has nothing similar, in fact the core features didn't have any match. After its arrival most of us become disappointed though, but as commuter this bike is good to go with. With pleasing engine placement this bike comes with lucrative design as a commuter. Up to date modern features and exciting colors makes this bike complete as a commuter and it is ready to roll. Suzuki has tried to provide every necessary features that a rider will require from a 125cc commuter. From bellow the lines we will highlight those features for knowing this bike as much as we can.
Design & outlook:
To start off, we will highlight the design and looks first, which we give priority the most sometimes. For this model Suzuki tried to keep the bikes design simple but decent, nothing extra-ordinary has been offered for this bike. But, comparing to other 125cc bikes available in Bangladesh this bike will be raked on to in the term of design. It has a small front extension kit, which amplifiedthe look a bit. Apart from the kit, this bike doesn't have that much stickers with it and for that it becomes decent looking.Stylish headlight unit with a the dashboard, muscular fuel tanker, nicely designed alloys, little bit of chroming use and flat seating surface gives this cool look as a 125cc commuter.
Engine and transmission:
As a 125cc commuter Suzuki GSX 125 come with good engine features with maximum performance. This commuter bike is fitted out with anAir-Cooled, 4-stroke, 1-Cylinder, two-valve, 125cc engine that can produce 7.8ps maximum power at 9000rpmand 9.2 Nm of torque at 7000rpm. A 5-speed constant mesh gearbox and wet multi-plate clutch are used for smooth transmission. This bike would provide the average mileage close to 50 km/l and the top speed would 110 km/h. According to Suzuki this bike will reach approximate speed of 110 KM/H and the mileage will be around 55-60 KM/ L. to firing up the engine this bike comes with both electric and kick starting options.
Dimensions:
For the comfortable city and highway ride Suzuki has given this bike a flat and single satire seat, besides up-right handlebar. Looking at this features this bike would be a nice choice for the city ride because of the ergonomic seating position, and low turning radius. Dimension also has good impression, because all the measures looks standard. The overall length of this bike is 1990 mm, width 755 mm, height 1075 mm. The seat height is 750 mm, but its ground clearance is around 167 mm, which is little bit lower. The kerb weight of this bike is 126 kg and can contain of 14.2 liters of fuel.
Brakes and Suspension:
Following the trend and the brand value, we must expect ABS, or CBS, but this is a commuter bike category product. There is no ABS/CBS braking system on this bike, and it is available with a single-disc version only. At the front side a disc plate is located with a Nissin caliper, which is able to provide excellent performance. On the other side the rear brake are equipped with a drum brakes.
For the suspension this bike has Telescopic, Coil Spring, Oil Damped suspension is in the front wheel and a Hydraulic Spring Damping dual-shock suspension at the rear side. With these suspensions GSX 125 will surely provide better performance.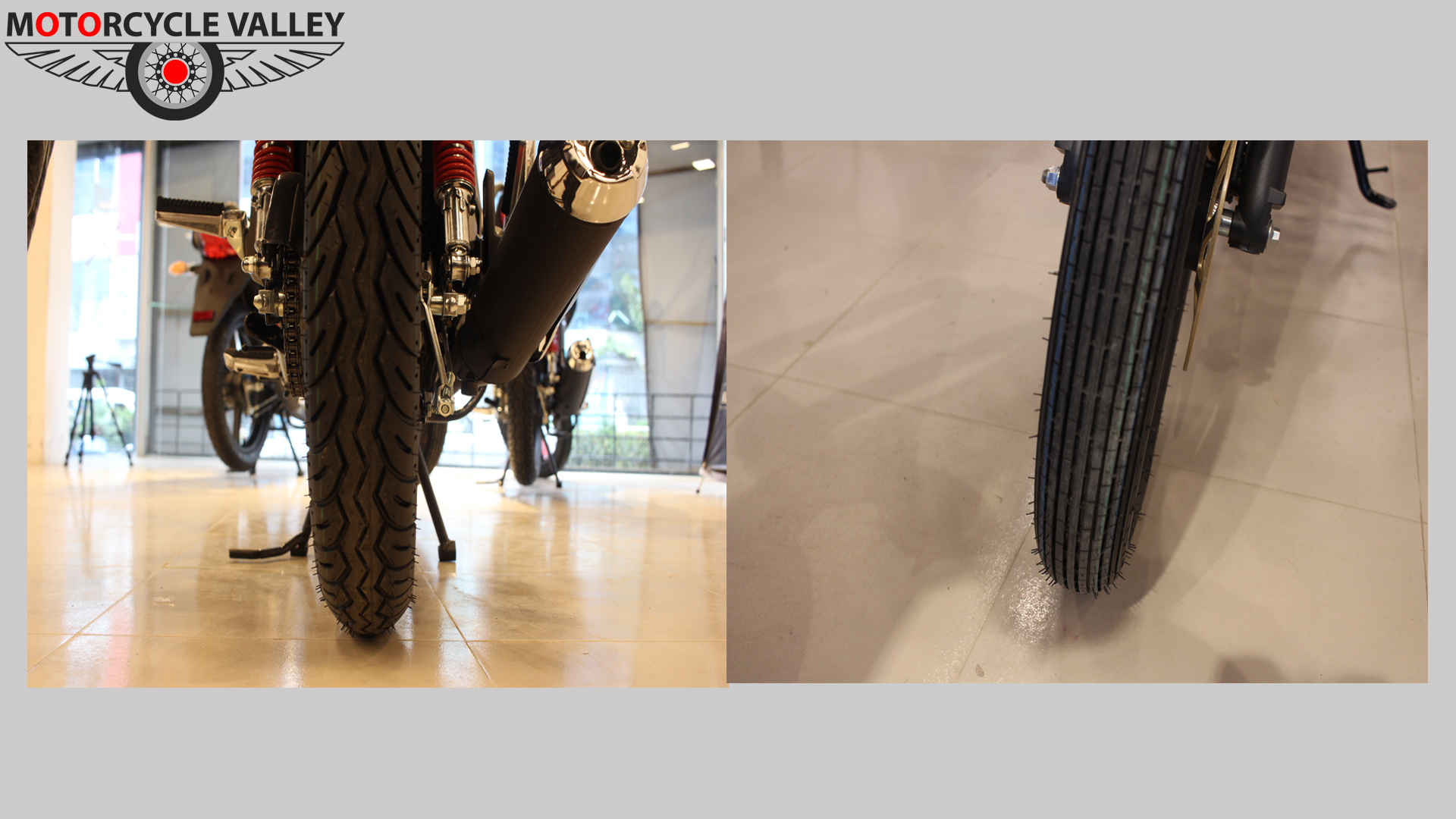 Tires and wheels:
On both side alloy wheels Suzuki placed tubeless tires. Front side measurements are 2.75/18 and the rear side has 90/90/18. Hope this tubeless tires will lead the riders to excellent performance and safety.
Meter Panel and electrical:
The Meter panel of GSX 125R is fully analog. The dashboard is divided into two parts. One is for speedometer and trip meter and another is for tachometer. You will also get features like a fuel gauge, turning indicator, gear indicator etc.Halogen bulb is mated with this bike for the headlight, tail lamp and indicators. For the front light it has 12V, 35W-12V halogen, and for the rear lamp 5W/21W halogen bulb. The entire electrical side is operated with maintenance free 12V, 3Ah battery.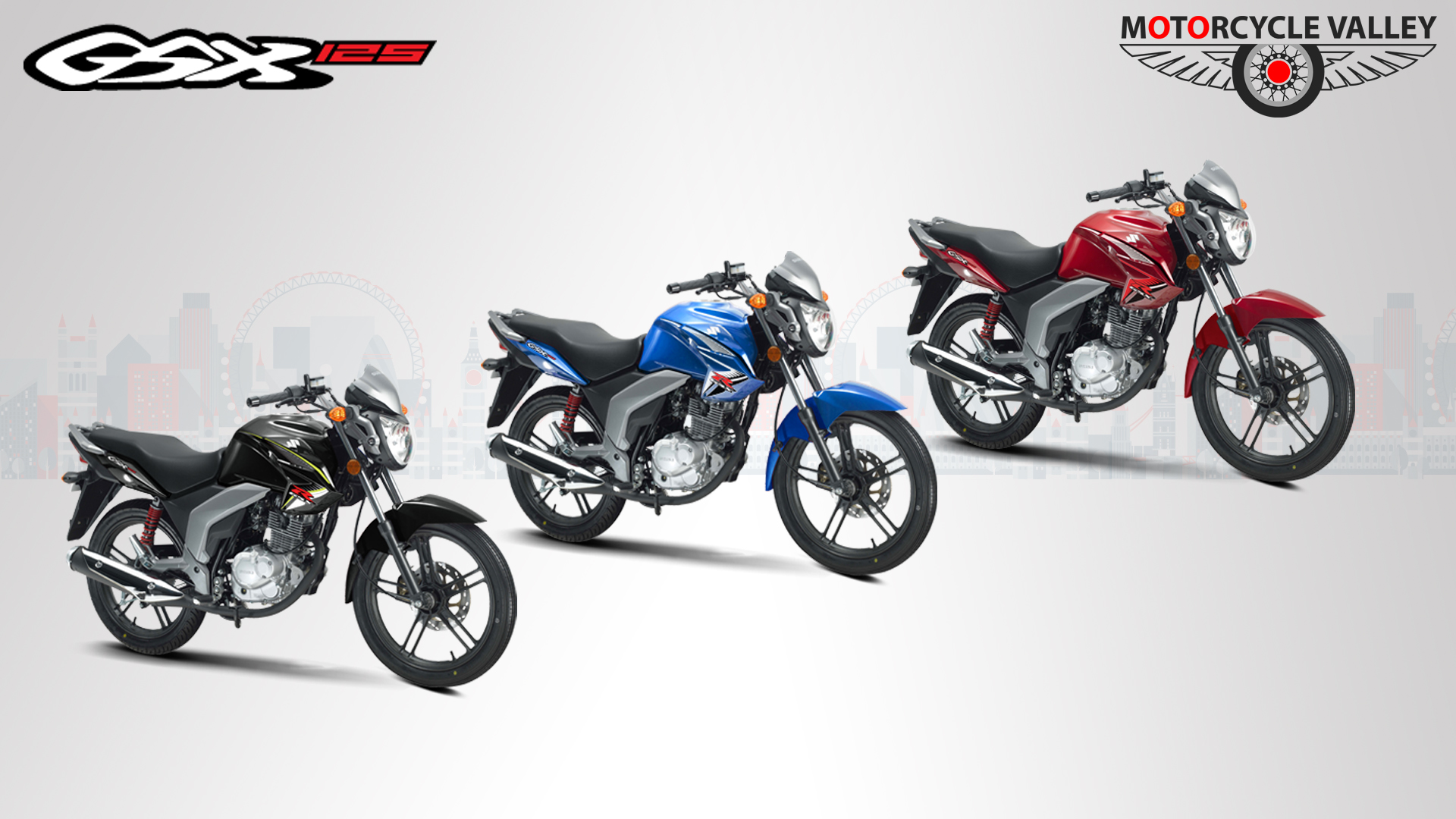 Verdict:
There are three available colors for this bike and each one is shaded a little bit with different colors. The main color schemes are RED, BLUE, and BLACK. So, watching all the features of this bike we can consider this is a decent commuter category model, and following the features the performance might be adorable as well. But the name GXS-R calls for sports, racing, style and speed, those are not the parts of this bike at all.