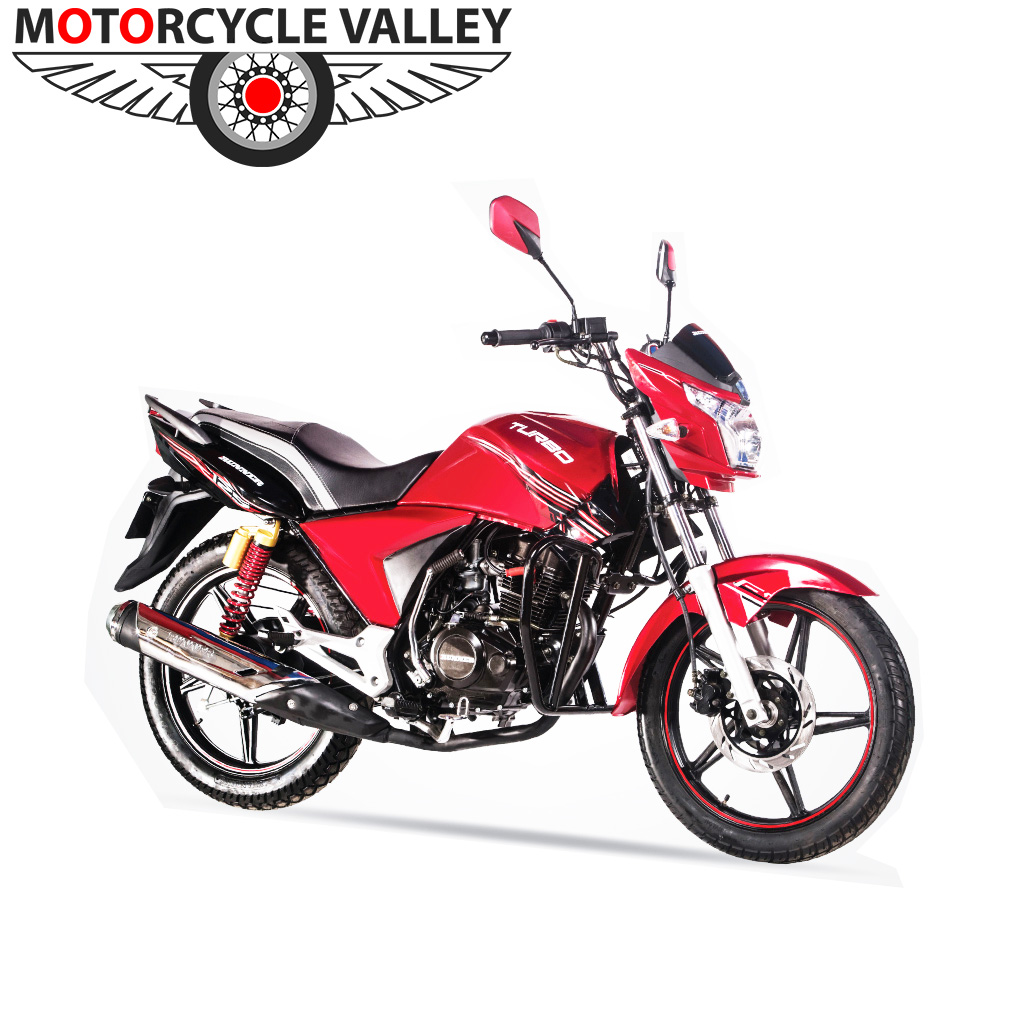 Among many international and domestic brand Runner is one of the major and one of the best selling motorbike brand in Bangladesh. Runner automobile company combines a perfect combination of the bike value with the class. Riders will not complain when they have their well configured bike at their budget and that's why runner is getting popular. At present days this motorcycle company is creating different categories and segment of motorcycle for the motorcycle lovers and most of the bike of Runner Automobiles is standard bike. One of their newest motorbikes which they are offering at the market is Runner Turbo 125. This commuter category motorcycle is made with stylish looks and features. From bellow the line let us see some classified information about this new manufacture of runner automobile.
Outlooks:
At the present time outlooks are one of the key important parts of any kind of motorcycle. Modern age motorcycle users have a preference at the outlooks of a motorcycle more than any other things. At this side Runner turbo 125 contains no error as a 125cc motorcycle. This motorcycle is made with stylish design and great standard type outlooks, which is able to attract the riders. Most enchanting thing at the outlooks of turbo 125 is its full body shape. It is not so lesser or bigger in size but it wider than the other 125 cc motorcycles and the design is outstanding. For making the stylish outlooks more beautiful Runner has used fantastic color combination for this motorbike. Turbo 125 is available with two combined colors and both of them are very delightful and eye-catching.
Dimension and controlling:
Excellent Dimension of a motorbike provides good control to the rider. New Runner turbo 125 is created with first-class body dimension and because of this cause the controlling side of this bike is really well. At the dimensions turbo 125 has 2200 mm length, 1780 mm width and 820 mm height. Without this turbo 125 also fine ground clearances of 165 mm, well wheel base of 1320 mm and a good weight of 133 KG. As 125 cc commuter motorcycle this kind of dimensions is really promising. So we can say controlling this motorbike will not be a big problem for any kind of rider.
Engine Type:
Without good engine no vehicle will run properly and riders will not be satisfied with their performance. That's why Runner has tried to give their best at the engine side through their products. Turbo 125 has 124.6CC, Air cooled, and 4 stroke Petrol Engine. This type of engine can give superior performance as a commuter category motorcycle because this engine can produce 8.4Kw @ 8500 rpm max power and 11.0 Nm @ 7000 rpm max torque. Without these features Runner turbo 125 motorcycles contains some other good features. Such as good Carburetor, Ignition system, starting method, good spark plug, so we can say that as a 125cc motorcycle this motorcycle undoubtedly contains good engine.

Top Speed and Mileage:

Both top speed and mileage is important for a motorcycle but when we talk about commuter bikes the mileage might have to be good and at this side Runner give their level best. As a 125cc motorcycle Mileage of
Turbo 125
near about 55 KM/L (Approx). At the top speed this stylish bike is not so bad at all; it will give about 110 KM/H top speed for the riders.
Brakes and Suspension:
Good braking and suspensions will give the riders a safe journey. For this reason Runner Turbo 125 has the combined braking system of Both Disc and Drum brakes, at our country base this braking system is really good. With good braking system this motorcycle also contains good suspensions. At the suspensions this bike has Hydraulic Telescopic suspension at the front and Coil spring Hydraulic, 5 Stage adjustable suspensions at the rear side. This type of rear suspension is the latest technology based suspension.
Tyres and Electricals:
At the tyres Runner has used good quality tyres for Turbo 125 and their measurements are 2.75-18 at the front and 90/90-18 at the rear side. At the electrical side this bike contains excellent features, such as at the 12V 7Ah battery, at the head lamp it has 12V 35W/35W 3W; at the tail lamp it has 12V 21/5W, Digital speedometer and good quality turn light also.
Price:
From the above discussion we can say Turbo 125 is one of the best creations of Runner Automobile at the 125cc category. Runner set the price of this well featured motorcycle Tk. 125000. Few riders are demanding that this bike price should be little bit chipper according to their other available motorcycles price and features.