2016-11-18 Views: 3248
Dayang Runner Bullet 100 user review by Mosfeq Ahmed Tanjim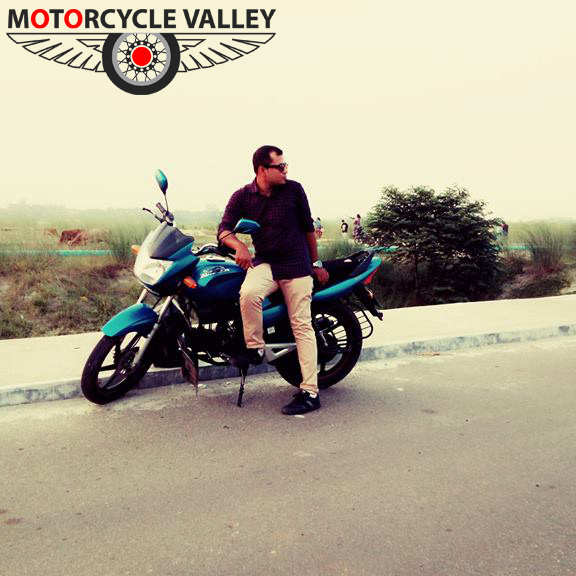 One day after the lunch from my office window, I saw a bike which little in size but beautiful and I share this with one of my colleague and he told me about the details about this bike "Dayang Runner Bullet 100" It was really amazing for me to here about the price (about 59,000/-) along with installation facility.
It is really for the dwellers of the Dhaka to go and back from the office. Specially, when you are in hurry and on the matter of maintaining the time.
From my student life, It was my dream to have a bike but a student how can purchase a bike or maintain. But this time I prepared myself and share this idea with my wife and found her in the positive mode. Later we made a visit to the nearest Runner showroom. We checked almost all the model of runner and the manager very sincerely want to ask about the reason of purchasing bike. He suggest me "Runner Deluxe" but both me and my wife cannot be satisfied with the look of this bike. We just took the contact number of the manager and proceed for then.
After coming back home we made a meeting about our choice, my wife suggest me a well configure bike when there are many facility (installation+zero down payment) with each of the bike. It becomes very hard for me to make the decision.
I start to make a research in the online from the experience bikers to find out all the positive and negative quality of the bikes.
Few days later we again made our presence on that showroom again. But this we were prepared to have a bike according to our choice list. But both of us stuck between "Royal plus" and "Bullet 100" we feel difficulties to make our decision. Meanwhile the showroom's stuff started to close it down. But "Anis vai" told about the test drive anytime in the day. I feel very positive by hearing this.
My research was running in the same time. After next few days I made a test drive on the both "Bullet 100" and "Royal plus" I'm totally new about the bike but I feel very comfortable in the both of them and from me, I prefer "Royal plus". My wife left the decision up to me.
After few weeks later 19th February 2016 and it was Friday I present in the showroom once again with some of friends and relative. All of them ask about my choice because they don't see it before except my wife. Very interestingly no one of them allow me to take "Royal plus". All of them indicate the "Bullet 100" including my wife. So what can I do? Even Anis vai suggesting me about the same bike by supporting others choice.
And I took "Dayang Runner Bullet 100cc" without any thinking.
Now we better take a look on the positive and negative side of this bike without wasting any time.
Lets start with positive parts of "Dayang Runner Bullet 100"
- Mileage:
In average it serving 40-50 kilometer per liter in the Dhaka city. I use petrol sometime octane when there is nothing to do.
- Proper valuation of money:
It is an excellent bike according to the price. You are not going to believe that it is still running like a new bike and its whole function. I never have to expense even a penny on its service or repairing.
- Bikes body:
Its bike is far better then the Chinese bike in the same price. So far I don't face any problem from this bike.
- Outlook:
It just outstanding which look like 150cc from far away. Although it is 100cc.
- Seat position:
Its so wide that 3 person can easily sit on it but you cannot do so for the recent law.
- After sales service:
It is very hard to describe in words. They are so sincere about their customer by which I think others brands merely are.
- Bikes speed:
Its throttle response is excellent, 65-70+ anytime.
- Top speed:
To be frank I never try this. I always try to control this but I had experience it 90+ meanwhile some user got it over 100.
- Bikes weight:
Its weight is 121kg which helps it to keep the proper balance.
- Fuel tank:
It can take 14 liter at a time which is an advantage for the long tour.
- New Bullet only in 60,000/-
It is very normal to be amaze but before purchase the bike I have to expense 5000-6000 taka for traveling.
And after the bike purchasing, 3000 taka for fuel and 2118 taka for installation of the bike. In total 5000 taka.
Now you can make the exact cost of the bike.
And now lets take a look on the bad side of this Bike:
- Side cover:
Side cover adjust with the plastic bolt which and after complaining they change it but it broke in the same way.
- Vibration:
This bike vibrates in the speed of 60-70 kilometer speed and this is the real problem of this bike I'm facing now. But in the 70 kilometer per hour this run smoothly.
- Braking skid:
Rear wheel skids dangerously in the hard brake. I always have to keep my focus on.
- Back look:
The back look could be more better then it is.
This is all from my personal opinion and this is very normal to not match with others. You can take a look from this link for more info: Click Here