2014-01-21 Views: 12120
This user provides ratings about this bike

8 out of 10

Design

Comfort & Control

Fuel Efficient

Service Experience

Value for money
Ownership Review of Bajaj CT 100 by Selim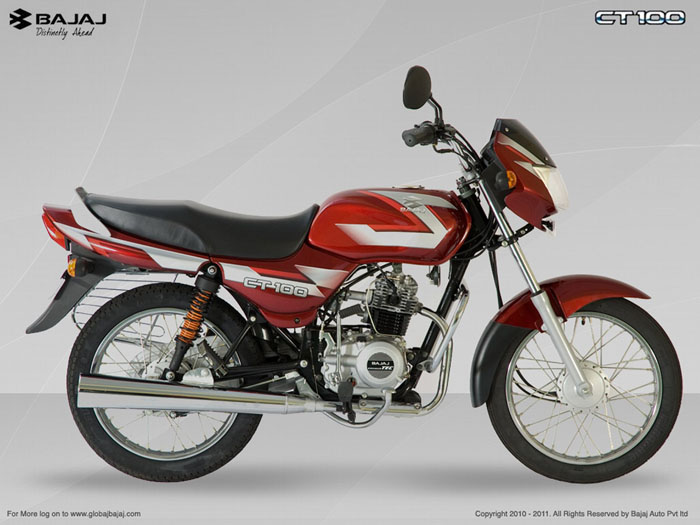 Assalamualaikum.
I am Selim, From Rajshahi. I want to share some experiences with my Bajaj CT 100 to you. I was feeling in need of a personal transportation on my way to office and occasionally when I travel to the house of my father in law with my wife, son and daughter. My savings weren't enough to get a new bike. I was not in favor of buying old bikes, because I didn't want to go to the mechanical store again and again. At this situation my father gave me a helping hand. I bought Bajaj CT 100 bike on the 7th of May, 2010 from the showroom with 23000 taka from my father and 70,000 of my savings altogether 930000 taka. I love my bike a little bit more because it has the blessings of my father.
Before sharing the experience of using my bike, I want to inform you about the features of this bike:
Engine: 1 cylinder, 4 stroke
CC: 99.27
Maximum Power: 8.20 HP (6.0 kW)) @ 7500 RPM
Torque: 8.05 Nm (0.8 kgf-m or 5.9 ft.lbs) @ 4500 RPM
Gear: 4
Size: Height 1065 mm, length 1965 mm, width 770 mm
Fuel tank: 10.50 liters
Weight: 109 kg
Brakes: Drum
Head Light: 35/35 W
Bikes External Structure:
Bajaj CT 100 is the extended version of Bajaj Boxer. It is an excellent bike for people of normal height. You will find the mix of classic and modern design in this bike. Those of us who are a little outdated, or speaking more beautifully for those who are not accustomed to the design of the modern vehicle, this bike is quite varied. I think this bike is a very good one for normal movement of the town or village street.
The front part:
Good looking headlight made its front part a true piece of beauty and long handle is given to ensure the joy of comfortable ride. Left hand and right hand brake lever and clutch lever would feel more comfortable if it was a little bent. I did not feel the lighting of the headlight is adequate.
Suspension:
Front and back suspension of this bike is very good. High-low or in the streets of the village, you will not feel anything unusual.
Engine:
Vertical 100 cc engine, it is powerful and saves oil. After every 1000-1200 km run I change the Mobil.
Breaking the System:
Drum brakes both front and back. I would prefer a disc brake at the front.
Wheel and Tyre:
I think it was better if the wheels are made of alloy rather than spoke. Both the tires are good and durable.

Seats:
Its seat is soft and comfortable.

Mileage:
An Indian bike always gives more mileage. In the meantime, Bajaj is known for more mileage. I got 70-72 km per liter which is worth for middle-income people like us. I have used octane occasionally with petrol.


Meters:
Analog meters are otherwise feels good, but at night the light of the meter seems low.

Top Speed:
I have never speed more than 75-80 km for my own safety's sake. My mother has forbidden me to go faster with my bike. So I run all the time in the normal speed which is 40-60km.


Vehicle safety:
The vehicle is an asset and one of my favorite. So I have to think about its safety. I use the vehicle front neck lock, suspension lock and also back wheel chain lock.

Care:
I am used to regular cleaning, wash with water and after a few months I take my bike to servicing. I check the brakes, pumps, chains, plugs and air filter regularly.


Finally it can be said that for those who are traveling inside the city area or villages, this bike is perfect in all aspect but for those people who are used to long drive regularly, this bike won't be a good one. Good wishes for everyone.