At the present time Yamaha is giving their best effort to offer the most advanced concepts for their bikes. From that initiative Yamaha FZ-S Fi V3 Vintage Edition is the recent add to their lineup. Users will have an unmatched experience of Performance and efficiency level with this new edition of legendary of FZ series. It has all the latest features that a premium category bike needs, so let us not waste time through gossip and straightly look down to the features that Yamaha is offering with the new vintage edition.
Special add-ons at Yamaha FZS V3 Vintage Edition:
The new Vintage edition of FZS-FI will also have the latest introduced features, let us look at new attractions.
A mix of both worlds, Style & Technology, the Vintage edition of FZS-FI is ready to boost the iconic style measure. Timeless vintage graphics matched with special color scheme will continue the iconic legacy of FZS DNA. The Vintage edition of FZS-FI gets the same Style & DNA though of the FZ series. Apart from the timeless vintage graphics that augment its iconic legacy, a new leather finish single piece two level seat will further add to its styled-up antiquity. To make it more vintage new color shades with both matte and glossy mated with stylish neo-retro decals. Combining all, the new vintage edition can be considered as, "Yesterdays inspiration built for tomorrows generation".
Leather finish single piece Two Level seat to enhance the vintage look. The two-level seat has an excellent feeling of fit and cushioning that works well with an upright, relaxed riding position. Not only steady ride and comfort for both the rider and pillion rider, but also the pillion seat has a 16% larger seating surface area, is 26 mm wider in the hip area and is 5mm thicker for added comfort.
Yamaha FZS V3 Vintage Edition comes with new LED headlight, which provides excellent visibility over a wide range with very little unevenness. It uses a reflector with ideal light projection, and separate bulbs for high and low beam. All the other light sets like, blinkers and rear section also mounted with LED.
Advanced Mid-Ship Muffler & enhanced muffler sound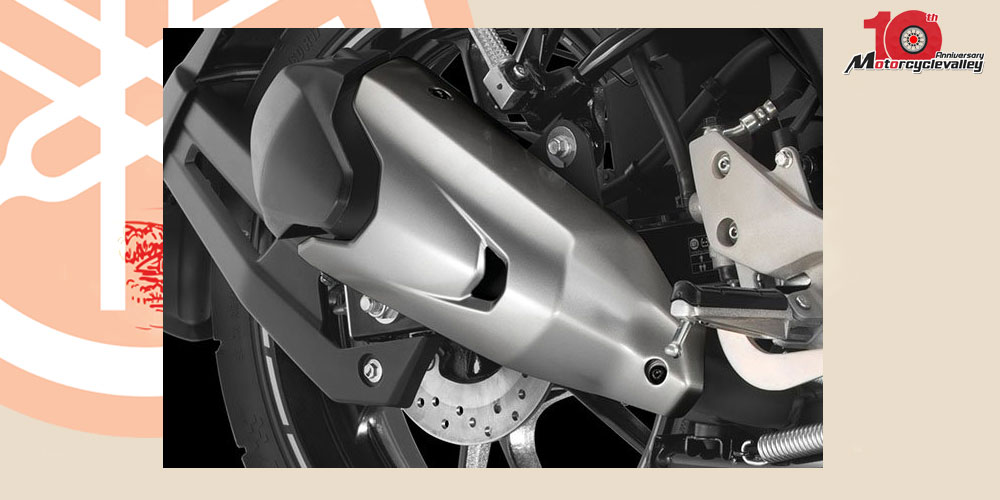 A mid-ship muffler in Yamaha FZS V3 Vintage Edition gives advantages of mass concentration, weight reduction and shorter length, is adopted. The newly designed muffler protector further adds to the impression of sharpness. The Muffler sound is newly tuned and more soothing to hear.
In-Built Side Stand Engine Cut-off Switch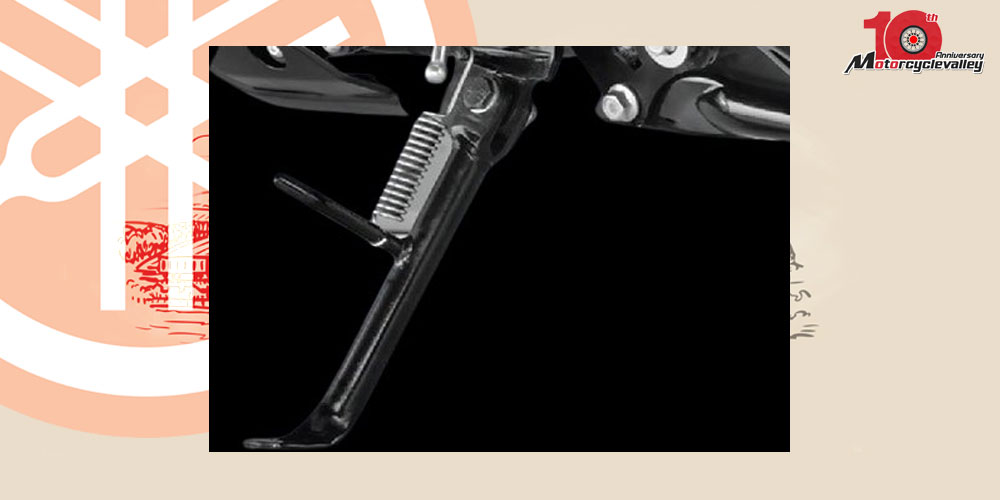 With the In-built side stand engine cut-off switch, you can be rest assured that you do not forget to remove side stand during those immediate rides with Yamaha FZS V3 Vintage Edition
Yamaha FZS V3 Vintage Edition comes with a 100/80-17 at the front and a 140/60-17 radial tyre at the rear offers low rolling resistance and deliver great fuel economy and good grip.
The lower engine fairing has been introduced to reduce mud and dirt splatter. The under cowl has been designed to enhance the sporty look of the bike.
Easier to control while enhancing economy at the same time. The lighter body weight makes the power-to-weight ratio just enough to keep you zipping with Yamaha FZS V3 Vintage Edition
Regular specifications Yamaha FZS V3 Vintage Edition:
Apart from the special add-ons Yamaha FZS V3 Vintage Edition complies most of the similar features of legendary FZS V3. Let us check all those.
The new Yamaha FZS V3 Vintage Edition mounts an air-cooled 4-stroke 149cc SOHC, 2-valve, single-cylinder fuel-injected "BLUE CORE" engine, and engine's settings were optimized to further polish the feeling of superior acceleration from stops and exhilarating feeling when overtaking. This engine can produce 9.7 kW (13.2PS) @ 8,000 RPM max power and 12.8 Nm @ 6,000 RPM max torque. The compression ratio 9.5:1 is set for this bike and constant mesh, 5 speed gear box is placed to run this engine. Only electric starting option is placed to fire up the engine.
The total body kits and parts of Yamaha FZS Fi V3 Vintage Edition is placed over a diamond type chassis. New version of V3 Vintage Edition gets a new dimension as well. For this bike 1,990mm length, 780mm width and 1,080mm height is given. The seat height is 790 mm and the wheelbase is 1330 mm. Maximum ground clearance of this bike is 165 mm. With oil & a full fuel tank the overall body weight will be measured as 135 Kg of this bike, which is lighter than before.
Yamaha FZS V3 Vintage Edition provides an excellent shock-absorbing performance and a good feeling of stability during braking. The rear suspension is a lightweight Monocross suspension unit that contributes to mass centralization and provides 120mm of wheel travel, which is tuned for good balance between the spring rate and damping force. Along with that telescopic front suspension is placed for the front to absorb the unexpected bumps comes from the front.
Yamaha FZS V3 Vintage edition has Front Disc with Bosch Anti-Lock Braking System (ABS) that helps in achieving improved braking performance by providing better stability and control at all speeds. Rear Disc brake augments more quality to the long legacy of FZ braking system.
The Negative LCD instrument cluster panel of Yamaha FZS V3 Vintage edition has a black background and white lettering. Digital speedometer, bar-style tachometer above, and a fuel gauge are constantly displayed, along with ABS warning lamp while the odometer, trip 1, Trip 2, F Trip, clock and others can be selected for display. There is also an ECO indicator to enable more fuel-efficient riding.
This is one of the latest creation from Yamaha in 150cc segment and it is showing its class with its new connectivity and looks. VINTAGE GREEN with lather polished sits will the only color of this bike and it is headed to the market. Hopefully it will also comprise the same fame like the previous models of FZS series.