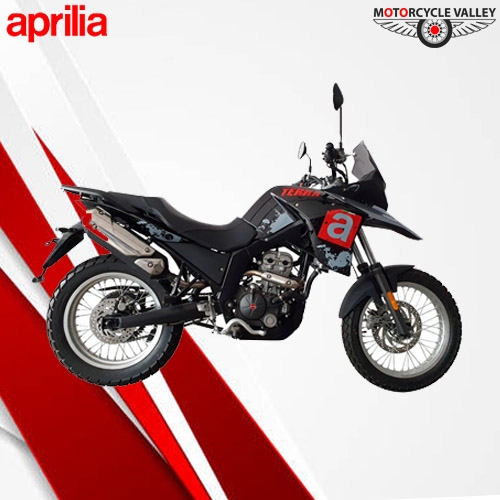 Though our cc limitation for motorcycle is 165, but Bangladeshi motorcycle has never being short of good quality products from different brands. Most of the time we are surrounded by Indian and Japanese bikes, but these days through various importers other popular brands are getting into business. Aprilia is one of the biggest and popular name in motorcycle industry. Their bikes were available in our market from past few years, but due to different reason those bikes were not available all the time. Nowadays thanks to Runner, Aprilia models are available and with a very budget friendly price. Into the newly added lineup for Aprilia one of the hot topic is now Aprilia Terra 150. We all like sports bikes. But imagine if we can get a dual purpose bike that runs equally good in both on road and off road conditions, then how much efficient that bike will be? Yes! APRILIA TERRA 150 is kind of that bike, which will provide both on road and off road service.
This dual purpose 150 cc bike from Italian brand Aprilia has excellent features with it. So, without wasting any further, let us check out what this bike has for us.
Special features of Aprilia Terra 150:
Dual purpose bike, On road and Off Road
Comfortable touring bike
DOHC Liquid Cooled and EFI Engine
11.2 Liter. Fuel Tank Capacity
6 Speed Gear Box
Up raised Handle bar
Large Satire Seat
Extended front fender
Upper Mount Exhaust
Luggage carrier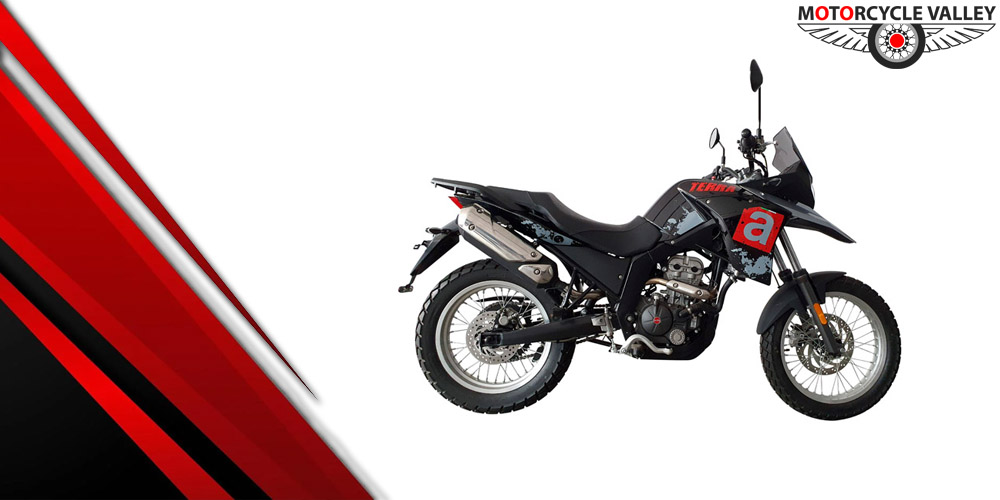 Design & looks:
This is designed for dual-purpose riding, which can also be considered as a touring bike. For its design Aprilia has used, up-raised handlebar, large satire seat, extended front fender, upper mounted exhaust, flexible swing arm, all these elements are very common and similar like an ideal dual-purpose bike. Aprilia has tried to give Terra 150 a bulkier look. Well marked Aprilia sticker is seen at the front side of this bike. Besides it has a carrier is also placed on the rear part of Terra 150 to carry luggage and weight. The chrome-finished exhaust is just located under the pillion seat and it completes the full outlook of a specialized touring bike. Dual shaded colors are placed for this bike and that makes the outlook more elegant.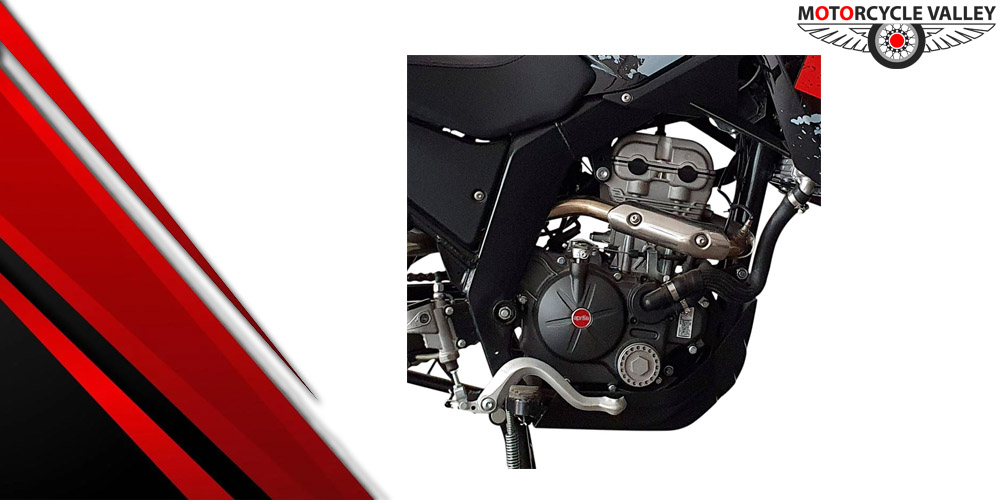 Engine and transmission:
Powerful Liquid Cooled Engine Performance is seen at Aprilia Terra 150. This dual-purpose bike comes with a single-cylinder, 4-stroke, Liquid-cooled, DOHC, 149 cc engine and that can produce 18 BHP maximum power @ 9750 rpm and 14 Nm of torque @ 7500 rpm. For quick throttle response and better fuel efficiency Aprilia has placed FI technology and 4 vales inside this engine. For the smooth transmission, they installed a 6-speed gearbox and a wet multi-plate clutch. To firing up the engine this bike contains electric starting method.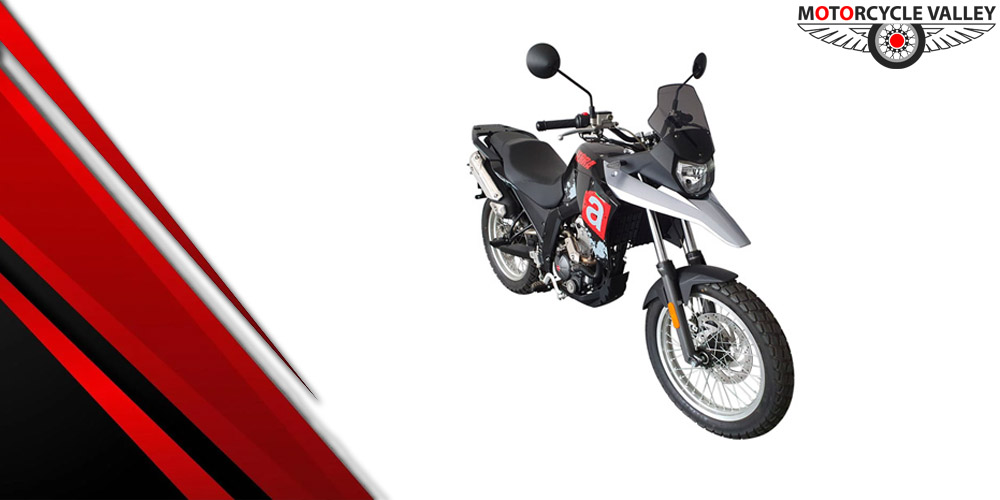 Dimensions:
Another important thing for a touring bike is its dimensions. As we mentioned earlier, it has up rides, handle and larger satire seating, so, it has half of the requirements of a touring bike, but when it comes to the other dimension it fulfils them all. Mostly, dual-purpose bikes are dimensionally larger than a standard bike. The overall length of this bike is 2130 mm, width 790 mm, height 1245 mm and the wheelbase size is 1425 mm. Furthermore, it has 180 mm ground clearance and 800 mm seat height. On the whole, this bike carries 120 kg lightweight that will allow the rider to ride comfortably and handle this bike properly in any type of road conditions.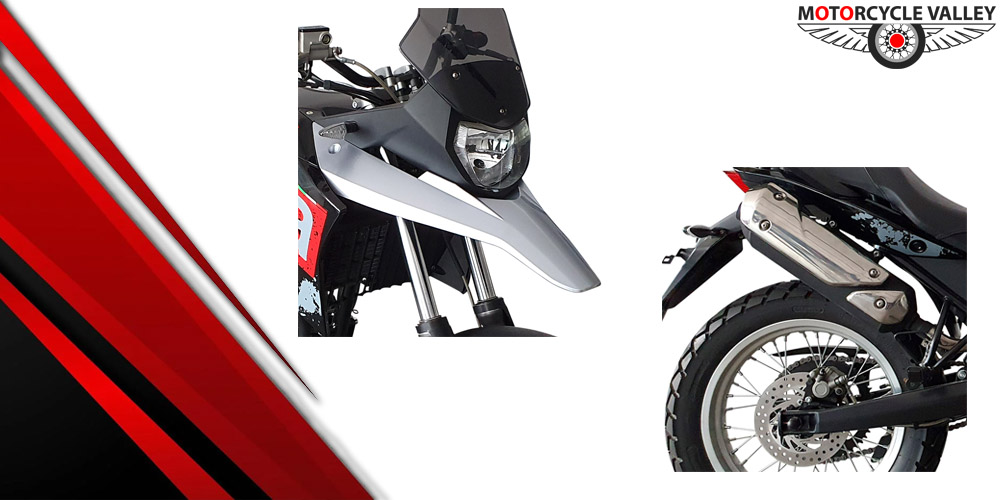 Suspension and exhaust:
For a dual purpose bike comfortable and quality suspensions are very much important. At this side Aprilia has used Telescopic Fork Suspension in the front wheel, and on the other side for the rear wheel, Swing arm with Mono Shock Absorber is placed. This bikes suspensions seems very sporty due to mono shock, and the bike will stay steady during top speed because of that. Without that telescopic forks at the front will take care of the stability and weight ratio, and the rear mono-shock absorber will give a rider more comfort, perfect handling and adjustment at any road. Furthermore, the Mountain Exhaust promises to provide better sound, efficient air flow, fuel efficiency and increased speed at different road conditions.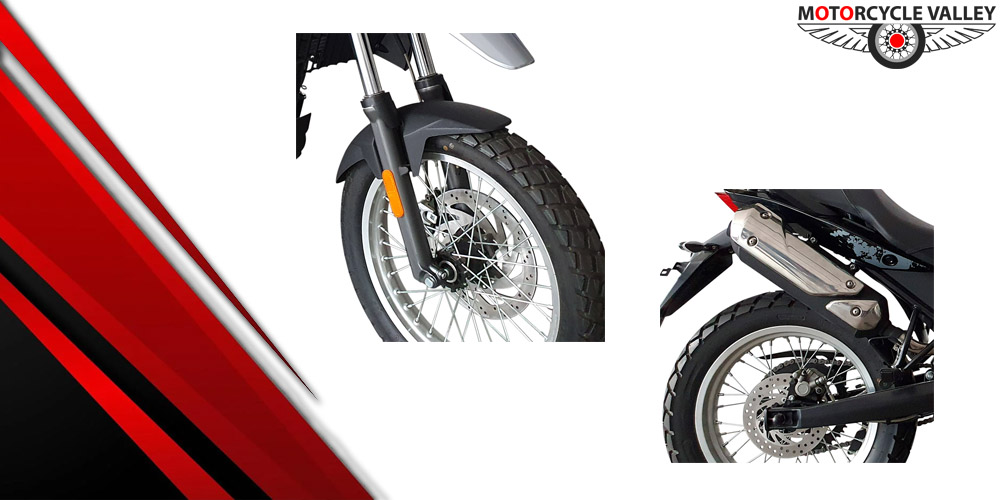 Brakes and tires:
Though Aprilia didn't used the trendy ABS, or CBS brakes for this bike, but the Dual Disc brakes of Terra 150 ensures safe braking on ride. Using both side spoke wheels tubeless off road tires with excellent grip, which also gives good acceleration and braking are placed in Terra 150. The front tire size is 100/90-18, and the rear tire size is 130/80 – 17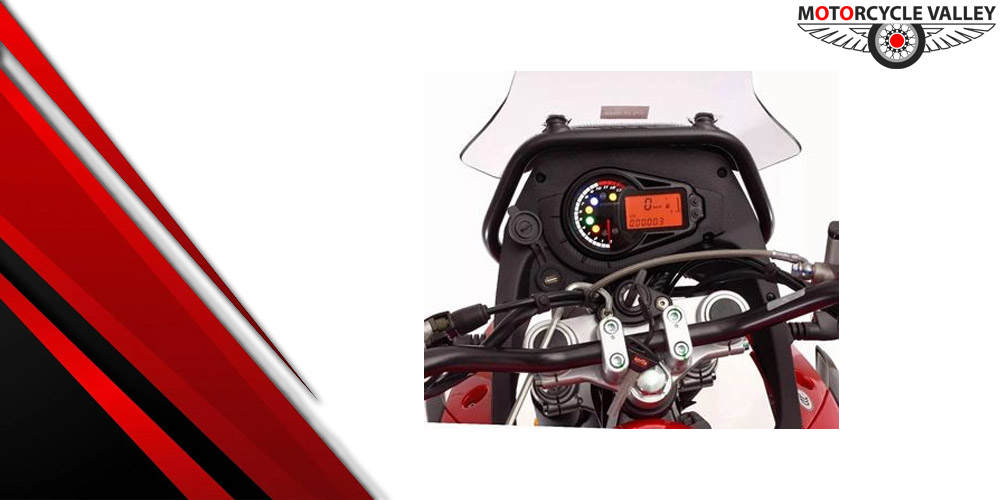 Meter cluster and the electrical:
The meter panel of this bike is semi-digital. Aprilia wants to provide a classic look. All the necessary instruments like tachometer, speedometer, trip meter, fuel gauge, gear indicator are placed inside the meter cluster and except the tachometer all are digital.
For the electrical operation maintenance free 12V battery is placed and with the help of that, all the electrical features like, headlamp, tail lamp, turning lights, electric start are operated.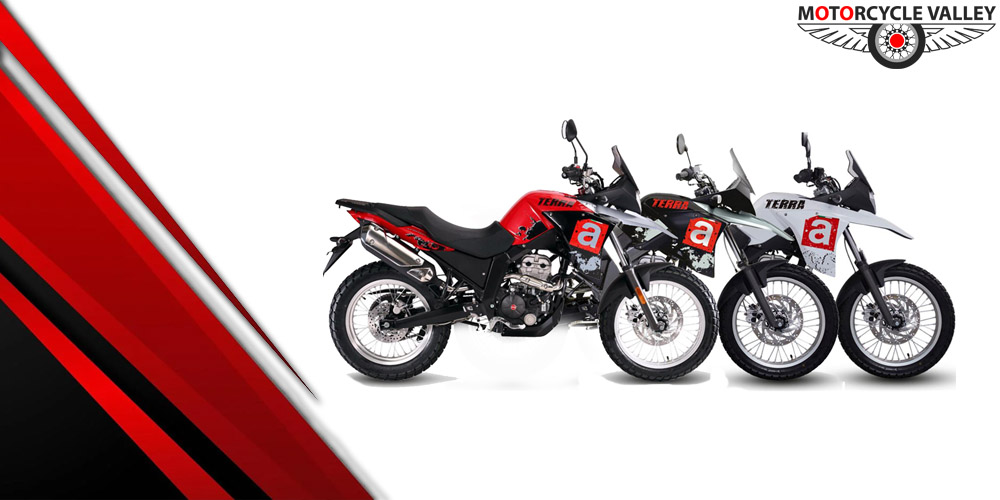 Verdict:
In Bangladesh two different color variants are now available of Aprilia Terra 150. Now that we have seen all the major features of this dual purpose bike, it can be said that this bike has something special for us, when it is about touring. Now the rest is up the performance.