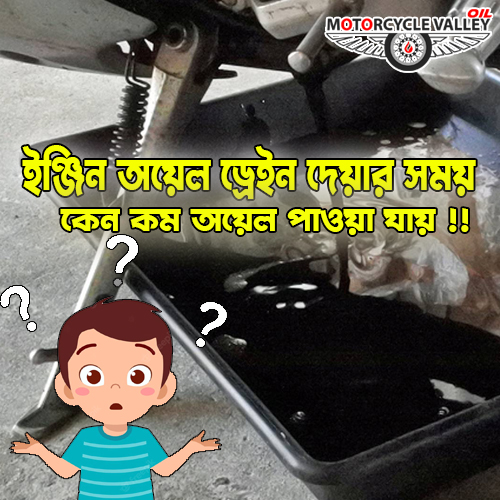 Engine oil is a necessary and very important thing for a bike, It lubricates the entire parts if engine and makes our ride comfortable and smooth, but filling with less or more than oil capacity of oil is harmful for engine, because it effects on the engine and also performance get down after a certain time, sometimes we can fell a vibration and less smoothness from the engine because of the viscosity of engine oil get thin when it comes to drain period, but there is another reason that could be you get less engine oil after draining process, today we will be talk about why we get less engine oil when it drain,s
• Getting less engine oil is very harmful for engine, because the lubrication process will not work properly and you will not get the raw performance of your bike, so you should careful about the performance you get and also you get the proper capacity of engine oil after drain or not.
• If your bike has became old and run more than 40,000-50,000 kilometers and you get less engine oil, then visit a technician for check up, there is a primary solution you can use a higher grade engine oil than the recommended grade, because sometimes there became a gap between piston and cylinder where engine oil get burn and we get less oil.
• So replace our regular engine oil into a higher grade oil will slightly solve this problem, and if the problem is not solved then you should rebuild or replace engine parts, otherwise their might be a chance of engine sized which can caused major accident.
• If there is no problem in bike engine, then it could be an issue of the engine oil, because we have found a little bit issue in some specific engine oil, their viscosity get down early also the performance and smoothness also get down, as a result there will be heating issue and oil gets burn, immediately change that engine oil and replace with a well known brand.
• There is a quick process to check that problem with your bike or it's an issue of that engine oil just wipe your bike silencer pipe hole and check that there is something oily or wet something or not, if there is something wet and oily then it's an engine problem, otherwise if there is something normal and no oily or wet lubricant then it's an oil issue, nothing to worry about it, just change the engine oil brand.
• Engine overheat can cause oil burn, those who ride for a long time and a high rpm can face this problem, you have to rest your bike for a time to cool down engine overheat and do not rev high for a long time.
We mention all the tips and trick that will help from this problem and, but you should aware about this problem to prevent engine damage, follow those tips and you will get a better performance and your bike engine will lasts long.