2016-06-11 Views: 2184
Yamaha FZS Motorcycle ownership review by Shihab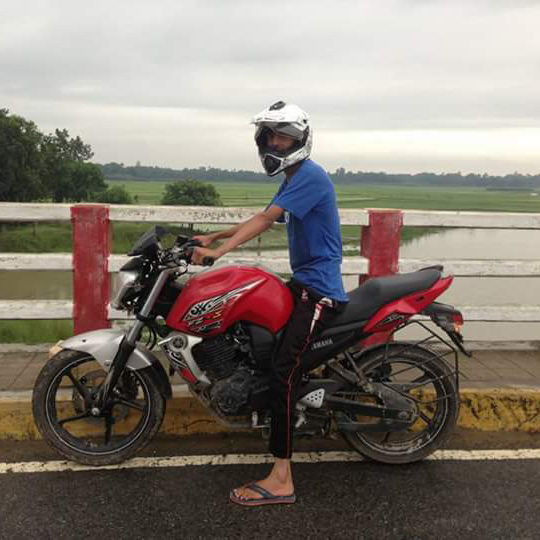 As we can see in modern days people of every age likes to ride a motorcycle and want to use this vehicle for their communication. My name is Shihab Khan and I am a great motorcycle lover from my childhood. When I was in primary school my passion about this vehicle increased vary badly. When I got admitted to high school my father teaches me to ride a motorcycle. After that for three or four years I have ridded my father's motorcycle. At the year 2013 I got myself admitted to a public university and my father bought me a new motorcycle named FZS which I always wanted to buy. I love this bike because of its fatty tyres and its extraordinary looks which is very uncommon. Three years have passed I am riding this bike with great fulfillment that's why I can say my decision was not bad at all about purchasing this bike. This bike can be used for long times because body parts and other features are really very highly developed for using and all parts are very strong enough. This motorcycle is shaped with great sporty outlooks which contains well made design also. This motorcycle is built with aerodynamic design.
Now from bellow the lines I will share little experience about this motorcycle which will help the other rider to buy this bike.
Why I liked this bike:
- Uncommon Stylish sports look as 150cc bike.
- Comfortable enough to ride at different roads.
- Strong and durable body parts.
- Low maintenance.
Engine performance:
Engine area of this motorbike is incredibly pleasant. Every Yamaha motorcycles are built with excellent engines and so do mine. I am totally satisfied because this bike doesn't bother me with its engine performance. With Air-cooled, 4-stroke, SOHC 150cc engine and max power of 14PS @ 7500 rpm and torque of 13.6N m @ 6500 rpm this bike provide me better-quality performance. For past three years I am using this bike and I haven't faced any problem with the engine. Engine sound of this motorcycle remains the same almost and this thing pleased me so much.
Comfort and riding experience:
Comfortable riding and controlling depends on good design and at this side this motorcycle is built with good dimension and design. In my personal opinion this motorcycle is easy to control for its sporty design and fatty treys. At the top speed sometimes few motorcycles vibrates which is unusual thing with this bike. I travelled with this bike in my city roads and few long journeys and I would say riders can have a comfortable journey with this bike. So overall at the controlling I got very good controlling with this bike that is why I feel very comfortable with this bike during riding.
Speed and mileage:
With the top speed no rider will be disappointed with this bike along with me. From the very beginning this bike is always best at its top speed. I have crossed the speed of 112 KM/H because of good tyres this bike provides good grip that's why top speed differs. This bike doesn't disappoint me at all the mileage performance. I have got 32 plus KM/L mileage from the beginning and it is almost the same at present.
Long drive experience:
I used to travel short journeys with my bike. But I travelled 120-150 KM journeys with this bike. In my experience this bike is able to provide mileage, speed and comfort all three at the long journeys but sometimes bike vibrates much at the top speed during long journey and that time engine needs rest for a while. Sometimes I had to face some difficulties also because this reason. Over all my riding experience is good.
Pros:
- Healthy performance of the engine.
- Physically powerful enough to carry weight with good speed.
- Very stylish and available with attractive colors.
Cons:
- Not fuel efficient.
Taking care of my bike:
Because this bike is favorite bike motorcycle I used to take good care of my motorcycle. I wash my motorcycle once or twice in a month and regular cleaning is my daily part. I used to clean every spare part and service my bike after three months. After running 1000Km I change the engine oil for the better performance of the engine.
It's been three years I am riding this motorcycle and I didn't serviced the engine which is a good sign and the overall performance is very charming of this bike.