2016-05-28 Views: 2439
Bajaj Pulsar 150 motorcycle ownership review by Wakil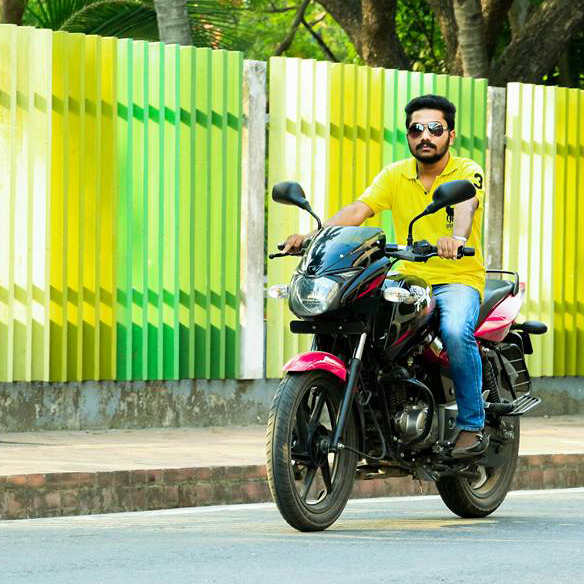 When I became twelve years old my father taught me how to ride a bike and I learned to ride motorcycle. Since then I used to ride my father's motorcycle whenever got chance. After five years I passed my higher secondary exams and my father bought me a stylish bike named Bajaj Pulsar 150. Since the arrival of this bike at the local market I want to buy this bike because this bike is well featured and loved by all. For many reasons I want to buy this bike one of the major reason was its decent outlooks which suit me very much and as well as its attractive features. Now at the low lines I will contribute my own experience about this motorcycle from the Indian motorcycle company Bajaj can Help the other users other users.
Those things which attracts me about this bike:
- Decent design
- Comfortable riding experience in both short and long journeys.
- Strong and durable enough.
- Great color combination.
Riding experience with my bike:
I have to say riding experience of mine is very satisfying with my bike. I have enjoyed a lot with my bike during long and short journeys. I use my bike for traveling in my city roads and I get good controlling which makes my riding smoother and enjoyable. I have travelled few long journeys and all of them were very good, I didn't face any kind of difficulty. I travelled around 220 KM in one day. At long journeys this bike can provide comfortness for a long time because of its seating position. This bike is able to provide speed, mileage, comfortness all three at once at your journey period. So I have no complains at all but sometimes this bike ibrates at the top speed which I think not a major problem.
Engine performance:
With the engine performance I am totally satisfied till now. Engine side is one of the major important sides and at this side my bike is giving me first-class support after one and half years. With 4-stroke, DTS-i, air cooled, single cylinder 150cc engine this bike can produces max power of 15.6 PS @ 9000 rpm and torque of 12.5 N m @ 6500 rpm because of this reason my bike provides me higher quality performance without any difficulty. For past one and half years I am using this bike and I haven't faced any big problem with the engine moreover the most important thing is I haven't serviced the engine yet.
Speed and mileage:
Top speed and mileage are the main demand of new generation bike riders. I am totally pleased with both sides with my bike. From the very beginning this bike is always best at its top speed. I have exit the speed of 115 KM/H with this bike and I was very comfortable no problem occurred. This bike doesn't disappoint me at all the mileage performance. I have got 45- 40 KM/L mileage from the start but at present this mileage range has reduced a little bit. But in total I can say my bikes mileage and speed are well.
The way I take care of my bike:
I use my bike very carefully at the crowded roads. After running 1000 KM I always change the engine oil for the better performance of my bike. I wash my bike with water, others instruments and shining creams at least twice in a month and regular cleaning is a daily part of my life. Before I get started my every day ride I carefully observe all the external parts of my bike for my own safety and for better ride.
Braking and suspension side of my bike:
My bike provides very effective braking and for the comfort it has good suspensions. At the brakes it has Disc brakes at the front side and Drum brakes at the rear side. This type of braking is really very effective at different types of situation. This bike also contains good suspensions I have experienced by my own. So in my verdict this bike contains good brakes and suspension
Pros:
-0-60 KM speed at 9/ 10 sec.
- Durable and low maintenance.
- Very stylish and available with attractive colors.
Cons:
- Sometimes vibrates at good speed.
- Tyres could be better.
One and half years have passed I have travelled many places with this bike and I have lots of experiences. In a word I can say this bike can satisfy every kind of motorcycle lover. This is the main reason of the popularity of Bajaj Pulsar.