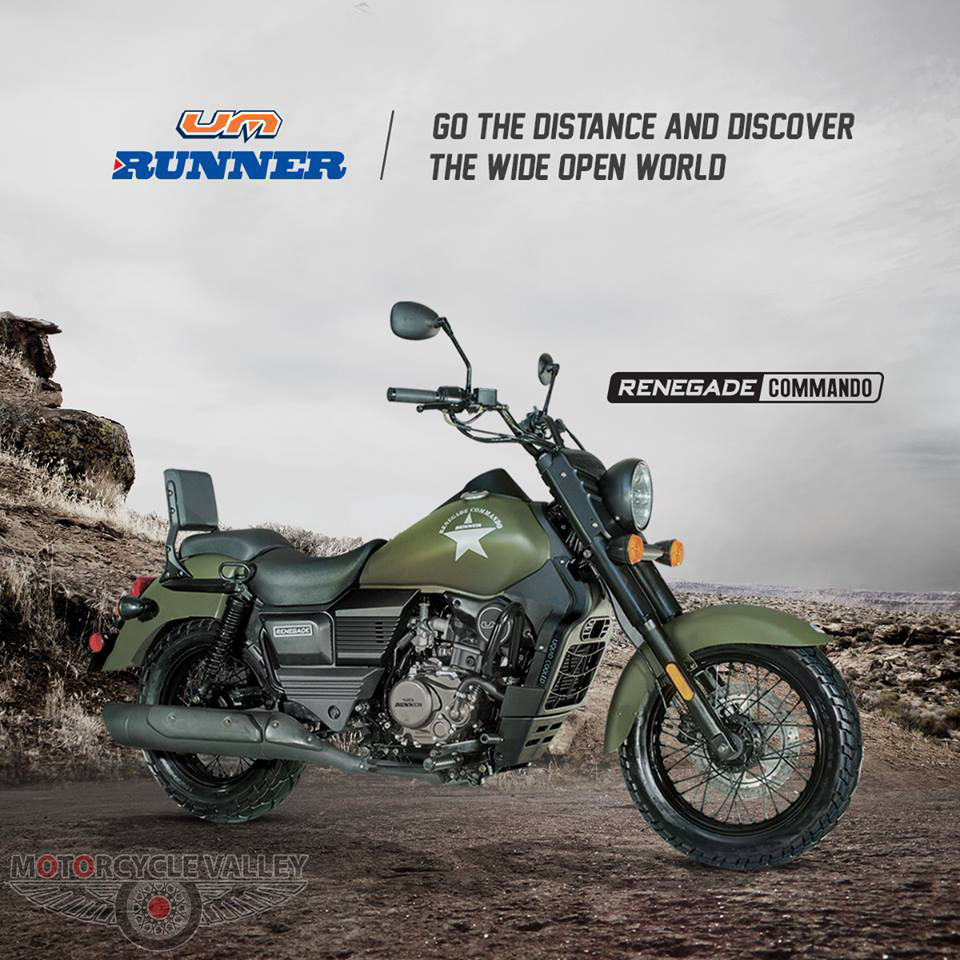 Runner has a remarkable reputation among the domestic brands of Bangladesh. If we take a close look to the roads of Bangladesh, we will see mostly Indian and Chinese bikes are lot more in number. But the Runner is much more ahead as a local brand with the compare with others local brands. On the other hand, UM is an American brand which always produce vehicle by considering the needs of general people same time, accessories of the vehicles.
Recently UM Runner introduced a few new motorcycles in which UM Runner Renegade Commando is mentionable. The reason behind titling this bike as commando, its look is almost like a war motorcycles. Eventually a war Cruiser design this bike possesses and UM Runner serve their all endeavor and features to this to give it the exact shape as it name is. So let be familiar with all its features to have an exact image of this bike.
Design
The first thing of this bike which is going to attract the customers mostly is its exceptional design. As this one is Cruiser bike that is why company tried to give it all the shape of a cruiser and its special attraction is its Commando look. As we see in different war movies, where many of the soldier use bikes in the war field. UM Runner tried their best to gave this one the same shape as we see in the movies. This one has wide tyres, stylish graphics, round shape headlamp, wide in size and others features has nicely given by UM Runner and it is better to mention that this bike is much more amazing to see then read in details through words.
One of the most noticeable matter of this Cruiser is, its spoke rim. As a matter of fact, most of the bike in our country is made with Alloy rim and as because this one is a Cruiser that is why it has a whole new design to serve an excellent feelings to the riders. Both wheels are structured with the Alloy wheel.
Dimension
On the matter of its size? This one is 2290mm long, 900mm wide and its height is 1390mm. Generally a cruiser bikes height is low from the general bikes and this one has no exceptional shape on this point of view. Its seating positions height is 770mm without this scale, its ground clearance mark is 150mm and wheel base is 1550mm. One of the most amazing matter of this bike is, its fuel tanker is very much big in size from the others bike and it can hold 18 liters of fuel at a time. It can be said that this one has the biggest size of fuel tank among the bikes of Bangladesh in the shame segment and by having all, its total weight is 163kg. Diamond body frame is used in this bike.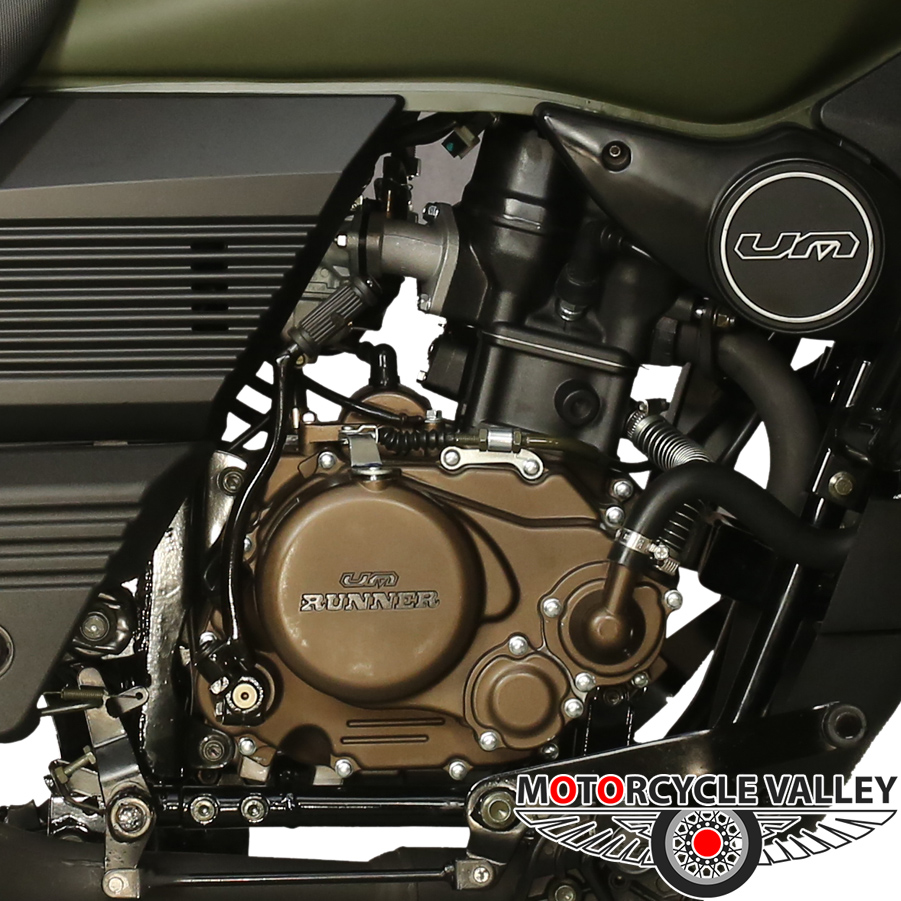 Engine
UM Runner tried to use powerful engine in this bike. As because its size is something like a giant one that is why its necessary to use a powerful Engine to run peacefully and comfortably. So by considering these all, UM Runner used 149cc single cylinder 4 stroke engine which can produce 14.5 BHP @9500 RPM max power and 12NM @8000 RPM max power torque. To keep the engine cool, this bike has liquid cooling system which will support nicely on the long ride. Engines compression ratio is 11:1 and to start the engine this bike has both the option of kick and electric. As like others bike of 150cc, this bike also has 5 manual gear box when to talk about the engines quality? UM Runner has used better and ultra modern engine in this cruiser.
Breaking and Suspensions
To serve a better engine with heavy power is not the all to mention a bike as a good one rather it must have excellent breaking system to control the speed and excellent suspension to have the perfect control.
They serve 280mm disc break in the front wheel and rear wheel has drum break. Front wheels disc break is large in size which will make easy to have proper control over this giant. On the other hand, front part has telescopic fork and rear wheel has double dumper suspension by which the cruiser bikes make the riders feel very much easy over it. It can be hoped that these all will let the rider feel comfort that they never felt.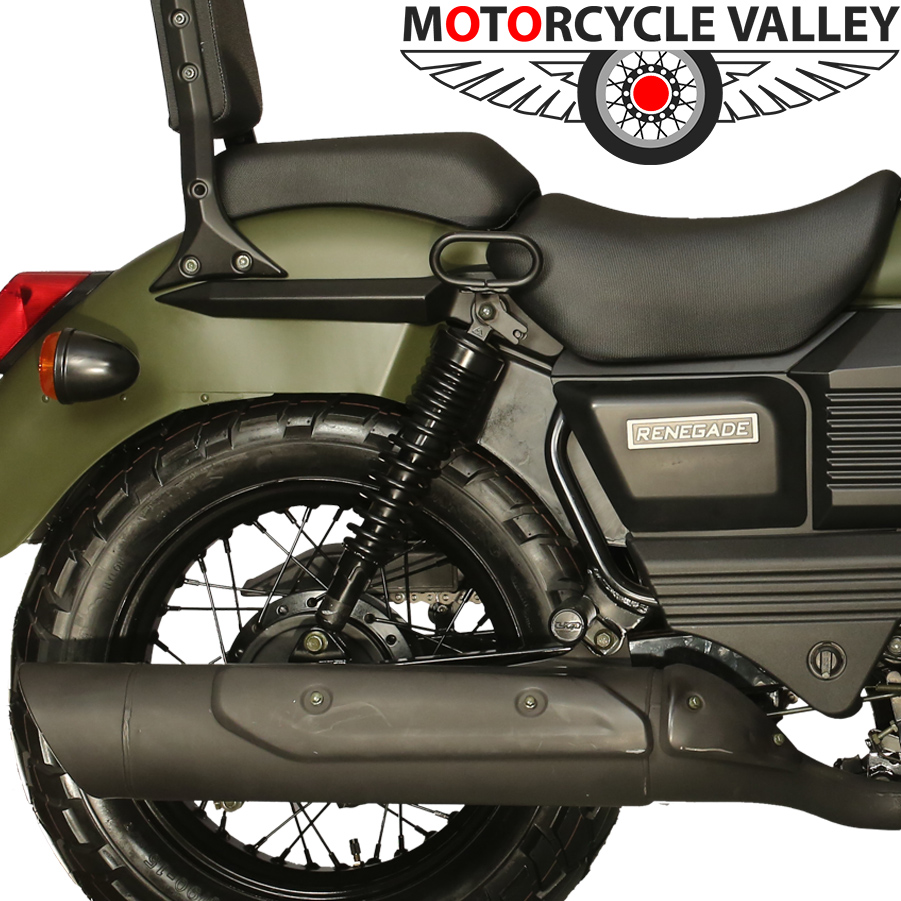 Seating positions
to serve the exact comfort to the rider and the pillion split seat is used in this cruiser by which both the rider and the pillion hardly going to feel any bad feelings. Same time, its seating position is wide enough.
Tyres
To give this one more attractive look over the giant size, its wheel has the tyre of 110/90-16 size and rear wheel has 140/90-16 tyre. Because of the wide tyres of this bike, rider will feel the advantage while control and will have the exact balance.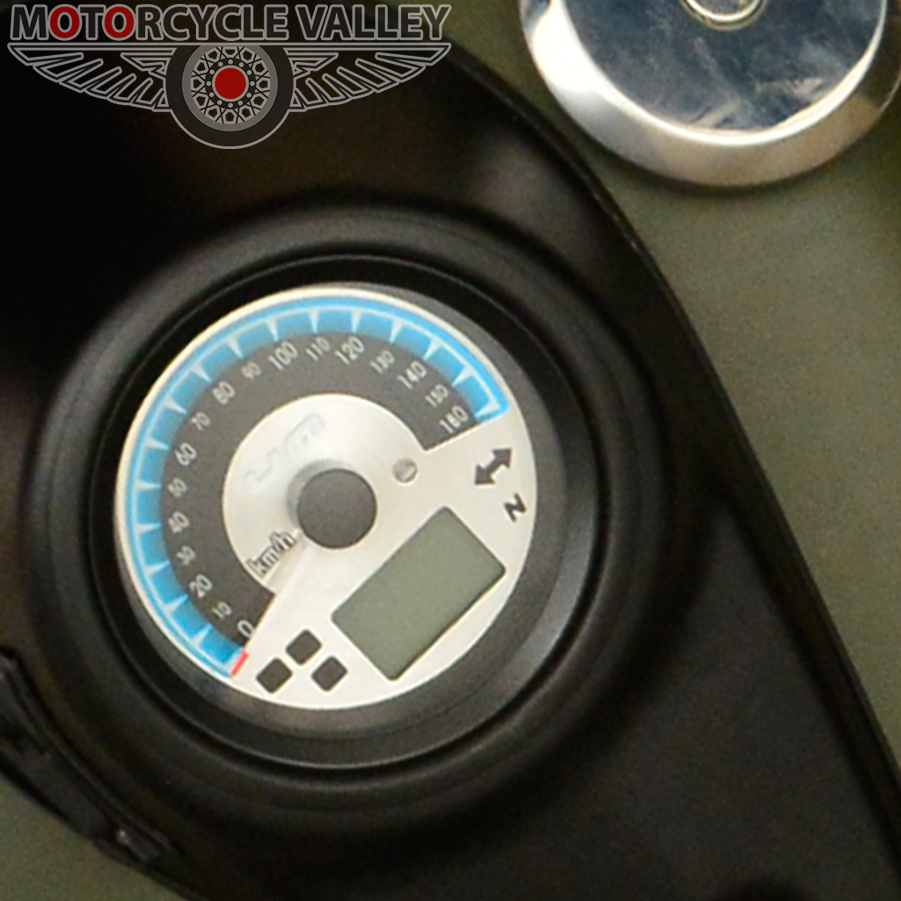 Electrical and mete console
Among the electric features of this motorcycle, this one is made with 55/55 watts halogen light of 12 volts. It is better to mention that, it has an exceptional electrical features of USB charger option by which you never have to think about your mobile charger while you are on a long tour. Meter console has excellent combination of both Digital and Analog.
At the last it can be said that, as because Runner is local brand and for this reason they should show some respect and love to the countrymen and decide the price of this bike which is reasonable enough. Runner did and trying the same thing this time by introducing UM Renegade Commando to the Bangladeshi bikers. This bike will be available in all the dealer point and also in the showroom in very short time. We can hope that this bike will open a new era in the market of motorcycles. So the Cruiser bike fans prepare to have this one as a new one.
It is better to mention for the general bike users that, according to its size, design and others related issues, its Engine is not so powerful. It would have been better if disc break is used in the rear wheel. This will increase the confident of the rider to have exact control over it why because its weight is high as a 150cc bike.