Suzuki motorcycle manufacturers are having a blast in Bangladesh. Already a bunch of new models are introduced and recently they bring in another product in their lineup, namely Suzuki Samurai 150. This newly launched standard category 150cc bike has all the charm to attract its users. It is simpler, but loaded with excellent features. Moreover, the brand value of this bike make it special inside 150cc segment. It doesn't have sports looks, but as a standard commuter it seems perfect. However, today we are not here to determine how the performance will be, today we are going to discuss based on what the performance will measured, to be precise this article is for providing the information about what features this bike has with it. So, let us not waste any further time and jump into the real it.
Design and looks:
One of the most interesting aspect about this bike is the design of it. More of less every 150cc bike comes with little bit of sportier outlook and features, but you are not going to find the sports looks in this bike. It is designed purely in a commuter appearance. Suzuki has tried to provide the greater power in a regular size package. Whereas, the regular features of a 150cc bike is available inside this bike. Glossy color tone for color scheme, besides, single color base with a little bit of splash use of other shades. Longer seating position, larger size carrier, stylish headlamp with and little bit chroming use for the silencer makes the outlook decent and standard.
Engine and transmission:
Japanese brand origin means no compromise with the engine features. For this newly launched 150cc bike Suzuki placed 149.5cc Air-Cooled, 4-stroke, 1-Cylinder engine, which can produce 8.2ps@8000rpm max power and 11.5 Nm@5500rpm max torque. For the transmission Suzuki Samurai has 5 speed gear transmission system. As a 150cc bike Suzuki is expecting this master piece standard commuter will provide excellent mileage for the users. However, the speed counting will not be that low as well. To start the engine it has both kick and electric starting options.
Dimension:
Well, as we were saying this bike not only has the stylish look, but the overall dimension makes it lookdecent and attractive. This bike has 1075 mm length, 750 mm width and 2055 mm height, which is a perfect commuter 150cc size. For the wheelbase this bike comes with 1310mm and ground clearance is 165mm. 12.5 liter fuel tanker is placed for long time riding and including all this bike has 133 KG kerb weight.
Tire and wheels:
Both side 18 inch Alloy wheels are seen at this bike and for better durability these are perfect. For the tires 2.75-18 mm at the front and 90/90R rear tires are placed.
Suspension and brakes:
These two are known as safety measures and for this reason Samurai comes with perfection and stability. Telescopic type front suspension and Swing Arm type rear suspensions are seen for this bike. Brakes are as usual, no specialty has touched this bike. Combination of front Disc and rear Drum brakes are placed in this bike.
Meter cluster and electrical:
Fully analogue type meter cluster is matedwith this bike for vintage look. Here we have fuel gauge, gear counter, speedo, Odo etc. fully black theme background and multi-color uses made this cluster attractive while riding.
Electrical features are up to date. Both side stylish Headlamp and rear lamp are placed in. 12V, 6Ah battery is placed for the electrical operation. 12V, 35/35W-12V headlamp, 21/5W tail lamp, powerful turn lamp and all the electrical features will be operated by this battery setup.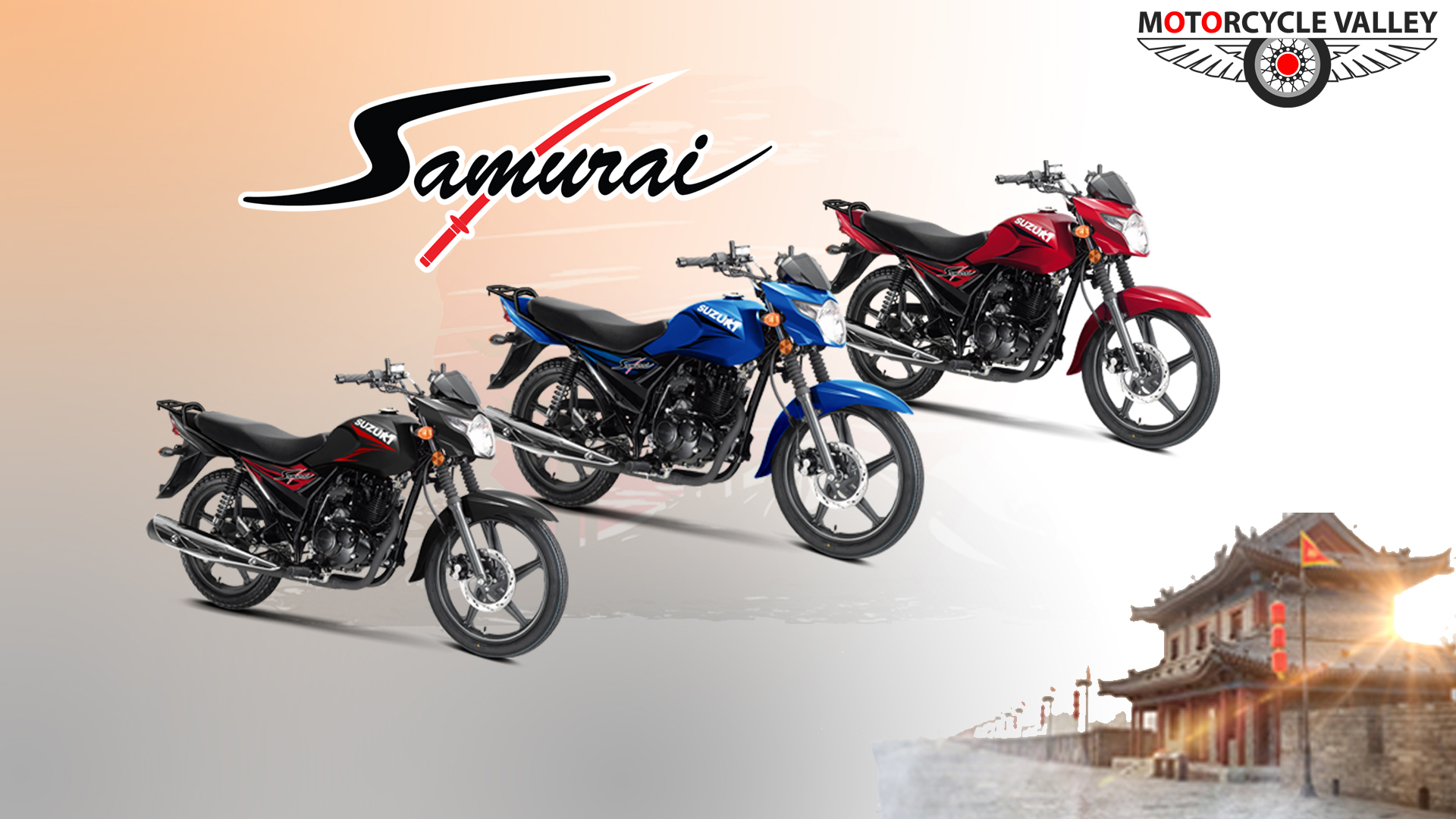 Verdict:
So, that all for this article. Suzuki has bring a classy piece for sure, but the performance will be the call of the users now. However, this new model from Suzuki will be available in three different color variants, there is no version like single, or double disc. The mentioned color from Suzuki are Balck, Red and Blue. We are done today, hope this article will be at help for the users.