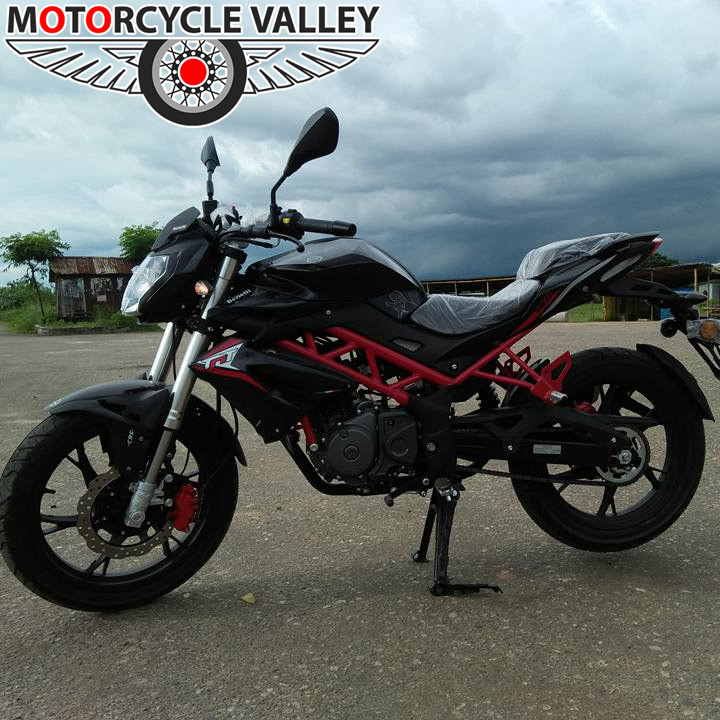 Benelli is known as one of the oldest and popular Italian motorcycle manufacturing. In 1911 they started manufacturing motorcycles; they manufacture 75cc to Super bikes as well. Among their popular bike series TNT (Tornado Naked Tre) is marked. For many days people were taking about the arrival of Benelli motorcycles at our local markets. After a long wait tenth June to full fill the demand of the users a 150cc bike named Benelli TNT 150 finally arrived in Bangladeshi Motorcycle market. Importer of Benelli Brand in Bangladesh is Speedoz limited. Now talking about this features and performance of this 150cc bike we team motorcycle valley are here today to let you know about them. Now a big question is there is can this bike be satisfactory for the riders? It is a difficult question to answer unless it starts performing at the roads, but at least features can make sure that how will it perform. So without wasting any time let us see what the features of Benelli TNT 150 are.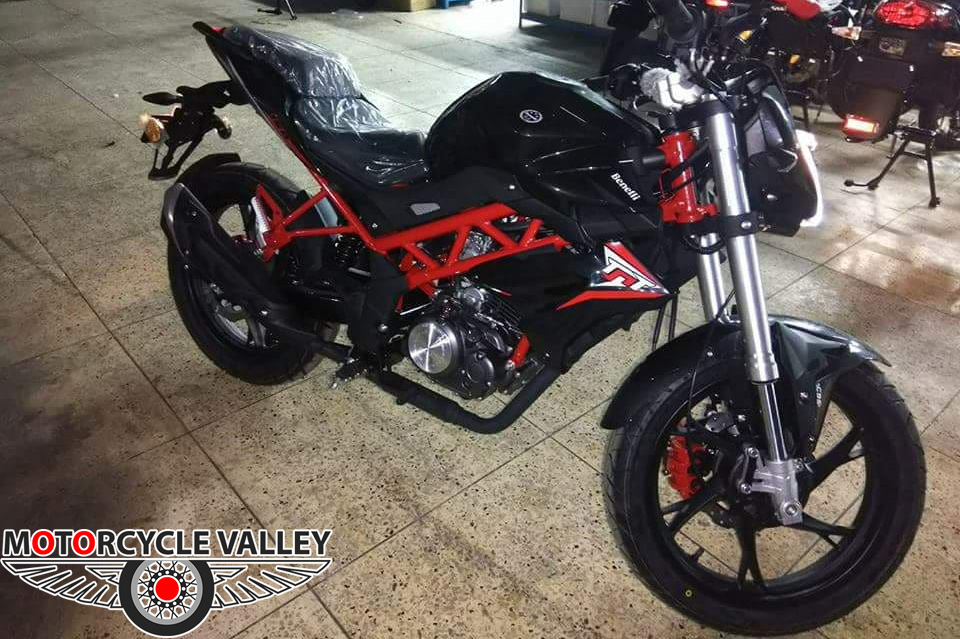 Design and outlook:
If we have to talk about the design of this bike it is a naked sports category motorcycle. And when it is about naked sports bike then the youth must get attracted with the outlook and this bike has something to attract. This bike holds excellent color combination, long and well heighted seating position with which is also know as a split seat. Not only that but also combination of the seat and handle bar gives this bike a sporty posture which will also look good when people sees a rider hopping onto it. To make this bike wider two semi faring kits are placed at both side of the engine and for making the outlook more charming it has well design alloys and Disc plates. So no doubt the designer Benelli has given their best effort to make this bike eye-catching.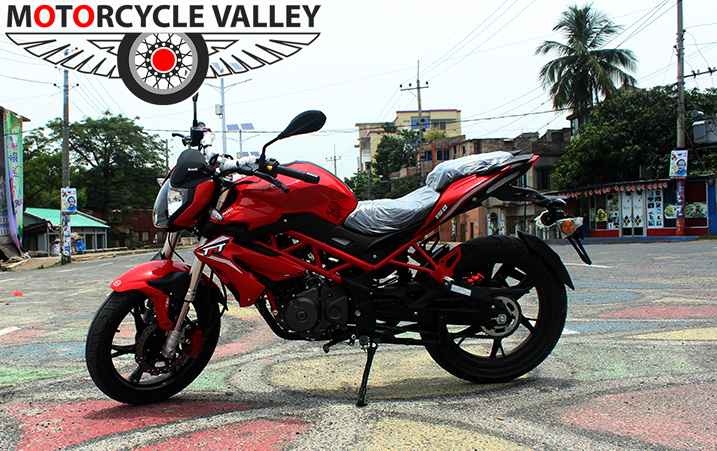 Dimension:
At the dimension this 150cc bike has 2050mm length, 1065mm width and 1360mm height. Wheelbase of this bike is 1365mm and at the ground clearance TNT 150 has 205mm this kind of ground clearance is helpful for riding at the city roads especially over the speed breakers. This bike comes with larg size fuel tanker and its capacity is 13 Liters and with all these measurements this bike contains 144 Kg body weight. For our country roads this kind of dimensions perfect but because of the seat height rider must be concern about their height.
Engine:
Benelli TNT 150 come with 148cc single cylinder 4strokes air cooled engine. This engine can offer the riders 14 BHP max power and 13.4 NM max torque. Compression ratio of this engine is 10:8.1. Manufacturing company Benelli itself claiming that this with this kind of power output riders are going to get 130 KM/H top speed (approx) and 50 KM/L mileage at least. To operate this bike this engine has five speed gear box and to fire up the engine it has self starting option, no kick start. No special technology and features are added.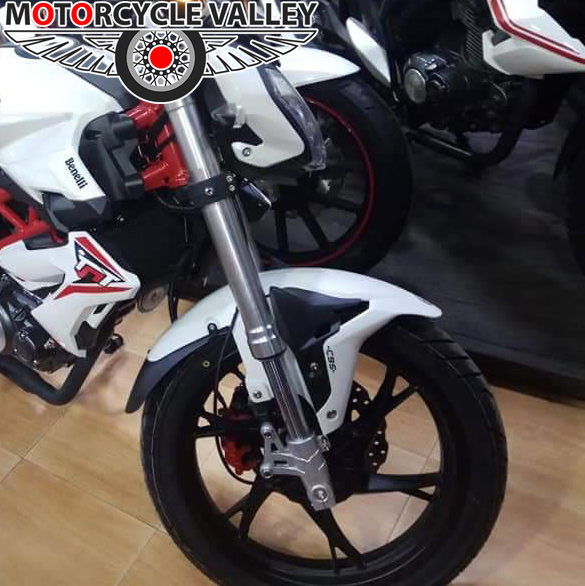 Suspension and brakes:
A bikes good stability, safety and comfort depend on the suspensions and brakes mostly. And that is why Benelli manufactured this bike with no lacking at these two sides. This bike has comfortable Telescopic upside down suspension at the front side and Mono-Shock suspension at the rear side. Not only Double Disc braking is placed at this bike for making it safer and stable this bike has CBS braking system as well. Hopefully this braking system will ensure more safety and excellent performance than the other comparing bikes at this segment.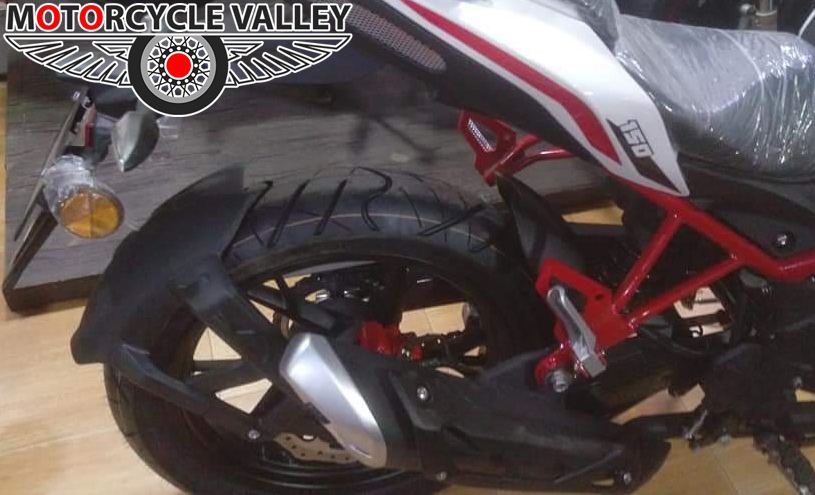 Tyres and wheel:
This bike holds attractive Alloy wheels and over them both side wider tyres are placed for the riders. Front tyre size of this bike is 100/80-17 and rear tyre size is 130/70-17.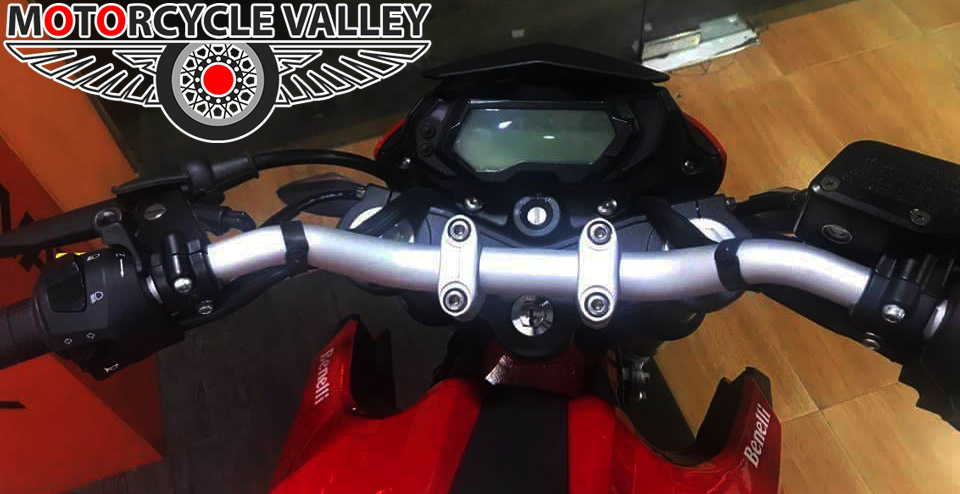 Electrical and meter console:
To maintain all the electrical features this bike TNT 150 has 12V maintenance free battery. Talking about the electrical features it has 12V 35/35W headlamp, stylish LED tail lamp and side indicators. Especially LED park lights of this bike make it more attractive at the night period.
The Meter panel of this bike is fully digital and it contains all the know features which a rider requires to ride his bike. On the other side handle bar contains same position which can make the ride comfortable for the riders.
Conclusion:
After observing all the features of Benelli TNT 150 we can say that this bike has almost all the feature which a rider needs to ride with safety, comfort and enjoyment. Braking, suspension, tyres, and looks all the things are perfect for our country roads. Now let's hope for the user's opinion and best performance level. This new motorcycle is available with three color and they are – RED, BLACK, and WHITE.