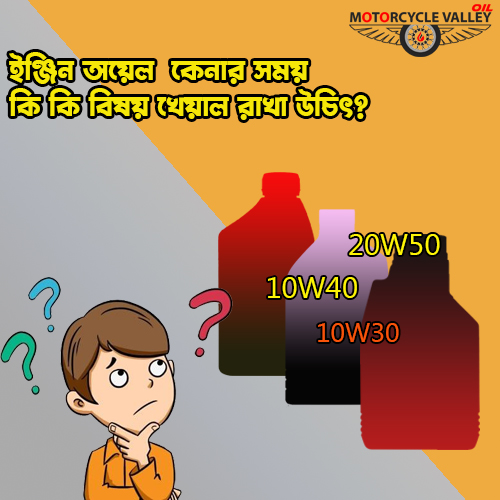 Many of us buy engine oil by the suggestion of our mechanic, and sometimes even they also don't know which engine oil is better and which grade engine oil is recommended by the bike manufacturer, they suggest us their favorite brand also sometimes don't mention the grade of the engine oil, in this case many of us use the wrong grade engine oil for our bike which is harmful for your bike engine life, it decrease engine performance and enhance engine vibration, and if you use the lower grade engine oil than the recommended grade your bike will overheat and there will be a issue related to reliability. Today we will inform you about which things you have to do before buying engine oil.
• If you don't know the recommended grades of your engine oil suggested by the manufacturer then please check the engine oil grade mention by the manufacturer in the user manual book.
• Also know the engine oil capacity of your bike, if you refill the engine with less oil or more than the capacity then it causes problem like heating issue, or vibration from the engine, so refill the engine with the right capacity of engine oil.
• Some of brand suggests using their own engine oil, which they manufacture specially for their bikes, to perform better and enhance the performance of bike.
• Always buy engine oil from its dealer point and authentic shop for the original engine oil.
• If there is no trusted shop or dealer point near your location, then try to verify it by yourself, check the packaging and the bottle quality and then check the seal of the bottle.
• And then try to check the viscosity of the engine oil, if the engine oil is fake then it will never look like the original one and also it will have a less viscosity then the original one.
• Fake engine oil causes heavy damage to bike engine; also you will feel it after sometime and it doesn't even lasts long, so always try to buy the original engine oil from an authentic shop.
• After using the engine oil destroys the bottle otherwise some people try to collect them and they use the bottle for the duplicity.
Some of us are very careless about bike maintenance and buying engine oil, you need to know these things for yourself and should not trust someone blindly while buying engine oil, These tips will help to verify the fake engine oil and helps you to choose the right engine oil for your bike, we mention all the things you need to know, so that's all about today, hope these will help you.