2016-08-22 Views: 2088
Haojue Cool Motorcycle ownership review by Jewel Rana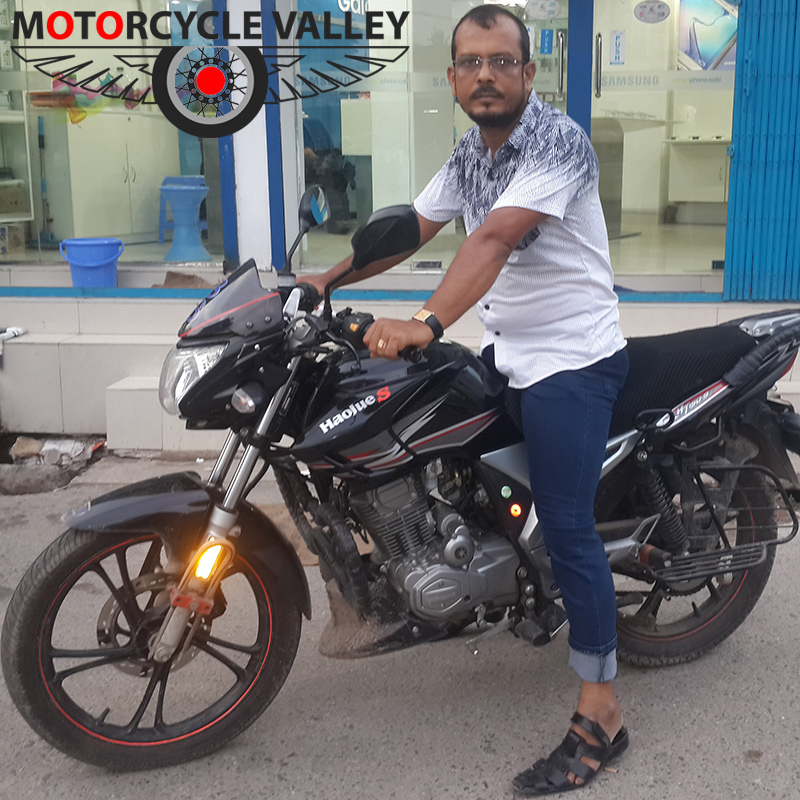 As I remember I was in class eight when learned riding motorcycle, forty years ago from now. It was my friends motorcycle Suzuki 80 which I first ride with the help of my friend. Till then motorcycle is one of the greatest priority of my life. Since that time motorcycle is like my own soul and I kept it with me in every moment.
My name is MD. JEWEL RANA and by the profession I am a lecturer.
Because of motorcycle valley's invitation and request of my younger brother KOYEL (K.R BIKE CENTER, RAJSHAHI), I will share my own thoughts about motorcycle and experience about my present motorcycle Haojue Cool.
I have purchased my first motorcycle around twenty-five years ago and it was Yamaha 80. For five years I had used that motorcycle and sold it. The second bike I had bought was 150cc Vespa. I used that Vespa for many years. When I was still using that bike I heard about new a motorcycle named Yamaha FZS. Few days later I bought that bike and began to use. After few days I sold FZS and bought Yamaha Fazer. I don't like to use one bike for long times that is the main reason of my bike changing and I always try to have the latest model and well featured motorcycle for my own.
Younger brother KOWEL is the dealer of Karnaphuli in Rajshahi and he was selling a new bike named Haojue along with Yamaha. At the first glance I thought this bike is very simple bike but after I ride this bike I had amazing feelings. I was bored using FZS, Fazer or these types of bike. So I made a decision to but this new motorcycle Haojue Cool. It is a story of 2013 when I bought this bike.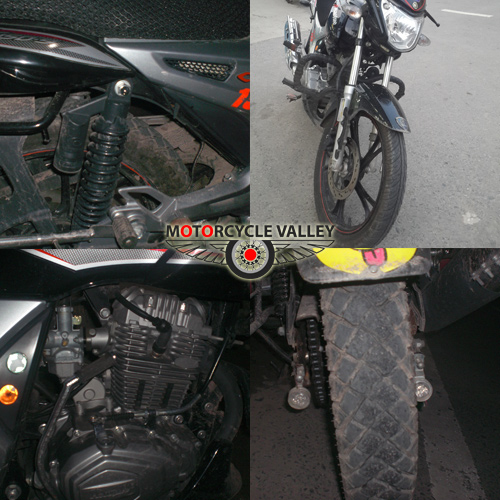 After buying this bike I faced few problems in very short time which I was not expecting. The rear tyre was very thin that is why it was skidding during at the braking period and road grip of the front tyre was also very poor. Along with these problems more was added and they were, the rear suspension was not so comfortable to me and I was not satisfied with the power of my bikes headlamp. I began to think how I can solve these problems because I was not that type of peoples who stay happy with the problem. For the rear tyre I arrange wide tyres from India and replace the front tyres with CEAT bike tyres. I changed the back suspension and placed the latest gas suspension of Bajaj Pulsar 150. At last I made changes with the headlamp of my motorcycle and replaced my former light with powerful halogen bulb. I felt the Air filter of this bike is bigger than the others so I changed it and placed a thinner and smaller Air filter than the former one. Because of changing the Air filter my bikes mileage increased and my fuel cost become less. After all this change I realized that my bike has become very special. I always ride my bike very roughly so without good braking it is not possible. After changing the tyres I am fully satisfied with my motorcycles braking and I am enjoying it. There is nothing to say special about the suspension of Bajaj Pulsar because everyone who ridden this bike knows about its quality. When I hit the brakes I don't feel like that I am in my bike I feel I am in a boat, because I remain very comfortable. Because of the powerful Halogen headlamp I feel very comfortable at the night riding along with other time. The change I have made to my bike if Haojue Company itself does the cost will not be more than five thousands I guess.
I shared all the bedsides of my motorcycle at first now it is time to say about the good things. More than three years I am riding this motorcycle and till now I have not faced any bigger problem at all. Especially I have say about the engine, it is steal intact. Though I ride my bike very roughly Engine sound remain the same as it was three years ago. My average speed is around 70 KM/H all the time at the city roads and 100 KM/H speed is very simple matter to me at the highways. I often travel to many places surrounding my city such as Rajshahi to Bogra, Rajshahi to Bagmara etc. at the city roads or at the highways my motorcycle does not bothered me and I am very pleased with its performance. I never counted my motorcycles mileage because my fuel cost is very chipper than the other users that I can say. In my perception it will be more or less 45-50 Km/L which I can give confirmation about. This bikes mileage can be compared as the Indian motorcycles at this segment.
Now if you talk about my motorcycle riding comfortness then I have to say it is just awesome. This bike contains little bit lower handle bar which provides style as well as comfort because the sitting position is perfectly placed with the handlebar. You will feel very comfortable at the riding period because you can sit in this bike more straightly than the other motorcycles which carry low handlebar. Because of this reason you can get relief from back pain also which is must need thing for the riders who want to use motorcycle for long times. You won't have to pay money to the physiotherapist for your back pain that I guarantee. Ground clearance of this bike is very well and the seat height of this bike is lower than the other bikes at this category, because of this reason the centre of gravity of this bike is lower which provides superb controlling. You will be surprised with your controlling at the crowded roads in your city. Lower centre of gravity will provide you three special facilities at once and they are better control, balance and boost confidence of the riders.
As I said before I am a rough motorcycle rider. I have tested my bikes speed for many times. One day I have experienced 0-90 KM/H speed in very short time, because I had no pillion with me I could not record the timing. One of the most pleasant things about this bike is, its controlling becomes smoother at high speed. Other charming thing of this bike is its exhilaration, just wow! If you know the correct utilization both Disc and Drum brakes then these brakes are able to stop the bike in tiny time. Before you use the brakes please practice for you own safety.
This bike in not like the sports category motorcycles but separate handlebar, angular Headlamp, stylish tail lamp and arrow dynamic design made the outlooks of this bike attractive and very decent without any doubt. In my view Yamaha Gladiator and this bike have many similarities at their outlooks.
Important Specification:
Engine: 4 stroke, air-cooled single cylinder 150cc.
Max Power: 11.3 hp (8,000RPM)
Max Torque: 8.3 lb-ft (6,000RPM)
Transmission: 5 Speeds
Starter: Electric & kick
Wheelbase: 1280mm
Ground Clearance: 178mm
Tank Capacity: 13.3L
Brakes: Front Disc/drum; rear drum
Tire Size: Front: 2.75-18; Rear: 90/90-18
I always depend on the servicing centre for my bike caring because I do not have sufficient time to take care of my bike by my own. More than three years have passed I did not need to do many things; washing the bike, changing engine oil and few small things that is it. I always try to use the high quality engine oil for my motorcycles engine because doing this will increase my bikes engine performance. This bike contains engine oil indicator so you can know when you need to change your engine oil. It is very important to change your engine oil because if you don't your engine will suffer near future.
You cannot say that your bike is perfect because every mechanical thing has more or less problems and this is the reality I guess. If I overlook the smaller problems of my bike then Haojue Cool is really a better quality without any doubt. Especially its stylish outlooks and powerful engine can attract any kind of user I think. Durable body parts have given this bike long lasting life.
I have said many things above and all these words are my own thought. I guess it will help the other riders who want to have this bike. At last I want to say this bike is the combination of modern features and excellent power. This bike will suit with people of any age and occupation