2016-09-27 Views: 7874
Owned for 1year+ [] Ridden for 10000km+
TVS Apache RTR 150 motorcycle ownership review by Suny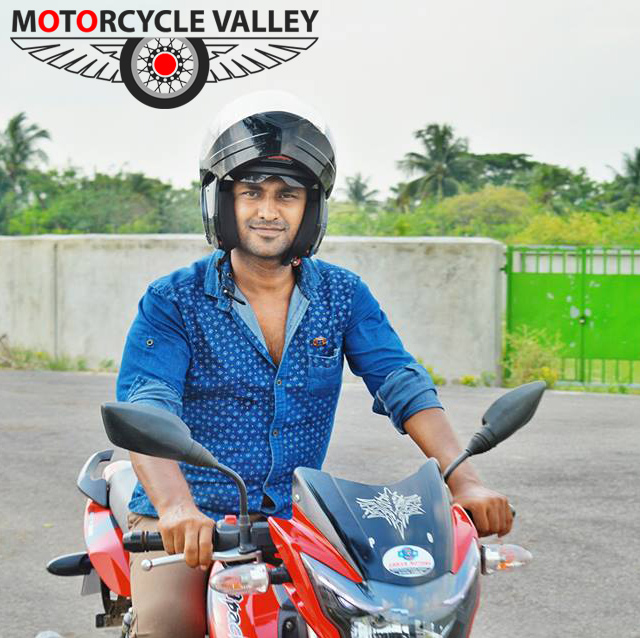 For last one year I am riding a motorcycle named
TVS Apache RTR Double Disc
and I purchased this motorcycle from one of my friend. Though this motorcycle belongs to my friend, so after he bought this bike I use to ride it. My name is
MD. Salauddin Ahmed Suny
and I am from Gazipur. I am sharing my bike riding experience with you guys.
At first let's talk about looks-
Apache contains outstanding and glorious outlooks with it, which can catch the eye of every rider. Stylish body kit, Horn, Headlight kit, Handle bar, stylish back side overall it is wonderful.
Till now my bike has crossed 13,664 Kilometers path. When I bought this bike from my friend it was ridden 6000 kilometers. I can say it was really in good condition. When this bike belongs to my friend an accident took place at 60Km/h speed through another friend of mine and for this reason few damages also occurred with the bike. Leakage of the front tyre, suspension breaking, curved handle and cracked neck was included among those damages. I repaired all those things and installed new parts. Tyre is still unchanged but few days later I feel uneasy during riding. Because the handle becomes curved I feel pain at the riding period to my hands. Later I almost fixed that problem with good mechanics and the handle is now become very much straighter. I cannot fulfill the required tyre pressure at the front tyre but the pressure I maintain didn't create any problem. I replaced my tubeless tyres with tube tyres because often at the morning I saw tyre pressure becomes low. Using jell is can be the solution but because I don't have any experts near about me so I use tubes for my tyres.
Now let's talk about the performance of my Apache-
Until now I haven't serviced once and didn't need to. After running 8000 kilometers I changed the brake pads. After every 3000 kilometers I changed the Mobil (engine oil) filter and after 800-1000 kilometers I change the engine oil. I always use Havoline 20W40 grade engine oil for my bike for better performance and smooth sound.
I changed the chain sprocket of my bike after 11000 kilometer. Till now the air filter is unchanged. I service my bike regularly. I didn't gather any big problems for my bike. If the engine sound seems like dissimilar I repaired it. I changed the plug once but the stock is still fine.
Few modifications I have also done such as LED light set; few stickers are changed, modified few lights and installed a sound speaker. Because this bike doesn't have any chain cover for this reason chain gets dirty and the chain sprocket damages early. By bike contains double disc brakes and for this rear tyres are decay faster. By the way I cut the tyres by coasting 100 Taka and it is giving good road grip.
Now come to the mileage of my bike-
Generally I use octane as my fuel. At Gazipur city I got 36-38 KM/L mileage but at the highways like mymanshing, Chittagong, tangail roads I get 47-55 KM/L mileage. There is one thing mileage depends on oil quality. Once I tried and experiment which was to use the mixture of octane and petrol. This mixture can increase the mileage but the engine sound hampered very badly, Smoothness no longer exists so I use octane.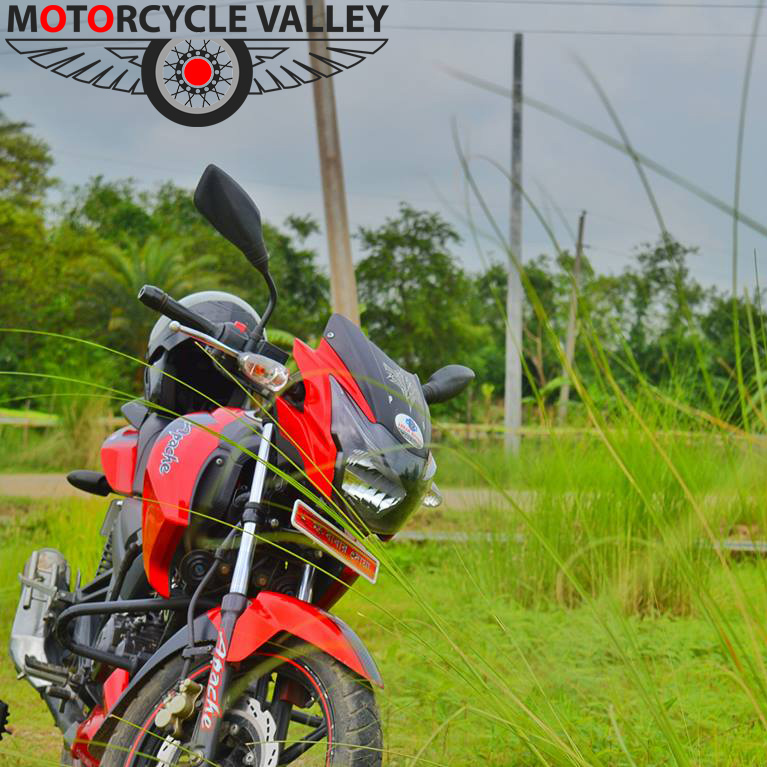 Now I come to the controlling-
Because my bike includes double disc brakes so I get better controlling and decrease the speed easily. 50% of bike controlling depends on bike rider. At the controlling my bike never let me down but when my bikes stock rear was decayed it was skidding. Front suspension of Apache works little bit slower and the rear one works better. Sometimes hard braking creates problem but if the two brakes are use at once then no problem.
At the comfort I will say this bike is best for city travelling but at the long journeys it is not so suitable. Seating position of this bike satisfied me but if you ride 60-70-kilometers straight away then you will feel pain at the lower west. But comfortable seat cover can solve this problem. When I ridden 400 kilometers in one day from Bandorban to Rangamati to Chittagong to Gazipur I feel back pain. Everything is fine, if you the rear tyre can be replaced from 110/80-17 to 120/80-17, comfortness will raise more but the mileage will be decreased.
Now come to speed and acceleration-
It has Instant ready pick-up and superb power. I got the proof when I made that journey from Gazipur to Bandarban to Rangamati and Nilgiri to Chimbuk. My feeling was just awesome. Usually ididnt thought about the top speed of my bike and I generate 116 KM/H speed with my bike at Comilla, Chittagong road with one pillion and she was my wife. My body weight is 78 KG and my wife is about 70 KG and the bike contains 137 KG's. With this type of weight I travelled at Nilgiri and Chimbuk without any problem. But two bulb engines contain a problem, after 90-100 kilometers riding it consumes extra power. In that case you need to give your bike some rest.
Now let's talk about the vibration matter-
Yes, Apache is a vibrate machine. Yeas it is a machine and very powerful machine. I generally use my bike at the village roads and city roads; my speed always remains 60-80 KM/H. Everyone says at this speed apache vibrates much. For those people I will say please come and ride my bike. I believe your thought will change but at 105-110 KM/H speed it vibrates. On that speed it is a common matter. After you crossed 110 KM/H speed your concentration will be at front and controlling so vibration won't bother you.
These are my experience with my Apache and these thoughts are my own. I take pleasure in riding this bike. I respect bikes and bikers. I always wear helmet and follow the traffic rules.
Thank you all.