2016-06-27 Views: 1938
Bajaj Discover 150 Motorcycle user review by Rashel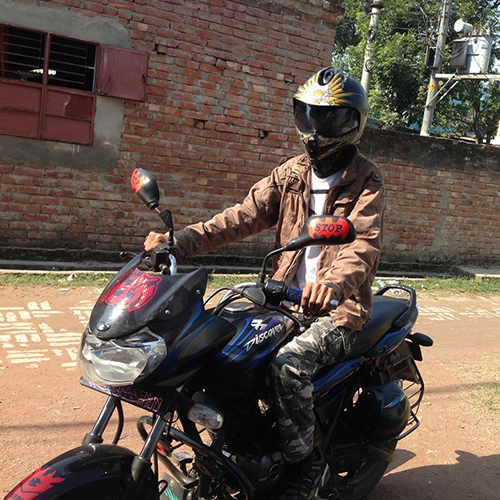 At present days motorcycles has become one of the most significant and pleasurable ride for people of every age. This vehicle is stylish and can be affordable to every kind of peoples in the society. From my childhood I always saw my father riding motorcycle and for this reason I always wanted to ride a bike. Because my father is a government service holder and he was at his middle age, that's why he always prefer commuter motorcycle. My father had used many commuter bikes and latest of them is Discover 150. My father bought this modern commuter bike at the year 2012 and I was very lucky that I had already completed my motorcycle riding lessons. After my father bought this bike I used to tour and ride with this motorcycle very often. It has been four years I am riding this motorcycle I have gathered lots of experience about this motorcycle.
Design and Looks:
Bajaj Discover 150 motorcycle one of the stylish bike which carries a decent looks. It is made with outstanding design and its straight chassis made the looks more attractive as commuter bike. Glowing and attractively finished color combination makes those things more charming without any doubt. This motorcycle looks better than the other commuter bike because of its dimension which can be compared with other sports category motorcycle running at our country roads. so design and looks are undoubtedly perfect.
Experience of controlling and riding:
Good controlling depends on good dimension and best riding experience depends on both controlling and dimension and I would say this motorcycle contains all these three. I use this motorcycle for traveling in short roads and in my experience this motorcycle is easy to control for its straight and simple dimension and design because this bike is much heavier than other commuter bike that's why it can provide good controlling. When I used to travel with my bike I experienced great riding. My father used to travel with this bike at the long journeys and in his opinion it's good. I had travelled 170 KM in a day and I think at long journeys this bike is better than the others at the commuter ctagorey.
Performance of the engine:
I am using this motorcycle for past four years and in my own experience I have got the performance with this bike as I expected Engine sound of this motorcycle remain the same after almost five years which is good sign. This is the most pleasant thing which I loved about this bike. this bike contains 145cc DTS-i, 4-stroke, Natural air cooled engine which is able to give 13.0 PS @ 7500 rpm max power and 12.75 Nm @ 5500 rpm max torque. Because of this type of powerful engine riders enjoy their riding all the time with this bike. Four years have passed and the engine had been repaired twice.
Top Speed and mileage:
We all know that Commuter bike always provide good mileage bike is also capable to do so. Alongside the mileage my bike pleased me with the top speed. From the very beginning this bike is always best at its mileage. This bike has given me 50 KM/L mileage and I personally calculated the mileage as a 150 cc commuter bike it is much better. This bike doesn't let down me at the top speed. I have got 127 KM/H top speed at the highways.
Suspension and braking of this bike:
I have to say Braking and suspension are very important part of a motorbike and both these features are really well and both are very effective at my bike. This bike contains the combination of Disc and Drum Brake which is really effective at our country roads and Risk free. These brakes helped me in many different situations and I am pleased with their performance. Without any doubt suspensions of this bike is really helpful at different roads and condition which I have personally experienced. I am satisfied totally with both.
Taking care of my bike:
Because this is my father's bike I have not enough time to take care of this bike but whenever I got time I wash this bike with water clear the dust, check all the spare parts, air filter, chains etc. after 1000 KM I used to tell my father to change the engine oil.
These are my four years experience with this bike. In my opinion this bike is very durable and it is perfect for long term use.