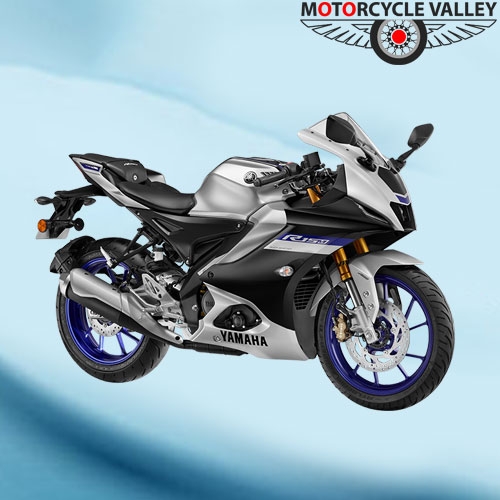 We have discussed the interesting and eye catching changes of the newly launched Yamaha R15 V4, now it is time to discuss about the other masterpiece introduced side by side the version 4. Yes, it is R15 M. Yamaha's racing DNA gets the physical attribute shaped in legends like M1, The R1M and the R-series. Now in lower segment The R15M takes the racing quotient to next level with stunning new graphics, 3D Emblem & Special Seat, 155 CC LC4V SOHC FI ENGINE WITH VVA equipped with a Traction Control System and a Quick Shifter similar like the R15 V4. What? Are you guys up for exploring the else features of this bike new machine? Okay! Let's start then.
Special features of Yamaha R15 M:
AERODYNAMIC BODY DESIGN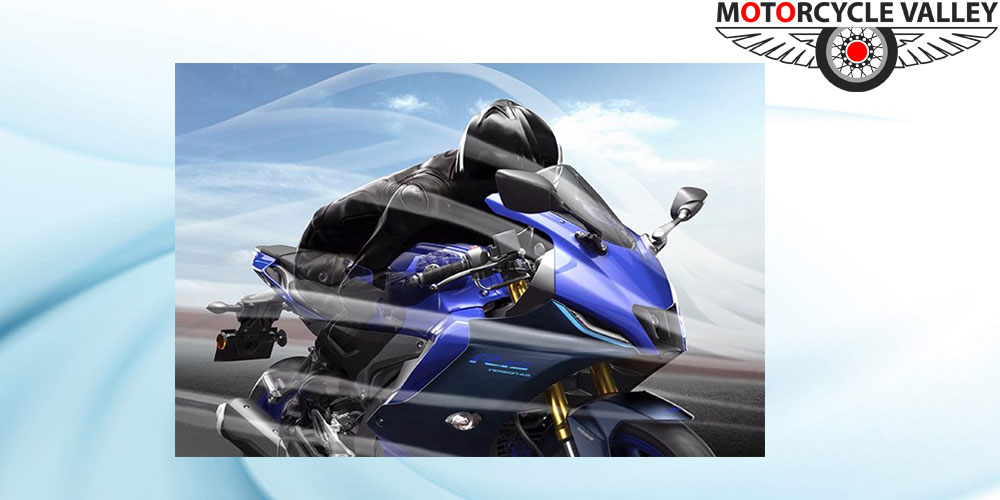 Yamaha R15M truly consists a great AERODYNAMIC body design, same as the stunning R15 M, it is even better. With better airflow management the rider can reach the top speed faster and is also helpful in the high speed stability of the machine.
CLASS D BI-FUNCTIONAL Headlight Unit: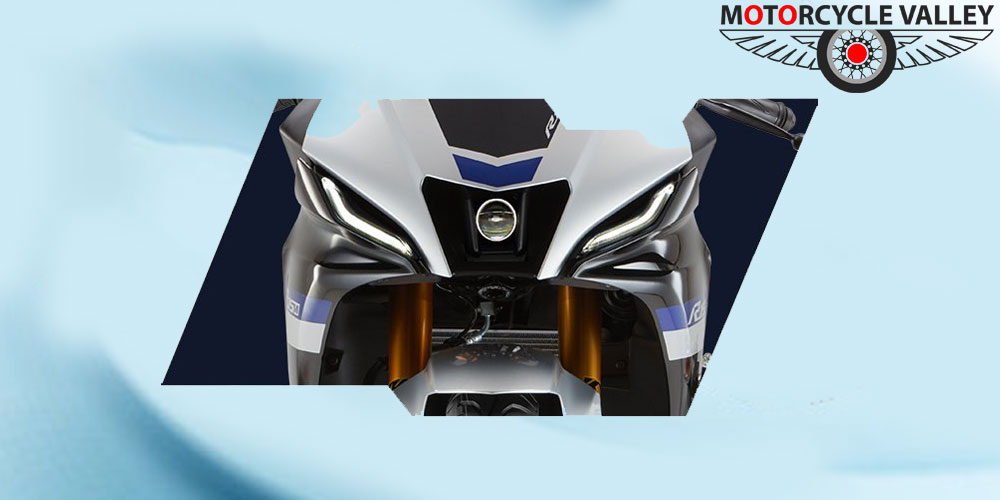 The new headlight features a single bi-functional LED unit releasing both the low and high beam. Characterized by increased brightness (Class-D), the unit's light weight and compactness has enabled the new highly aerodynamic fairing (cowling) design. To give superiority to the face of R15 M, giving a visual impact despite its compact size, all LED position lights are placed on the outer extremes of this bike. Placing this not only keep the frontal projected area small, but also to create the commanding appearance of a big bike. The rear section also mated with fully LED, even the hazard and side indicators are also LED setup for R15 M.
Superior engine build: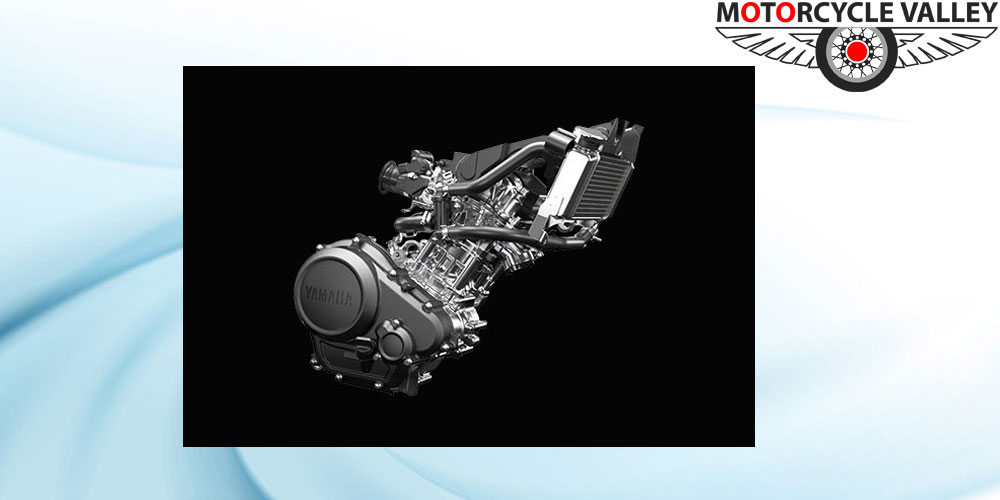 155 cc LC4V SOHC FI Engine with VVA, the engine specification is truly mesmerizing of Yamaha R15 M. The liquid cooled single overhead camshaft 155 cc LC4V SOHC Fi engine tosses out a maximum power of 13.5kW/18.4 PS/ 20 HP @ 10000 rpm and maximum torque of 14.2N.m @ 7500 rpm. Even more, this new engine contains a Traction Control System and a Quick Shifter (up-shift) as well. To fire up the engine we have electric starting options and 6 speed manual gear box for the smooth transmission system.
Variable Valves Actuation (VVA)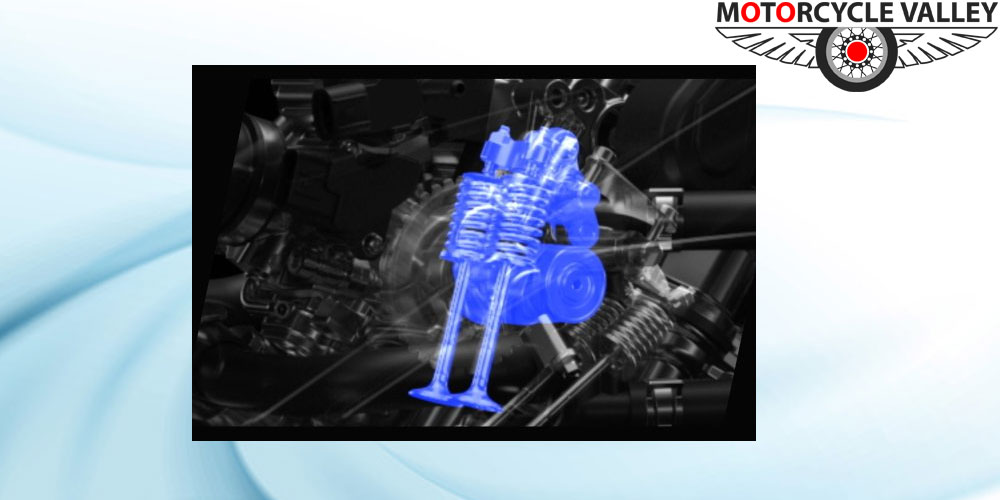 After R15 series mated with the Variable Valves Actuation (VVA), their performance and acceptance level become one step ahead than other bike at this segment. VVA system that provides torque for ease of use even at low RPM. There are two intake valve cams: one for low to mid-range rpm and another for high rpm. They switch between each other at the 7,400 rpm mark to ensure good power and torque is present throughout the entire rev range. So it really helps to speed up the bike evenly and betters the riding.
Traction Control System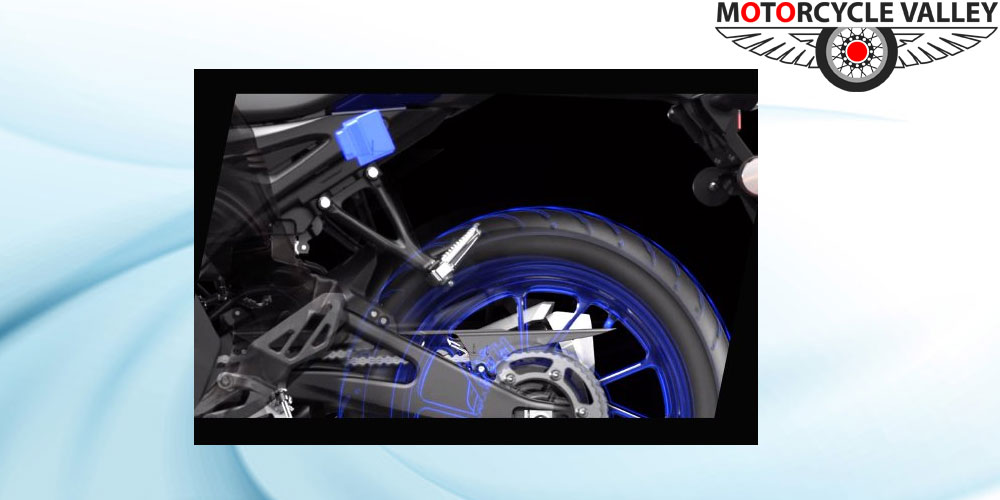 The all new R15 M comes with Traction Control System. This is a devoted electronic system that has the significant capability of reducing the chances of a wheel spin (slippage due to loss of traction).
Quick Shifter: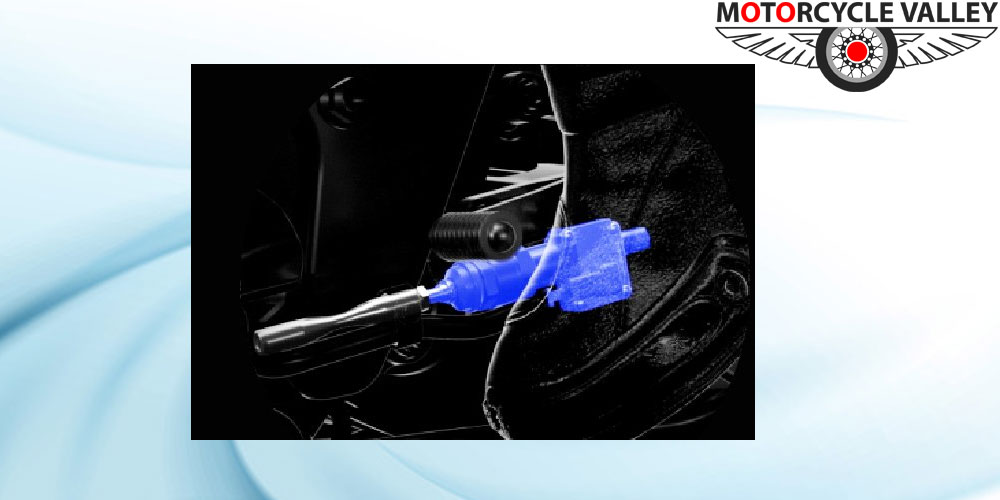 All new R15 M is configured with Quick Shifter (up-shift), which allows for clutch-less shifting of gears. It increases the comfort of riding the vehicle since it eliminates the need to use the clutch or throttle before and after a gearshift.
Side Stand Engine Cut-Off Switch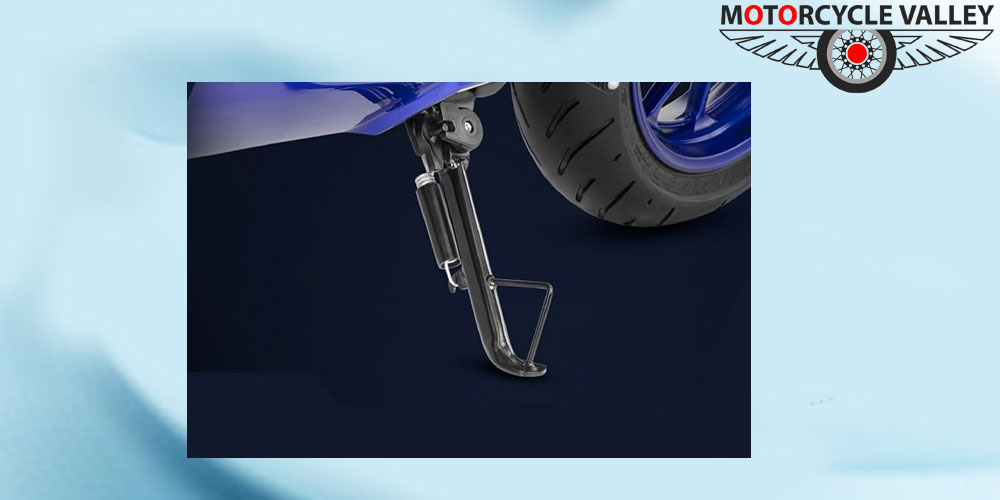 With the in-built side stand engine cut-off switch, you do not forget to remove the side stand during those immediate rides.
Advanced Fully Digital LCD Meter Console that connects with Y-Connect APP: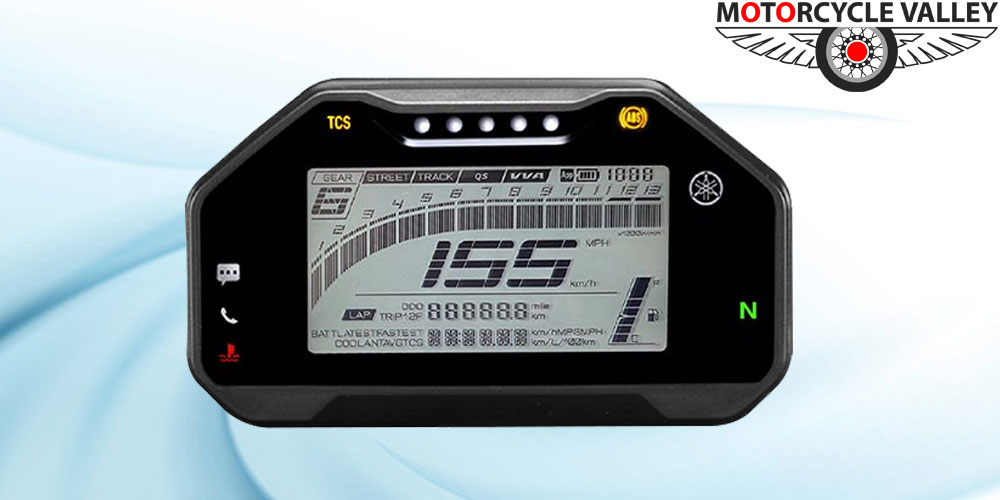 From now on users can stay connected even on the move with the favorite Yamaha R15 M, similar features like the V4. The all new Yamaha R15 M comes with Advanced Fully Digital LCD Meter Console, which will display all the necessary features that the previous models had, but the new thing is it can be now conceded via Bluetooth with the Yamaha Y-Connect App. It displays phone notifications on your instrument cluster screen for giving you more convenient ride.
This new Bluetooth connection will offer you, call alerts, email and text message notifications, informs you of the bike's connectivity with the Y-Connect app on your phone, displays the smartphone's battery level. Even if we talk about the app, it has more to offer. Fuel Consumption Tracker, which will help you track your daily and monthly fuel consumption, Riding History, Maintenance Recommendations, Last Parking location tracking, locate My Bike options, Revs Dashboard that displays data that is not available on the bike's instrument cluster, such as Engine RPM, Degree of Throttle Opening, Rate of Acceleration, Eco-friendly Riding Indicator and Real-time Fuel Consumption. Finally, it has a mobile charger port.
Other specifications of Yamaha R15 M:
Body dimensions: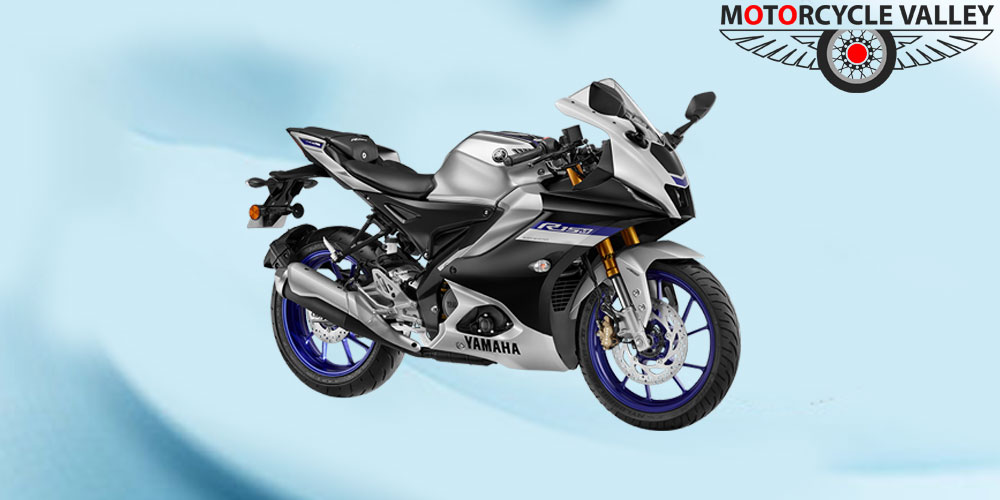 Talking about the body dimension of R15 M we have, Overall Length 1,990 mm, overall Width 725 mm, overall Height 1,135 mm. The seat height is 815 mm, which is moderate as a sports category. This bike has generous measurement for the Wheel base and ground clearance, which are 1,325 mm and 170 mm respectively. The Kerb Weight of this bike 142 kg (with oil & a full fuel tank). The Fuel tank capacity is 11 Liters. This entire structure is placed over a Delta box frame.
Suspension and tires: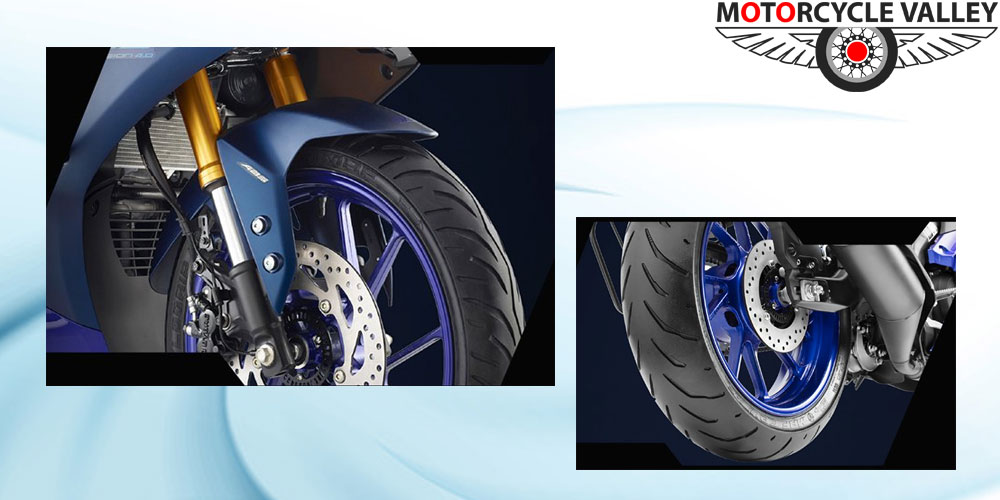 For the new Yamaha R15 M Telescopic Upside Down Fork (USD) is placed at the front wheel and Linked-Type Monocross Suspension at the rear side. Both the suspension types are effective and capable for enhanced riding experience. Additionally, the aluminum swingarm will give you the advantage of significant reduction in unsprang weight, which makes the bike easier to handle.
Both side radial tubeless tires are placed for the new R15 M. Front tire measurement is 100/80-17M/C 52P and the rear section measurement is 140/70R17M/C 66H.
Brakes: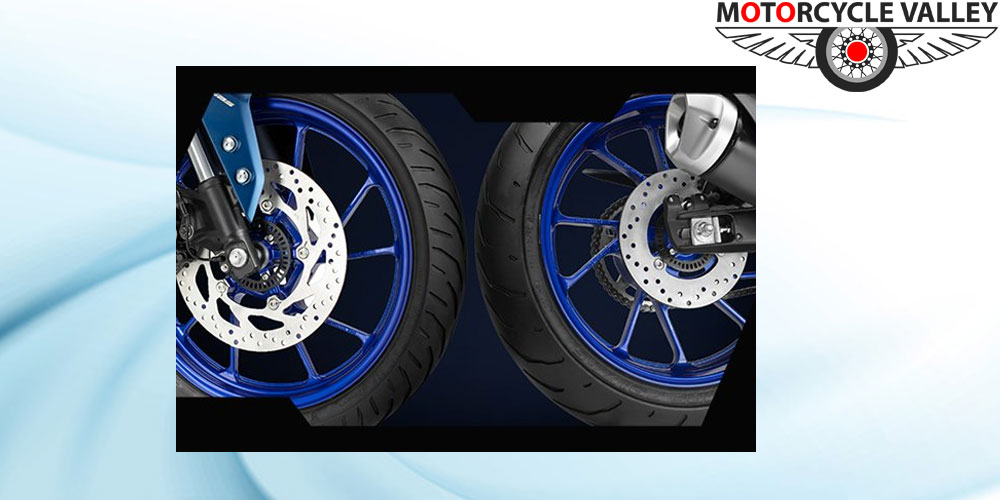 As usual this new version of Yamaha R15 also gets dual Disc plates. The front disc brake measures 282 mm and the rear one is 220 mm. For the advancement in braking dual channel ABS is provided with all the variant of Yamaha R15 M.
Verdict: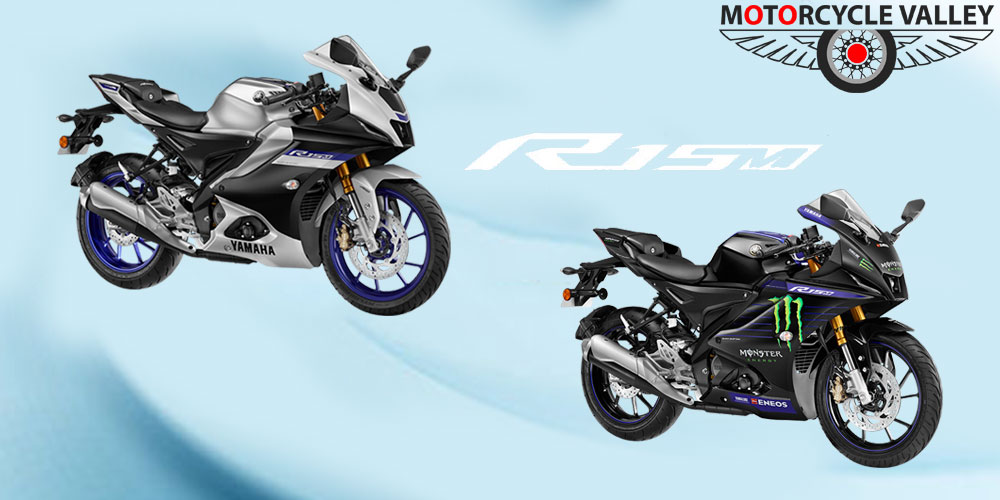 Two new color variant for Yamaha R15 M is available, they are METALLIC GREY, monster edition graphics to give you the feel of race track. On the whole, this is newest model that Yamaha introduced with all the upgrades and features a rider can desire for. With the DNA of legendary R1M the new Yamaha R15 M will also fire up the streets that we can expect.