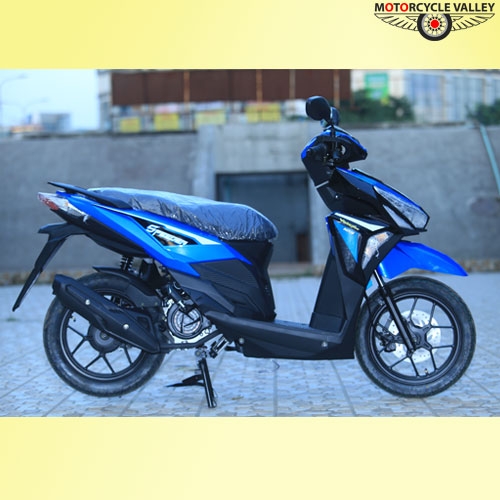 Terms are getting changed, people are getting more and more interested in Scooters nowadays. In this article we will be talking about the Speeder Volex 125. After introducing an aggressive ADV scooter MUGEN speeder introduced Sports commuter scooter, namely Speeder Volex Pro SV 125. In Bangladesh, sports commuter bikes are popular, but why not the scooter experience in such segment. That is why the sports commuting scooters, these are scooters that look sporty, are sporty, and move sporty. Getting back into the topic, the Speeder Volex Pro SV 125 is a sports commuting scooter. This kind of scooter is becoming more and more popular over the years in our country, which is why Speeder has given priority for this segment.
This manufacturing company always provides high class products according to the need of their customers and there was no doubt about their reputation as well. They always try to bring in well and updated featured two wheelers for their customers and to continue that initiative recently they have introduced one of their finest collections at their scooter segment. So, let us check the features and attractions of Volex Pro SV 125.
Key Features of Speeder Volex Pro SV 125:
-Sports commuter type design
-Perfect for cruising with style
-Front Disc brakes
-USB port
-Comfortable seating
-Underneath storage
Design and looks: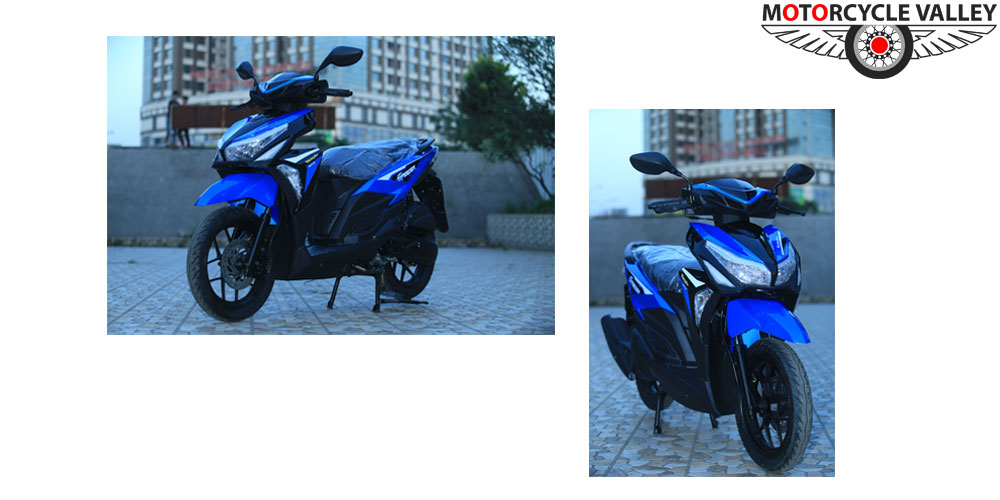 Speeder Volex Pro SV 125 is a pure commuting scooter with full sports flavor. Overall physical appearance of the scooter seems fully sporty and the color shading with decals matches the scooters personality. To charm the overall dimension more Speeder has given youthful dual tone colors, and wider seat. The front of the scooter has a huge headlight section. The rear of scooter gets a very interesting look as well. Over all, the fatty look from the front and relatively bulkier stylish rear section and sporty design mated with alloy wheels gives this scooter attractive outfit which can catch the eyes for sure. On the first go, Volex pro may seem quite compressed, but it has lot more to offer and it is quite spacious to hop on.
Body Dimension: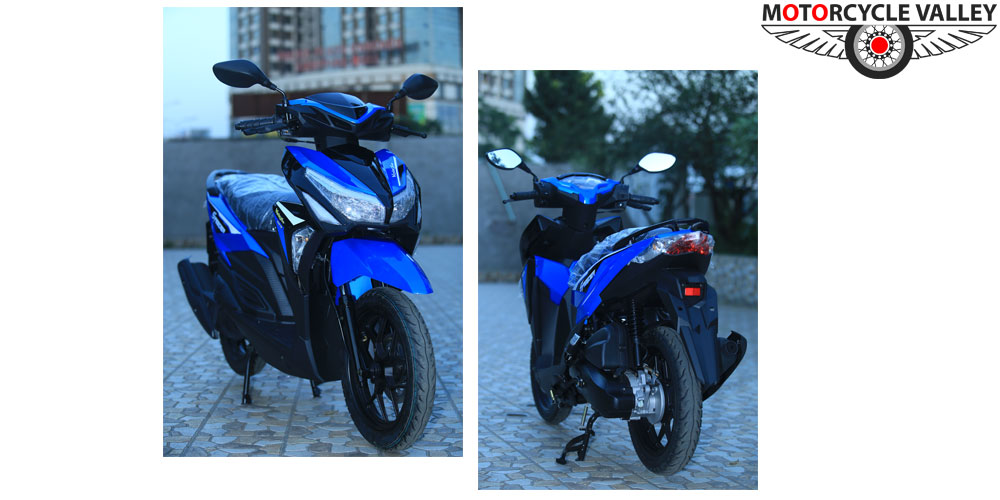 Speeder Volex Pro SV 125 scooter comes with excellent body dimension of 1860 mm length, 680 mm width, 1070 mm height. Along with that this scooter contains 1290 mm wheelbase, 170 mm ground clearance and 750 mm seat height which gives the overall dimension an ideal shape. Good ground clearance and average seat height gives you perfect adventure feel as well as the larger body makes it more eye catchy. With 5 L fuel capacity this scooter offers 100 KG overall weight which is perfect combination. Most importantly Volex pro can carry 150 kg max load easily.
Engine and Transmission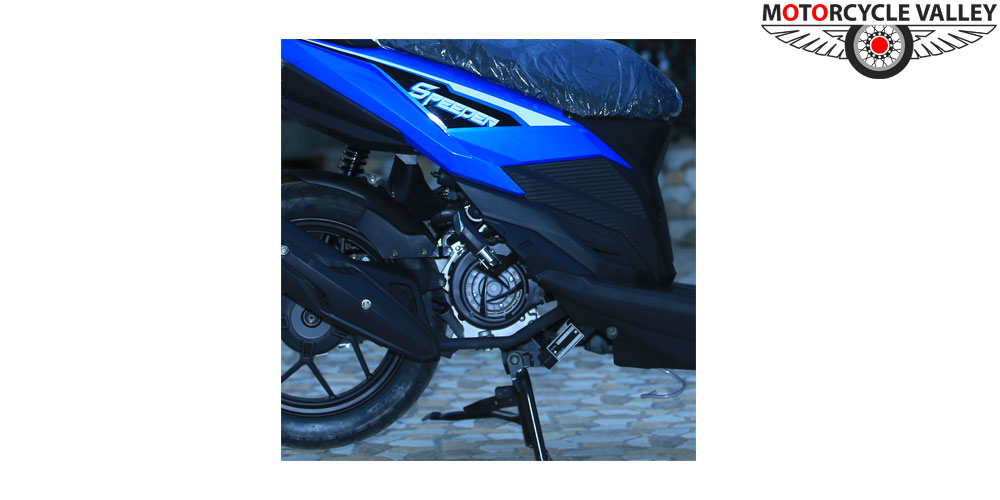 For powering the Speeder Volex Pro SV 125 the manufacturing company has used 124.3 1 cylinder, S, horizontal, Air-cooled, 4 stroke engine, which delivers 5.6 Kw @ 7500 rpm max power and 7.2 Nm @ 6000 rpm of torque through a V-belt automatic steeples speed change transmission. According to speeder this mighty scooter will give around 105 KM/H top speed, due to its excellent torque response. While the mileage will be average of around 38 KM/L. To start up the engine this scooter contains both electric and kick starting option.
Tires: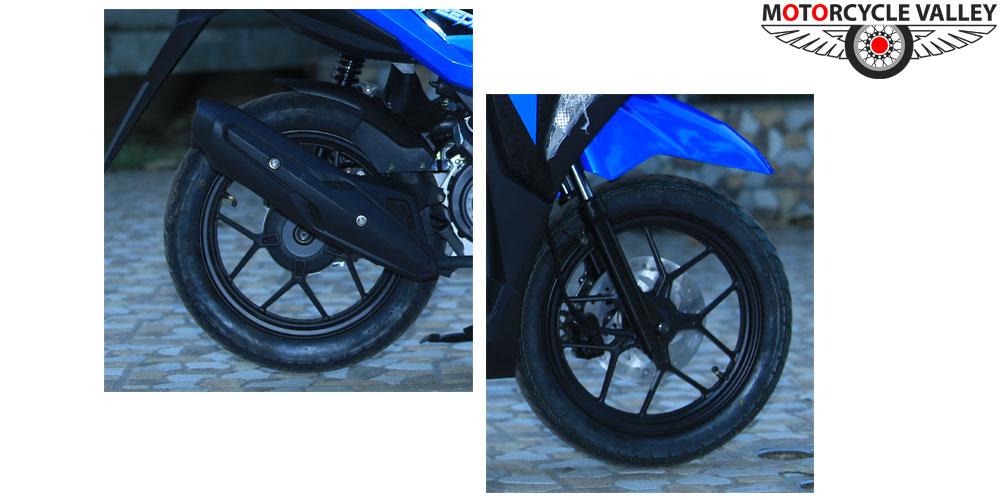 Speeder Volex Pro SV 125 holds both side tubeless tires. At the front 70/90-43 tire placed over alloy wheels, on the other hand rear section tire seems much similar to competitive products, which is 80/90-14 placed over alloy wheels. At the tire sector nothing new is offered for this scooter like the ADV MUGEN.
Suspension and Brakes: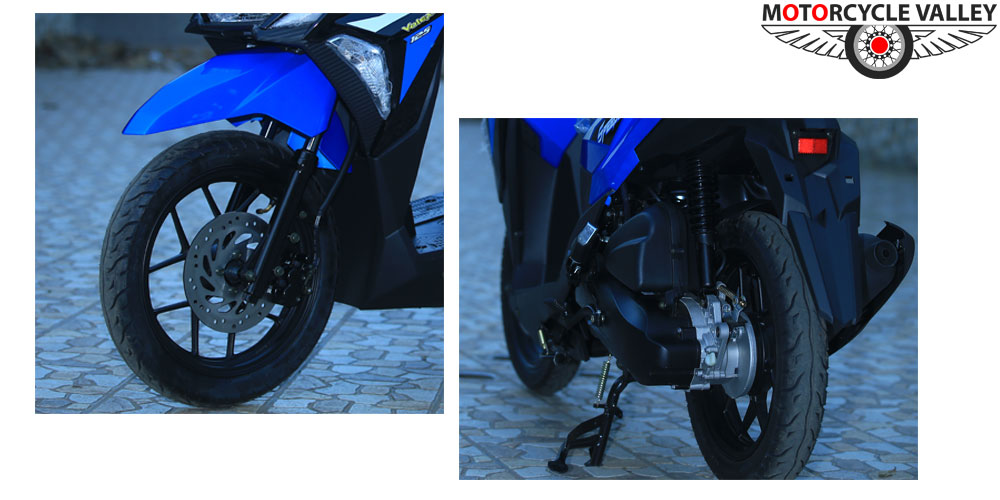 Talking about these two brakes and suspensions seems average for Speeder Volex Pro SV 125. Volex rides on a Telescopic front suspension and a rear side it has and a one-sided mono-shock absorber. The rear mono-shock however, may not have the best performance. This is mostly because it is simply spring mounted, secondly, it is one sided and not at the center.
Volex Pro SV 125 comes with a Disc and Drum brakes combination, unfortunately no other technology like CBS or ABS added for more stability and safety. Apparently, with this type of braking riders will enjoy their ride with pleasure.
Meter cluster and handle bar: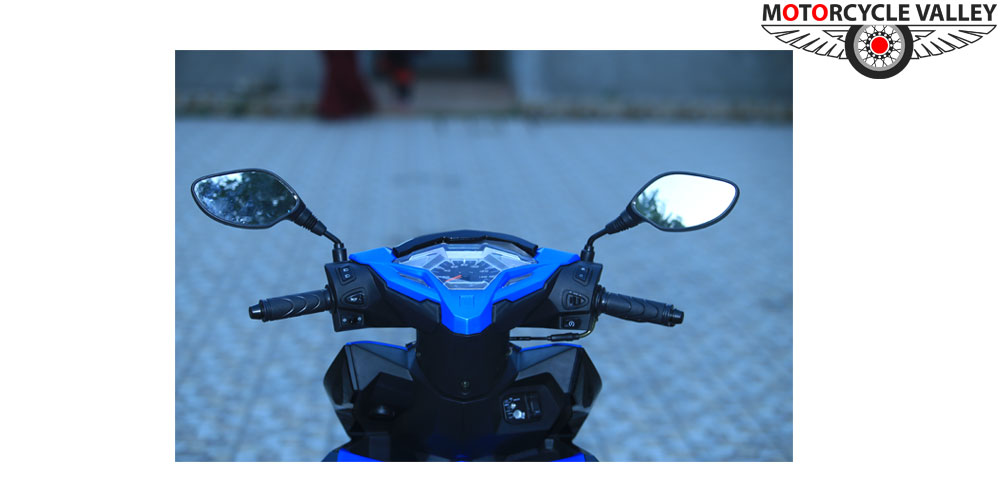 Analogue but stylish three section informative meter cluster is placed for Speeder Volex Pro SV 125. This meter panel gives all the regular information like speedo, ODO, fuel gauge and more. At the electrical side this scooter is well updated. Unique bold body mounted LED head lamp which is Reflector type, LED side indicators, powerful tail lamp, electric starting option and 12V 7Ah (Maintenance Free) battery completes the electrical side of this scooter entirely. Checking the handlebar, we have split handlebar with all the facilities a rider requires to have including engine kill switch.
Final words: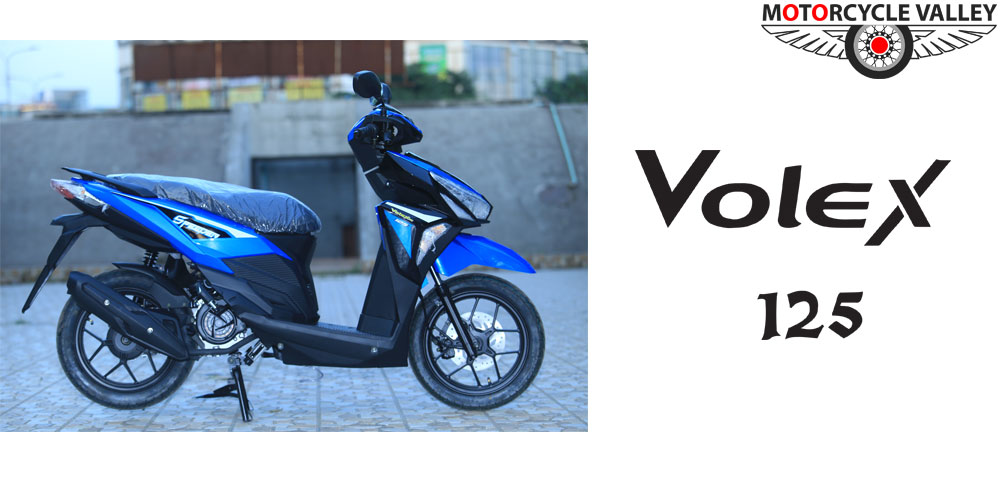 The Speeder Volex 125 pro SV comes in three color variants. They are: Black-Yellow, Blue and Red. All three variants have similar designs and decals. Overall Speeder Volex 125 is a well-built and well-designed commuting scooter. It has more advantages than the cons. Completely attractive package and appropriate for beginners. As a sports commuter Volex has its own charm to attract, which is why Speeder says "It's not the destination it's the ride".