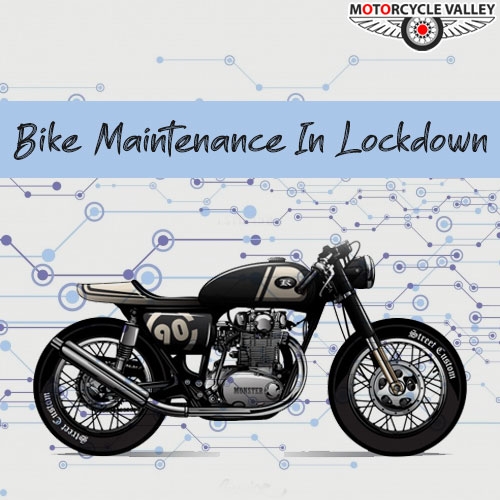 At present, Bangladesh is plagued with corona problems. The Government of Bangladesh has formulated and implemented various policies and orders, including compliance with hygiene regulations, to deal with this corona. Lockdown is a tool to prevent Corona Virus. People cannot get out of the house without an urgent need in lockdown situation. For those of us who love bikes, this lockdown is a little difficult, but for betterment of our country and family we have to cope with is situation. Therefore bike is not ridden in this lockdown like before, so it requires some bike care in the lockdown. Today we team Motorcycle Valley will give you some tips on what bikes need to be taken care of in lockdown.
Park in a safe place
The most important thing is to park in a safe place. If you park your bike in a large garage, try to park the bike in a specific place where people are less crowded and your bike is safer. Keeping your bike safe will prevent your bike from being stolen in the same way that other people do not touch it. So if your garage at home is too big, try to park your bike in a safe place.
As much as possible, covered with dust covers
Dust from bikes or more likely we are get sick if an outside bacterial virus gets on our bikes. That's why when we park the bike, we will try to cover it with a dust cover. This will ensure that our bike is protected from getting dirty in the same way that we protect ourselves. So keep the bike covered with dust cover as much as possible when keeping it at home.
Keep the bike clean
If you don't take the bike out for two to three days a little dirt will build up. To remove this dirt you can wash it off with a little bit of water or clean your bike with a good jet. Be sure to note your awareness before cleaning. If it is possible to clean the bike with a little light foam, it will be exhausted in case of any virus or bacteria. As soon as you clean the bike, you will wash your hands well with soap and it is best to take a bath.
Check the level of engine oil
If the bike is not running for after a long time, then the level of engine oil is likely to decrease a little, so it is very important to check the level of engine oil. You can check the engine oil level to see how much engine oil you have and how long it will last. If it is less durable then change the engine oil on the day you take out the bike or if it is possible if the engine oil is already in your home then you can drain the engine oil manually but before doing this you must check the engine oil level. Take it.
Start with a Minimum 10 Minute idle RPM Everyday
Many bikes now have self-start, which requires a lot of power in the battery to start the engine. If we don't use the bike in lockdown for a long time, then we see that it is not possible to start the engine for the first time through self-start. That is why we need to start at a minimum of 10 minutes of ideal RPM one day in a lockdown situation. As a result, the battery charge will be good as well as the engine oil circulation and other parts of the engine will be good. So in case of a lockdown, we should all keep the bike at ideal RPM for 10 minutes after one or two days.
Check the Tire Pressure
It is normal for the bike to drop its pressure if it is lying at home or anywhere. Because the tire pressure of a wheel never stays the same it increases or decreases. It is important to check the tire pressure of the bike in lockdown. You will go out in case of emergency but the wheels of your favorite vehicle do not have enough tire pressure so you cannot go out in this situation you may be in danger in many ways. So check the tire pressure and if you think it is important to give your tire pressure, in case you take out the bike, give the tire pressure as much as recommended.
Spray the WD40 on areas where there is or is a possibility of rust
The different parts of a bike are made of iron so it is normal to rust. If you are not use your bike for a long time, it can happen to all bikes. Soon all areas that are prone to rust or have already rusted WD40 spray. In this case, you will get a lot of relief from rust as well as you can further extend the life of your bike parts.
Hopefully, following all these things, our favorite bikes will be better in lockdown situations.