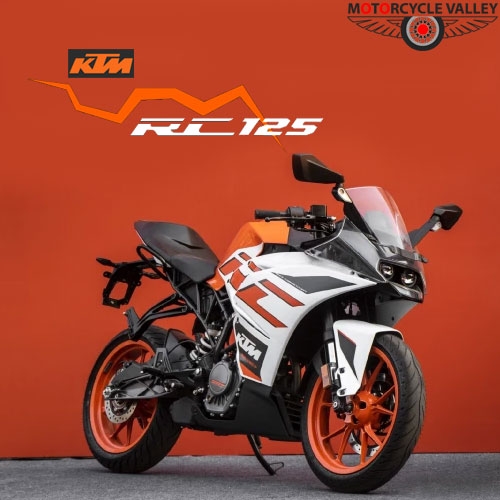 "Ready to Race"! When we hear this tagline one name comes into our mind and that is KTM. This Austrian motorcycle manufacturer has now become one of the most popular motorcycle manufacturer around the world. Reason behind that is their products quality, modern and attractive features, color schemes and performance. If we look down in their entry level bikes like 125cc segment, it will look like they are more than that. However, in this article we are going to disclose about their one of the premium type 125cc motorcycle, namely KTM RC 125.
This bike might be a 125 cc bike but it looks like its elder sibling RC390, and the compact sporty look and features of this bike has the ability to race with any other 150/160 cc segmented motorcycles. So, now the question arises, how? Well, from bellow the lines team let us highlight the features of this sports category motorcycle and see why KTM claims every ride turns into preparation for the next race with the street-legal KTM RC 125.
Eye catching features of KTM RC 125: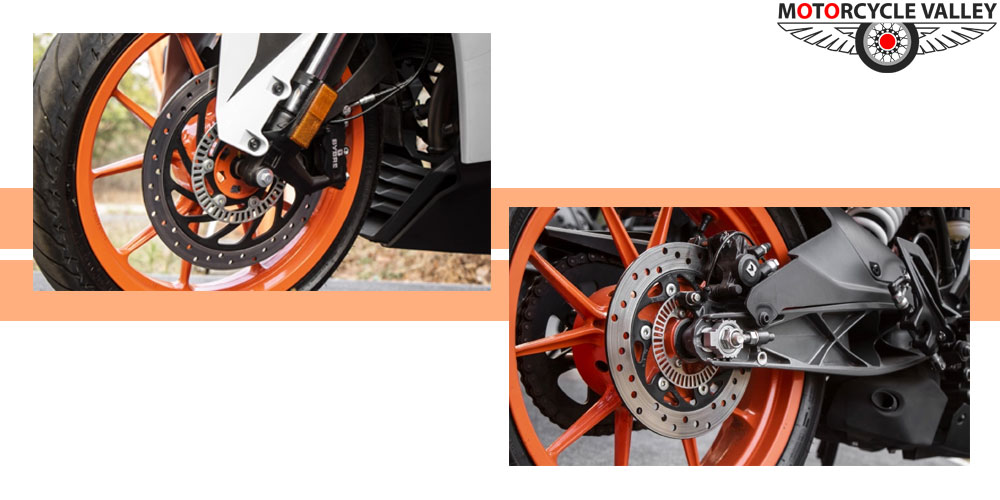 Stopping power: (Brakes)
Dual channel ABS mates with finest quality Disc plates for KTM RC. To stop the bike anywhere you want what else you need. In corporation with BYBRE, KTM developed high quality braking for this piece of pocket rocket. With a four piston radially bolted caliper and 300 mm disc on the front, paired with a single piston floating caliper and 230 mm disc on the rear KTM RC offers pro level braking for the riders allowing the them to have full control over the bike.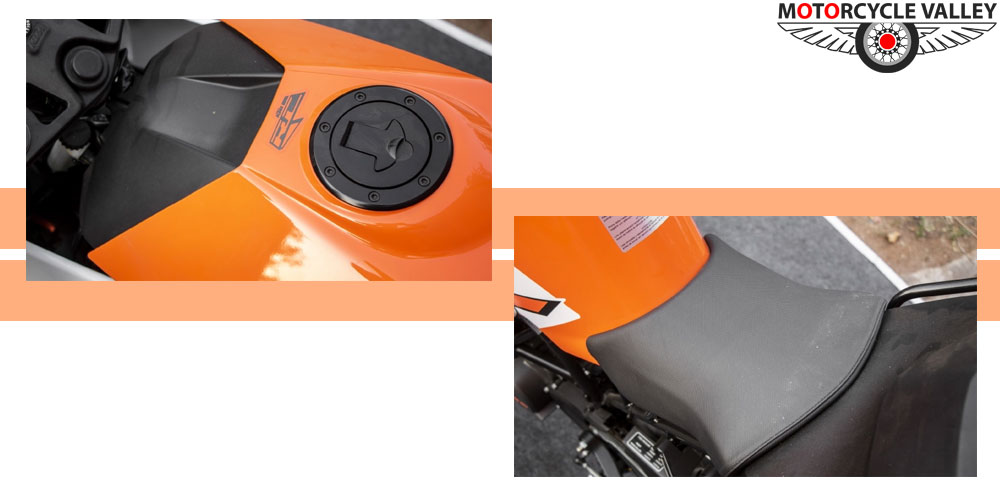 Ergonomics meets style: (Fuel Tank & Seat)
KTM RC 125 comes with a sleek, metal fuel tank with 10 (including 1.5 liters) liters fuel capacity. This fuel tanker has been developed to perfectly match the super sport style of RC with smooth rider ergonomics.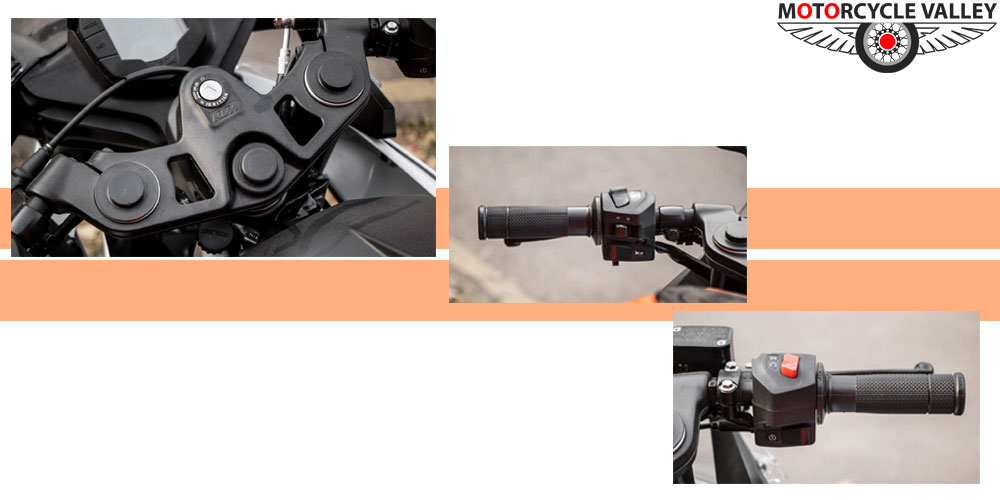 Triple clamps and handlebars:
The forged aluminum triple clamps are eye catchers and together with clip on handlebars guarantee a pure super sport race feeling. Furthermore, the handlebar offer the perfect holding position as a sports type motorcycle, and the strategically positioned handlebars with the switches ensures aggressive but comfortable riding.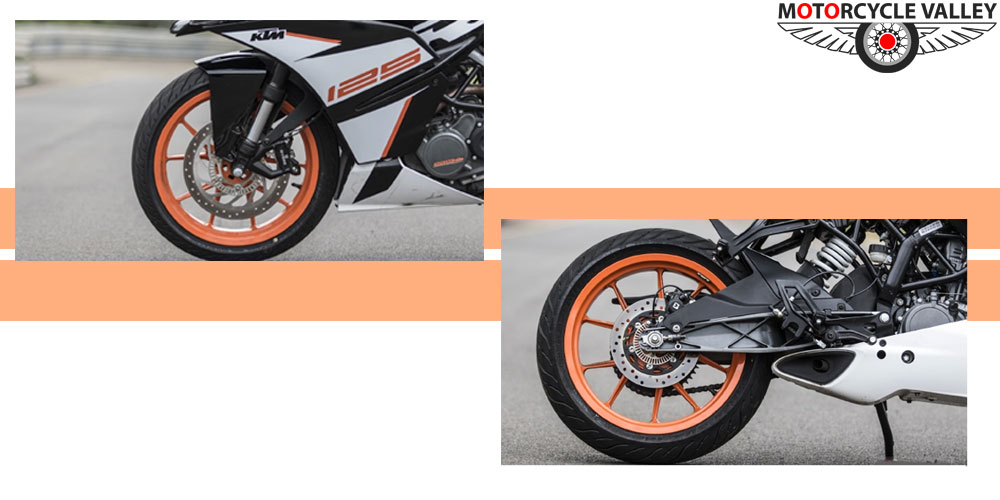 Race-spec wheels sporty tires:
As light as they are stable, the eye catching 17 inch orange colored alloys are one of the main attraction of this bike. Besides, with 110 mm wide tyres at the front and an impressive 150 mm at the rear this bike has good stability. In addition, wrapped with premium rubber, these tyres will keep you bonded to the road in any conditions like dry, or wet.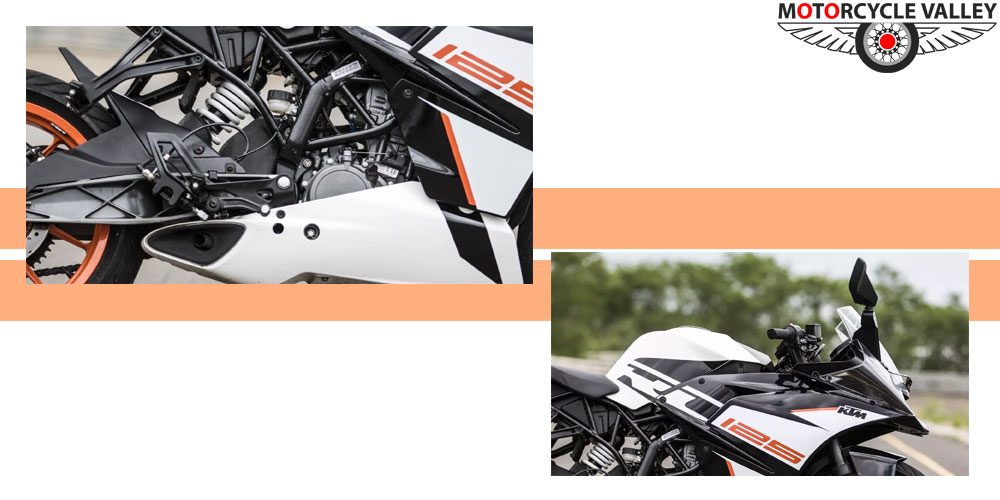 Suspension performance:
KTM RC 125 features sporty type upside down telescopic forks from WP at the front. This ensure highest level of stability and precision, no matters where you are riding. The 43 mm outer tube diameter provides the same performance as the elder siblings of RC. Other hand, WP APEX – Mono-shock suspensions will take care of perfect cornering and comfort.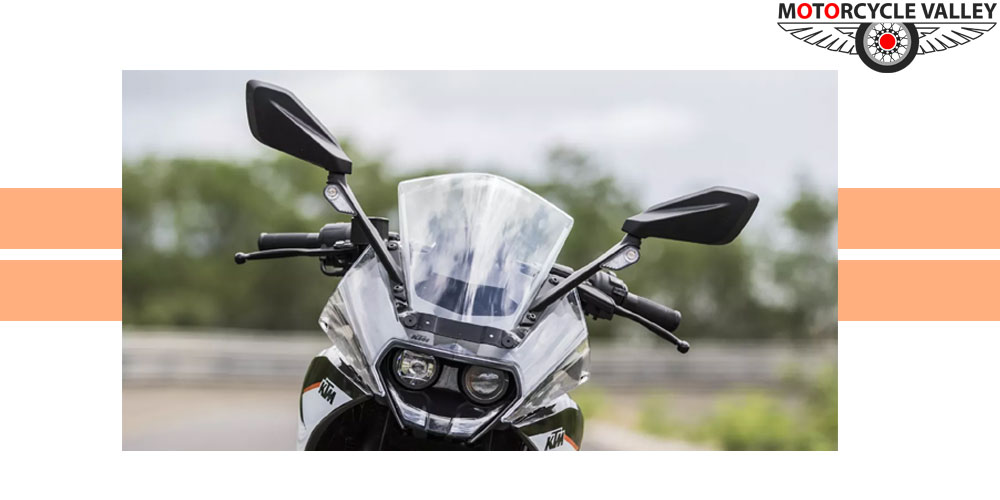 Windshield:
Advanced design of the KTM RC 125 windshield works perfect with the aerodynamic design and ensures the ultimate wind protection for the riders. Due to that speed issues never bothers the riders as well.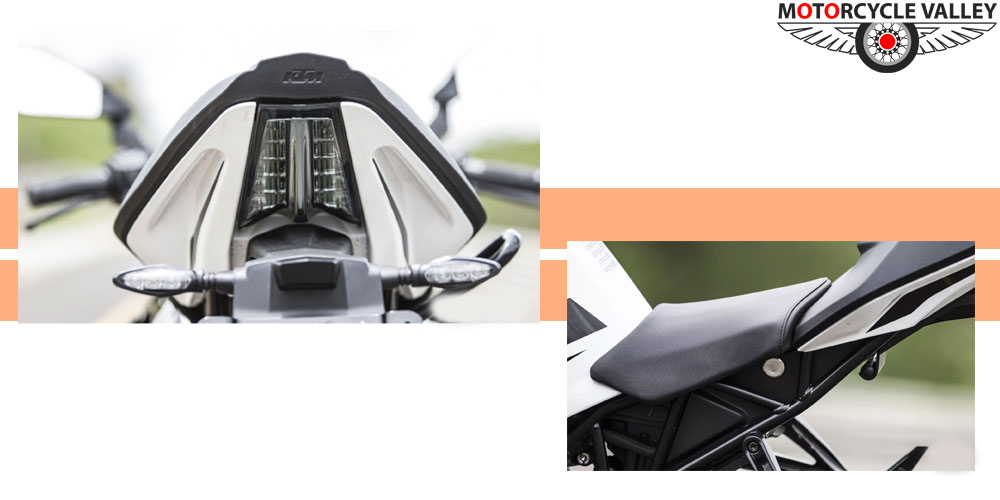 Seating position & Thin Tail Design:
The two step split seats of RC125 offers first class, super sport agronomics and perfect supports for bother the rider and pillion. The 820 mm seat height for the riders makes sure that you have a sporty riding posture, the pillion seat is set a little bit higher than the riding seat, but the thin tail design matched with a perfect number plate holder provides comfortable cushioning and integrated grab rails. And they can take care of the passengers comfort indeed.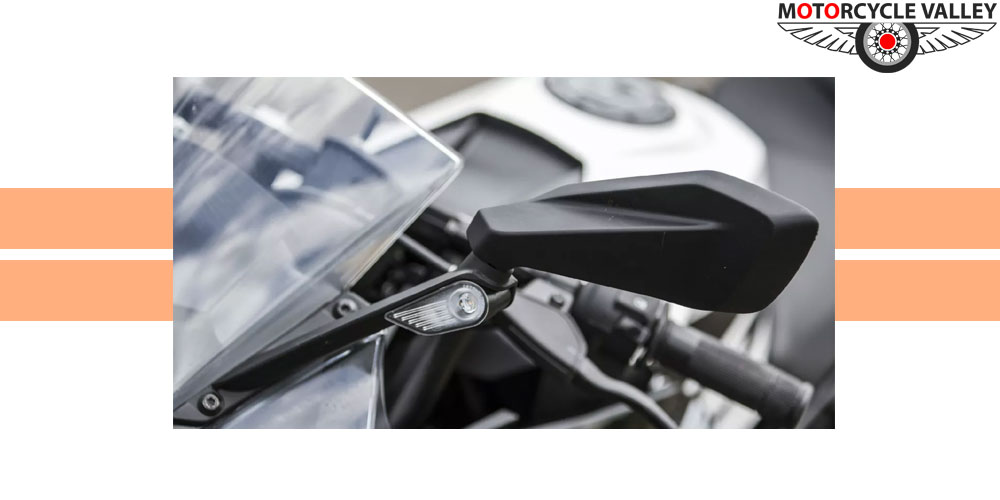 Integrated blinkers:
For faster and efficient riding KTM RC 125 comes with integrated blinkers placed on the looking mirrors structure. This type of stylish set up only can be seen in pure sports bikes.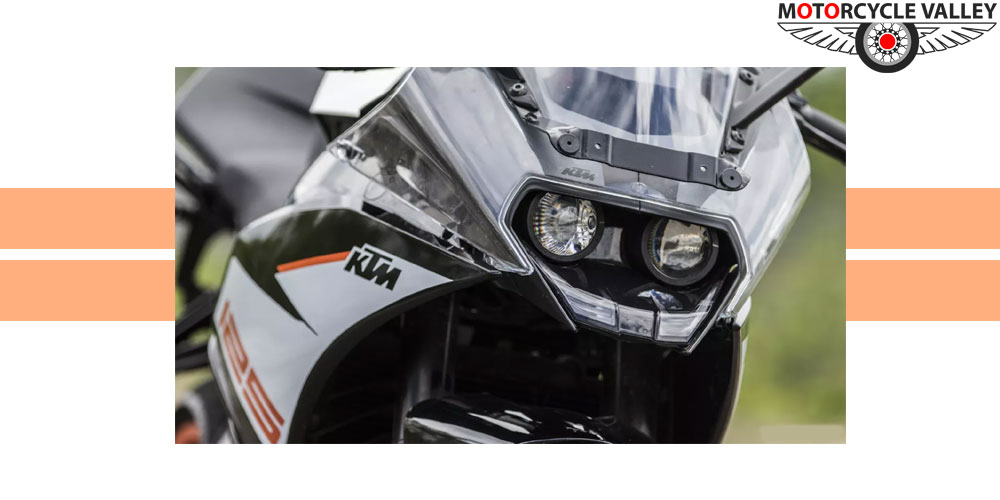 Headlamp:
For RC 125 KTM has used powerful Twin Headlamps, which provides maximum visibility on low light conditions and dark conditions.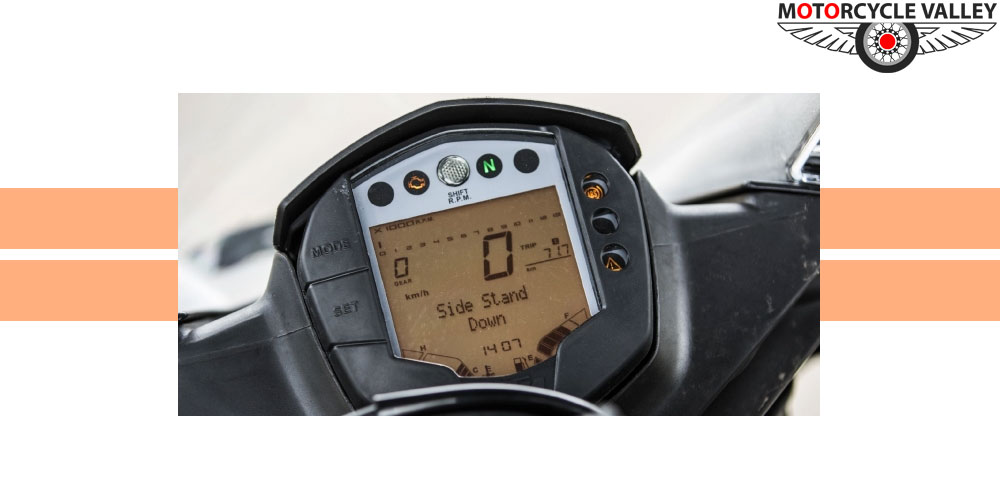 Advanced LCD Display:
Advanced and fully LCD display panel is fully loaded for KTM RC 125. It has gear indicator, low fuel indicator, service reminder monitor, the RPM alert, speedometer and a beautiful digital clock to ease the riders riding.
All these are the eye catching features that KTM RC 125 offers for users. Now, if we look into the other specifications then we will see,
Specification of KTM RC 125: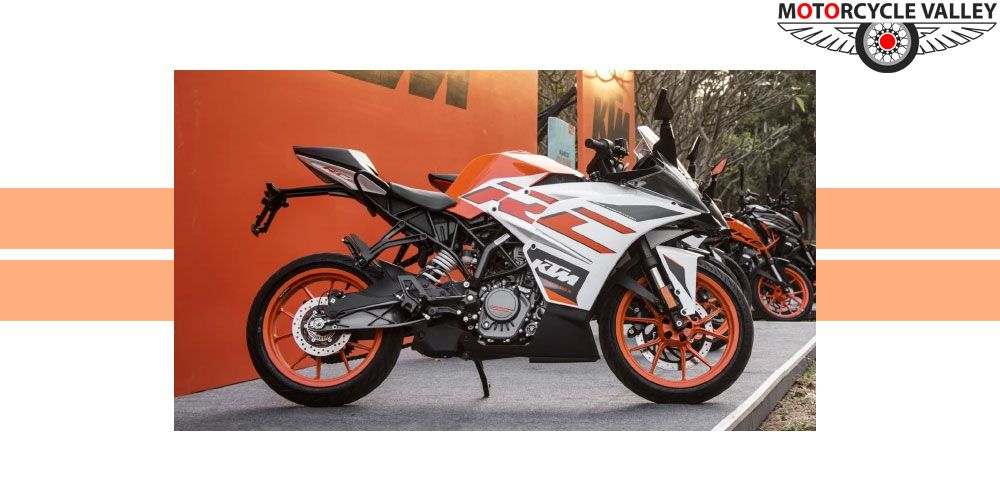 Design & looks:
Design of KTM RC 125 is too electrifying. The front portion of this bike seems very stylish, because of the wider fuel tanker, aerodynamic shape and stylish but strong kits. The whole tank is steel made which has complete advance designed fairing. The twin aggressive headlamp makes this bike different from any other same segmented bikes. Perfectly placed clip on handlebars makes this bike sportier mated with a good windshield. Moreover, the orange shades, the compact sporty silencer and orange color alloy wheel with balanced wide tyres makes this bike perfect on its look. From the beck the thin but sharp tail with a number plate holder LED tail lights completes this bikes beautiful design.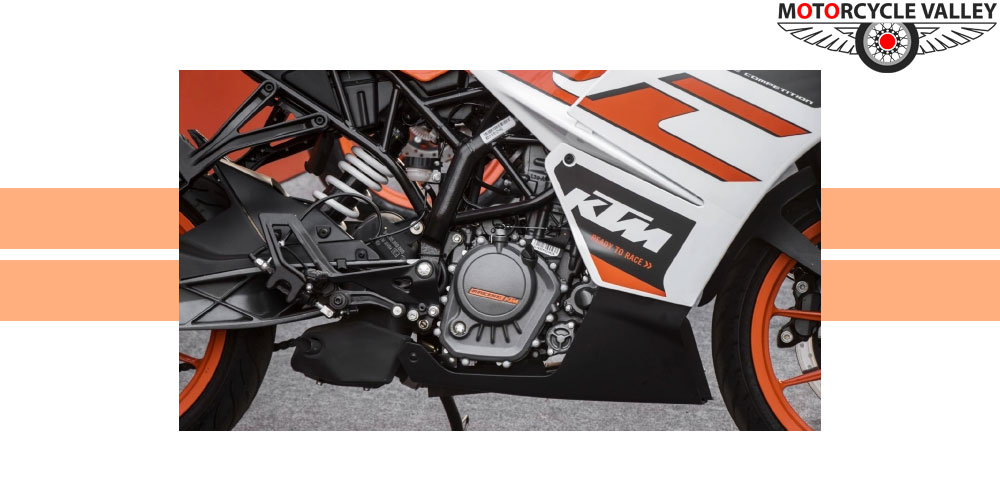 Engine and transmission:
KTM RC 125 is powered with more powerful engine comparatively to the segment bikes. It contains 124.7 cc Single Cylinder, 4-valve,Liquid-cooled, FI, DOHC engine The maximum power of this bike is 14.5 PS @ 9250 rpm and the max torque is 12 Nm @ 8000 rpm. On the other hand, the bike has a six-speed gearbox, which helps this bike run smoothly on high speed. To start up the engine this bike has electric starting options available.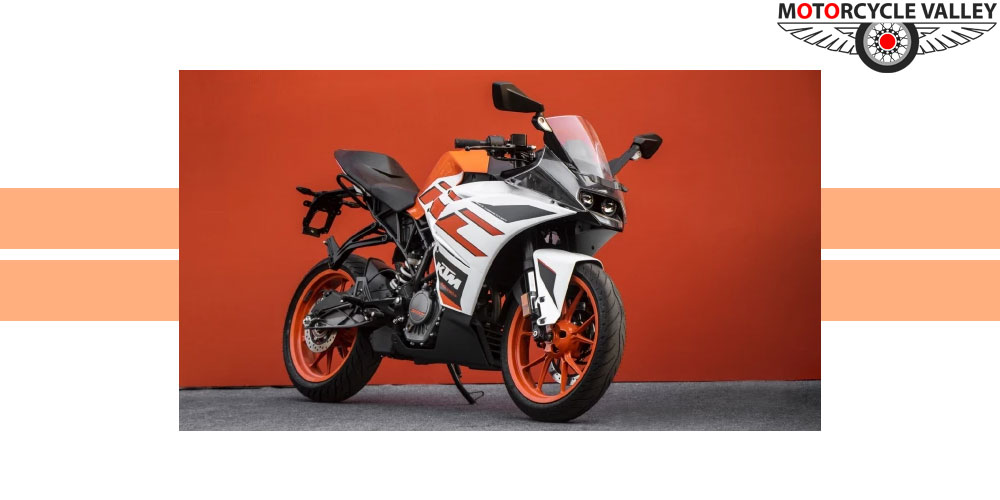 Dimensions:
Dimension of a sports bike is very significant. Because without a better measurement no bike can become a well-controlled bike. Nevertheless, the bike KTM RC 125 has a good dimension overall. The whole dimension details of the bike considering the rest features is almost the same as RC 390. The overall body dimension of RC 125 is 1098 mm height, 1977 mm length, and 688 mm overall width. The seat height of the bike is 820 mm, which is standard for anyone. The wheelbase is greater than most of the sports bikes comparatively, almost 1341 mm. Ground clearance seems perfect as well, which is 157 mm. However, the weight of the bike is 160 kg, which is gives the looks as a pure sports bike, and this kind of weight provides better control and gravity. Its fuel tank can contain ten liters of fuel which design is fully aggressive. Combining them all this bike is a classy piece from KTM.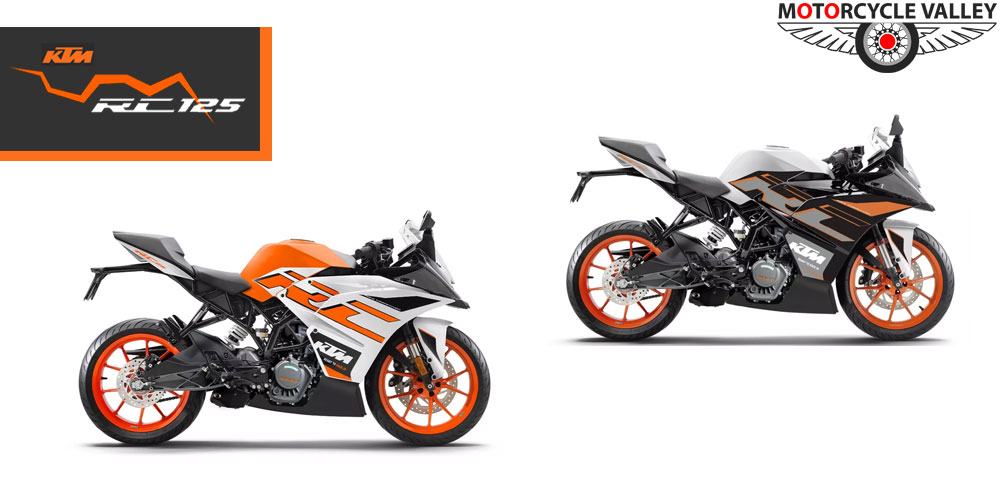 Verdict:
As we mentioned earlier, ready to race is the tagline for KTM and hopefully the features of KTM RC125 already given a little idea why they claim this thing. With the twist of the wrist this pocket rocket can be launched, but now the rest is up to the performance grounded on Bangladeshi users. A few days back this model is being introduced by Runner in Bangladesh, let's see what it do for the users.