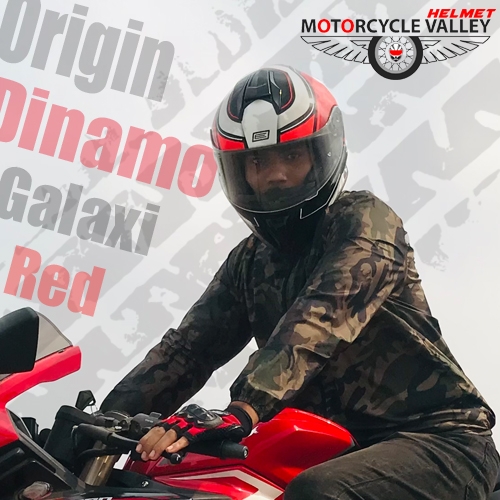 I have been using a helmet from the Origin Dinamo series for the last 7 months. Certified helmets have become quite popular these days, and I am a bike lover, which is why safety is so important for me. For this reason, I bought a certified helmet. I bought this helmet from Speedoz Limited's Mohakhali showroom and it costs me TK 5700. Okay enough of history telling, now let me say something about the performance of this helmet.
Some good side at a glance:
- This helmet is dual certified
- Light in weight
- Side vision seems quite clear
- Scratch free visor
- Very good ventilation system
- Graphics seems very eye catching
- Soft and comfortable liner (padding)
- Affordable price
Origin is an Italian brand and has quite advanced standards. There are several series of original helmets and all are certified and very attractive to look at. I like the Dinamo Galaxi Red model based on the color of the bike and the color graphics this helmet offers. This helmet is dual certified, so the safety is higher and less worries. I like the fact that this helmet is a lighter in weight. Although dual certified, it is quite light, due to that I can wear it for a long time and there is no problem in long rides as well.
The inner liners can be opened and cleaned perfectly, which I have done several times. It is also very soft and anti-allergenic, so I did not have any skin problems. The visor is quite good, didn't grabbed any scratch even after falling from my hand for a few times. Another good thing, clear vision, you don't even have to bother much to get a side view. I have received complaints from many certified helmet users that a lot of head-turning needs to be done for watching side by side, but this is not the case with this helmet.
Another reason I can ride with this helmet for a long time is the ventilation system. Sweaty or hot environment inside starts lately inside this helmet, which makes me feel pretty good. With a dual spoiler at the back, the hot air doesn't stay inside much longer.
The helmet has fallen from me several times and caused no damage, possibly due to the thermoplastic shell and the shock absorption system. I don't understand this matter that much, I was told about this shell when I purchased. There are no stains, that's the big thing, I am happy. The stripes on the helmet can easily be removed and you don't have to bother that much.
I haven't seen anything bad yet, I think the features of the helmet are quite good compared to the price. It has been 7 months, my helmet passed good time in both sun and rain, but the color remains the same. I hope I can use this helmet for a long time.