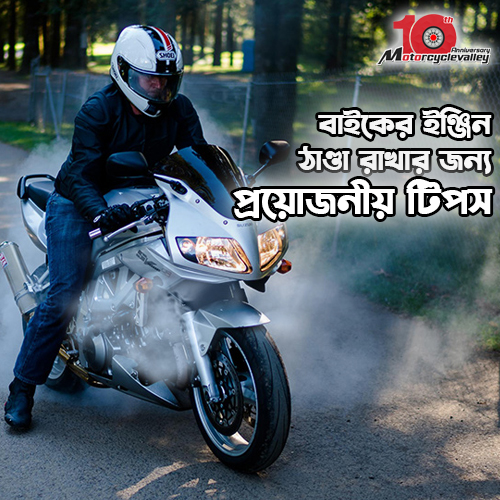 There are 3 types of engine cooling technology in our bike industry which keep engine cool those are
1. Air cool
2. Oil cool
3. Liquid Cool
Most of the mid budget and commuter bike has air cooling technology in their bikes because its cost effective and its has no maintenance at, but there is an issue with those engine, air cool engine get overheated soon because of long run for a while, and it's very difficult to ride a air cool bike riding for a long time in a country like Bangladesh, because summer season lasts long in this country and our environment is warm at all, oil cool and liquid cool engine has not that much issue of engine overheating because these technology is practically made for keep your bike cool and last long because overheating is not good for engine it can damage your engine inside and when engine get overheated engine oil lose its viscosity and friction get more that's why we need proper knowledge about it, today we will suggest you some tips and tricks which can keep your engine cool.
• First of all air cool engine cool itself with air flow and there are no technology to keep engine cool, so you have to rest your bike after a certain time or kilometers it should between 50-70 kilometers then keep your bike rest for 10-15 minutes, your bike will cool itself in this time.
• Sometimes there is an issue with engine oil because there is some specific engine oil which has overheats issue, try to avoid them and choose a engine oil which has a great user review, and a good brand value.
• Riding a commuter or a mid range bike in economy can be benefit for long time usage, your will get good mileage, better engine life and also engine overheat will not happen soon.
• If your bike company recommended engine oil grade is 10W30 then you can use 5W30, or if your bike became old then you can use slightly heavy engine oil like 10W40, but do not use it on new bikes because new bikes has a little bit heating issue but its normal, only in case where your bike is old more than 40,000-50,000 kilometers then you could do this, otherwise we won't recommend you to use another oil which doesn't suggest by manufacturer.
• Another issue could happen with commuter air cool bikes which have carburetor fuel system, if air and fuel ratio is not perfectly adjusted and also air filter is dusty, then engine will not get proper air, so there could be heating issue.
Here are some tips and tricks we mention for you, all those heating problem could be solve by maintain these tips, I hope this will help you from this problem, visit a good and experience technician if problem doesn't get solve.