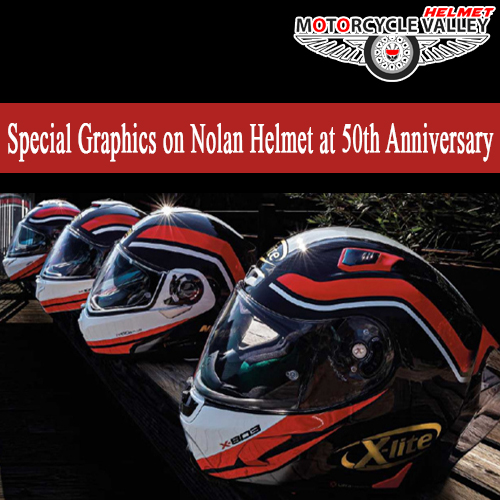 The Italian brand Nolan Helmet is going to celebrate its 50th anniversary in the year 2022 and to make this year especially special, Nolan Helmet has decided to market their helmet with a special portrait. Needless to say, over the past 50 years, Nolan has gained a worldwide reputation as a helmet brand for producing quality visors and the first modular flip-up helmet.
Even world-class bike racers such as Casey Stunner, George Lorenzo and Danilo Petruchi have competed in the Grand Prix circuit with Nolan / X-Lite helmets. While Nolan continues to serve the best riders in the world, the race-breed safety feature is still awaited in its lineup, but it continues to work entry-level marketing with the Grex brand.
Nolan has been working in the bike market with safety gear since 1982. To celebrate the company's half-century, Nolan will be launching special editions of its N100-5 PLUS, N80-8, X-1005, and X-803 RS Ultra Carbon models. The 50th anniversary design will simultaneously serve as a special reminder of the golden history of retro-design graphics. Although the design / size will be almost the same, Nolan will adjust the decals to suit the size and proportions of each lead.
To pay special tribute to the Italian art of the white, red and black Leveri brands, on the other hand, modern finishes like Carbon Fiber will greatly enhance the performance of this new version of Nolan / X-Lite. To celebrate the Golden Jubilee, each helmet will have the Golden Nolan and X-Lite logo. The four special edition helmets will have similar designs, technology and features, but Nolan's visors are made of a polycarbonate shell whereas the X-Lite helmets are designed with a carbon fiber shell.
The N80-8 will retail price on 50th year anniversary is €319.99 (in Bangladeshi Taka which is approximately Tk. 29,500) whereas the N100-5 Plus will sell for €479.99 (around Tk. 44,000) on the 50th anniversary. Towards X-Lite, X-1005 Ultra Carbon 50th Anniversary €699.99 (BDT 74,000), and X-803 RS Ultra Carbon 50th Anniversary €729.99 (BDT 67,000).
Nolan and X-Lite helmets are imported to Bangladesh by ACI Motors Ltd that means Yamaha. Since the popularity of Nolan and X-Lite helmets is quite visible in Bangladesh, we can hope positively that we will see the special edition Nolan and X-Lite helmets in the Bangladeshi market very soon.
Total view: 62