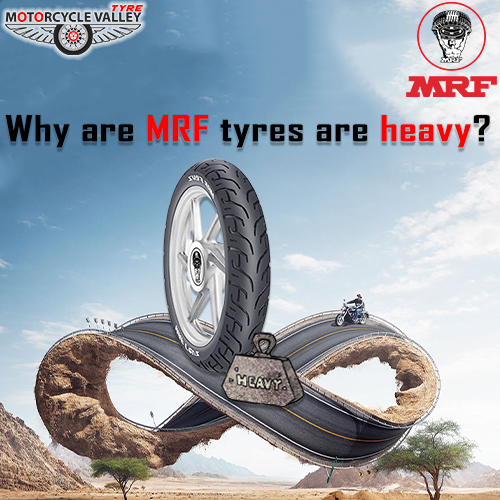 Tyre and shoes have similarity. Just as tyres carry the entire weight of a bike or car, so do the shoes on our feet. Consequently, it can be said that tyre is like a shoe of a vehicle. If the shoes are not strong and the sole is not good, we face many problems while walking and running.
Bike tyres work in the same way. Each of MRF's tyres is manufactured based on our Asian roads to meet various weather conditions, road conditions and ensure maximum rider safety and comfort. Many people have the question that MRF tyres are heavy, which results in a drop in mileage and performance, the actual fact about- tyre impact on mileage will be covered in another post, before that, you should know some reasons why MRF tyres are comparatively heavy.
1. Compatibility with vehicles and manufacturing materials:
MRF tyres come as OEM fitment on most bikes, why? The answer is tyre quality, compatibility with the bike, and long-lasting life. In one word, value for money. MRF tyres are based on the bike's manufacturing chassis, dry weight, engine features, and are given a high rubber compound to have the capacity to ride with pillions in any road condition. Steel belts are used in MRF tyres in case of radial tyres. All in all, the tyres are made thick and heavy to minimize punctures, load capacity in all conditions and to provide perfect traction on the road. If the condition is correct, skidding is reduced a lot. Talking about the context of our country, Suzuki and Yamaha 150cc bikes are heavy in weight, without giving light tyres to such heavy bikes, then why MRF tyres are installed, have you ever assumed?
2. Balance and Cornering:
Balance and cornering easier on city streets. On the other hand, Hill roads or any offroad is different in condition. Thus, do you change tyres before every road trip? This is why MRF tyre manufacturing is done after a lot of research to avoid this problem as much as possible. Accordingly, it has better grip and performance on any road. It happens as the rubber compound in the tyre is more and the tyre is a bit heavy.
3. Long Lasting Life:
Just like your shoes need to be replaced when they wear out, tyres need to be replaced when their grip wears out. Nevertheless, if your tyre body compound is good and thick then it can support you for a long time. This is why MRF tyres contain more rubber compounds and other manufacturing materials and the tyres tend to be a bit heavier. If the rubber is reduced, the company will benefit, but the rider? Let's give an example, someone puts a light weight tyre on his bike for TK 4000 and you put a bulky, heavy and durable MRF tyres on your bike for TK 5000. Tyres worth TK 4000 wore out after 1 year and had to be bought again, but your wheels lasted 2 years. So, someone else spend TK 8000 for 2 years and you used 2 years easily with 5000 TK. Who is benefiting now?
MRF manufactures each of their tyres with the highest quality features and materials in mind, ensuring maximum customer benefits, long lasting life and no compromise in performance. This results in a slightly higher weight than other tyres. One question for you, why 1000 cc engine is not given in the chassis or frame of 100 cc bike? Doing this will reduce the cost of the company as well as the size does not have to be increased. So why are high cc bikes being heavy? Hopefully if you can understand the answer to this question then you will also understand why MRF tyres are heavy.
Thank you
Total view: 196