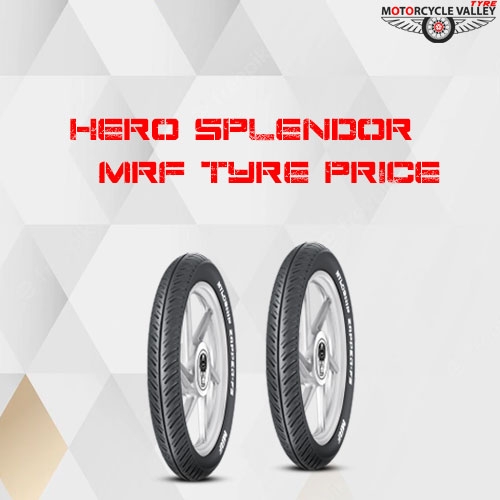 Hero Splendor has been very popular since its inception. Powered with decent features, durability and high mileage this bike has been a go to bike for people with average budget.
Hero Splendor tyres are very good considering their price and the performance they provide.The tubeless tyres are liked by most riders because it is better for long rides.
While you can buy both tyres separately, brands like MRF, Michelin, and CEAT offer single tyres for both front and rear. Here are several tyres from MRF that provide Hero Splendor Tyre for both Front and Rear position.
Name: Hero Splendor+ 25Years Special Edition
Bike Price: Tk 95,490.00
Tyre Front-80/100-18 M/C 47P (Tubeless)
Tyre Rear-80/100-18 M/C 54P (Tubeless)
Suggested tyres:
Front: MRF Nylogrip Zapper-FS 80/100 -18 47P Tubeless Bike Tyre, Front
Rear:MRF Mogrip Meteor-M 80/100-18 54P Tubeless Bike Tyre, Rear
MRF Nylogrip Zapper-Y 80/100-18 54P Tubeless Bike Tyre, Rear
Name: Hero Splendor+ IBS i3s
Bike Price:Tk 93,490.00
Tyre Front    80/100-18 M/C 47P (Tubeless)
Tyre Rear      80/100-18 M/C 54P (Tubeless)
Suggested tyres:
Front: MRF Nylogrip Zapper-FS 80/100 -18 47P Tubeless Bike Tyre, Front
Rear: MRF Mogrip Meteor-M 80/100-18 54P Tubeless Bike Tyre, Rear
MRF Nylogrip Zapper-Y 80/100-18 54P Tubeless Bike Tyre, Rear
Name: Hero Splendor+ Self
Bike Price: Tk 87,490.00
Tyre Front-2.75 x 18 – 42 P / 4 PR Tubeless
Tyre Rear-2.75 x 18 – 48 P / 6 PR Tubeless
Suggested tyres:
Front:MRF Nylogrip Zapper-FS 2.75/18 42P Tube-Type Bike Tyre, Front
Rear: MRF 2.75 18 48P NGP ST PLUS TUBELESS 2,975 Taka
Total view: 54