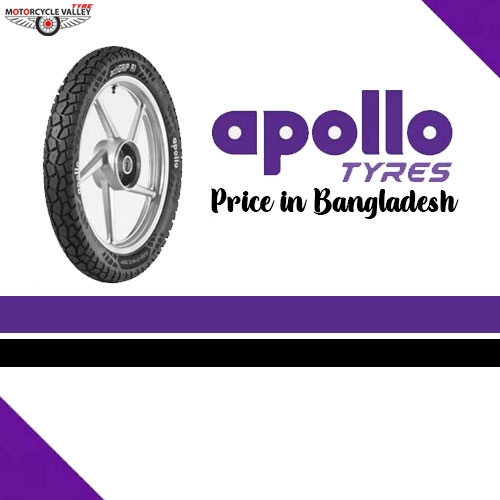 Apollo Tire is one of the few reputed tire brands that has been doing business in Bangladesh with a reputation for providing long lasting vehicles and vehicle related services in Bangladesh.
Apollo Tire also has a good reputation in the field of bike tires, which is why Apollo Tire is currently marketing 8 types of tires for bikes in Bangladesh. It is worth mentioning that Apollo Tire has gained a lot of reputation among all classes of bikers.
The following is a list of each Apollo Tire model and its price:


Apollo Actigrip R1 2.75-18 Price Tk. 10,900


Apollo Actigrip R1 3.00-18 Price Tk. 12,400


Apollo Actigrip R1 CT 3.00-18 6PR Price Tk. 3,660


Apollo Actigrip R2 2.75-18 Price Tk. 7,300


Apollo Actizip F2 2.75-18 Price Tk. 10,600


Apollo Actizip F3 2.75-17 Price Tk. 10,700


Apollo Actizip R3 100 / 90-18 Price Tk. 14,200


Apollo Actizip R3 100 / 90-17 Price Tk. 11,300


Apollo Tire is a world famous tire brand that is widely used and well known almost all over the world. So if you want to change the tires of your bike recently or think of using better quality tires then you can take Apollo Tire without any hesitation by adjusting it with your bike and budget.
Total view: 111