Pulsar Stuntmania Grand Finale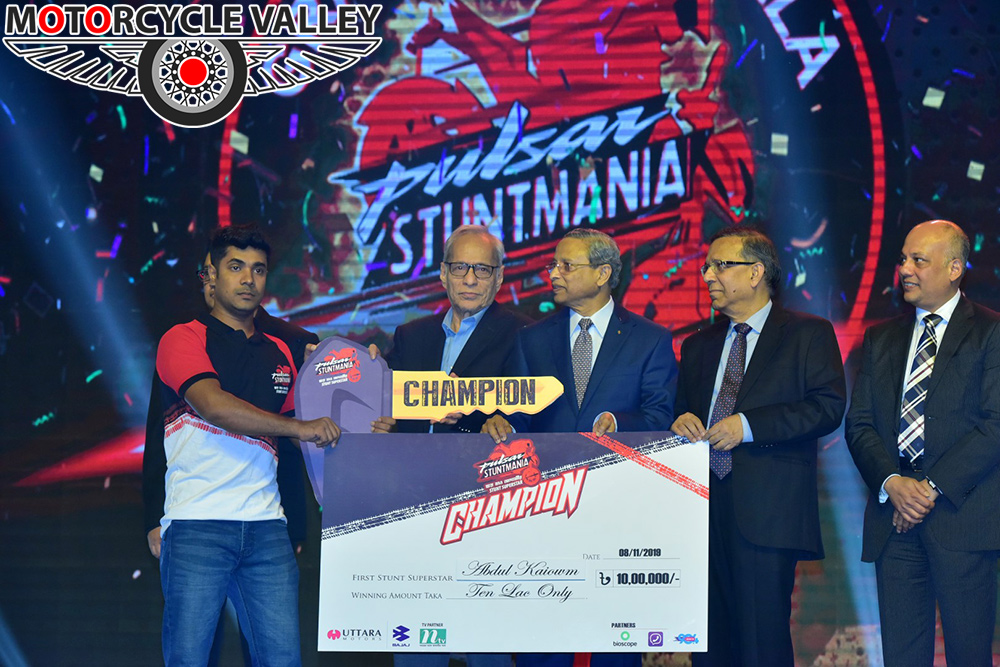 The grand finale of Pulsar Stuntmania, first ever Bike Stunt based reality show in Bangladesh is accomplished with a mesmerizing Gala show. On November 8th, the grand finale of this exciting show associated by Uttara Motors and Bajaj was held at the Hall of Fame of the Bangabandhu International Conference Center. Honorable Minister of Law, Justice and Parliamentary Affairs of the Government of the People's Republic of Bangladesh, Mr. Anisul Haque, unveiled the Chief Guest's seat on the occasion.
The show, which began on August 23rd with the slogan "Become the next stunt superstar," gives those who are keen to ride a motorcycle and whose special attraction to the stunt a chance to enhance stunt performance and more skills under the supervision of a professional biker. Pulsar registered more than 8000 contestants on the Facebook page of Pulsar Bangladesh for the purpose of participating in this show. Out of them, 100 contestants were selected for the audition round. From there, 28 people came up for the second round boot camp. The top 4 finalists were selected in the fiercest battles of the Contestants, with step-by-step elimination, as well as performance and dramatic wild card entries.
Pulsar Stunt Mania's all episodes including the grand finale on 8th November was broadcasted on NTV's screens became very popular. Viewers also get the chance to vote for their favorite contestants through one of the show's partner Viber. The Gala Round, held November 8th, was broadcast live on Pulsar's digital windows and on Bioscope. From the beginning to the end of the 11 episodes, Abdul kaiyum was named the first stunt superstar of Bangladesh in the grand finale considering his performance and judge's respective decision. This superstar has won the prize of TK 10,00,000 and a brand new Bajaj Pulsar NS 160 Fi ABS Bike, which has just arrived in the Bangladeshi market.
Every episode of Pulsar's Stunt Mania has broadcasted on NTV every Friday night at 11.15 PM since August 23rd, with Dhaka FM as the radio partner the show was under supervision of Asiatic Mindshare Limited.