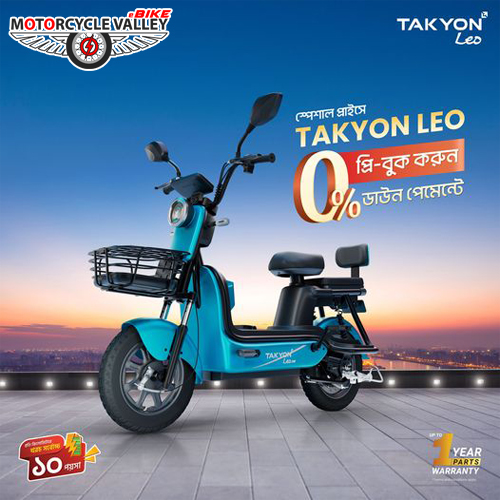 Keeping in mind the potentiality of e-bikes in the coming days, the domestic brand Walton has brought Takyon E-Bike which is one of the choices of independent minded people who like to move steady way. A popular model of Takyon E Bike is Takyon Leo of which Walton has marketed a total model of 3 till now.
Choose from 3 variants and pre-book your favorite Takyon Leo today with 0% down payment
•TAKYON LEO (12 Ah) | Range: 40KM- Tk.49,850
•TAKYON LEO (20 Ah) | Range: 70KM- Tk.56,850
•TAKYON LEO (23 Ah) | Range: 80KM- Tk.59,850
Features of Takyon Leo -
•Top Speed: 30 Km/h
•Motor: 450W Hub Motor
•Battery: 48V Sealed Lead Acid Battery
•Dimensions: 1520 x 715 x 1120 mm
•Ground Clearance: 185 mm
•Vehicle Weight: 70 Kg
•Maximum Loading: 100 Kg
•Charging Time: 4-5 hours
•Front Tire: 16x2.50, Tubeless
•Rear Tire: 16x2.50, Tubeless
•Front & Rear: Drum Brake
•Color Available: Olive, Blue, Grey
Pre-Book Rules:
1. You must pre-book online from e-Plaza.
2. You can order by selecting cash on delivery in payment option for pre-book.
3. Customers can take delivery directly to Walton Plaza or at home.
4. The special prize can be pre-booked till February 20, 2023.
5. Walton Authority will continue the pre-book offer subject to stock availability.
6. Walton Authority reserves the right to make any changes, modifications to the offer.
To pre-book with 0% downpayment from Walton's E-Plaza visit:
https://eplaza.waltonbd.com/index.php?route=product%2Fsearch&search=TAKYON+LEO
-A special point to be noted here is that this model of Walton will not require BRTA registration.