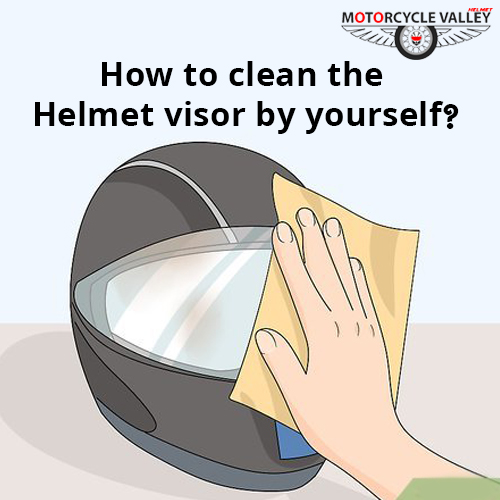 A visor, which is kind of transparent plastic placed on the front side of a is one of the most important part. It helps us to ride against wind and make sure our eyes are safe. However, it gets damaged due to overuse or improper cleaning and rubbing for various reasons. When it grabs some scratches, it is difficult to ride a bike at night, especially when the light seems dim or powerful light coming from the other side. Lights spreads to the rubbed areas of the visor in such a way that nothing can be seen from the front. Consequently, it can lead us towards a fatal accident. On the other hand, with a scrubbed visor, if you think that you will ride without the visor, then in winter you will have to face extra embarrassment because it is not possible to ride without visor in windy conditions.
Today we at Team Motorcycle Valley will discuss with you How to clean the Helmet visor by yourself, hopefully those who are hesitant about this matter will get rid of the problem.
Not to do things while cleaning the visor:
-Do not wipe or clean visors using cotton or more rough cloths, even dirty cloths.
-Do not wipe any dirt over a visor. The stain will fall off.
-Do not use petroleum products such as petrol, kerosene, engine oil or any other type similar products. Even do not use furniture / glass cleaners such as Mr. Brusho cleaners.
Things to do when cleaning a visor
-If the amount of oily things or dirt seems to be high, you can gently wipe it off with a soft tissue by soaking it for a while with a low-alkaline shampoo such as a baby shampoo.
-In complex areas where it is not possible to wipe with a tissue paper, you can use a soft cotton bud.
-Many visors are secured with screws on both sides. If you want, you can open it and soak it with clean water and gently wipe it with soft tissue papers.
Some suggestions for you:
-To wipe the visor of your helmet, you can carry some soft tissue under the seat or in the toolboxes.
-Never keep the helmet in the looking glass as a helmet stand, it usually loses its color when it falls and does the most damage to the visor.
-If there are more tints on the visor, it is safe to replace it.
On the other hand, visors remain more tainted on a rainy day because when we ride on a rainy day, mud, sand, etc. of the road gets splashed and gathers over the front visor. And they become clear when the helmet gets dry. Therefore, on a rainy day, you have to be very careful to clean the visor.
Hope you all understand how to clean your helmet visor by yourself and use it for a long time