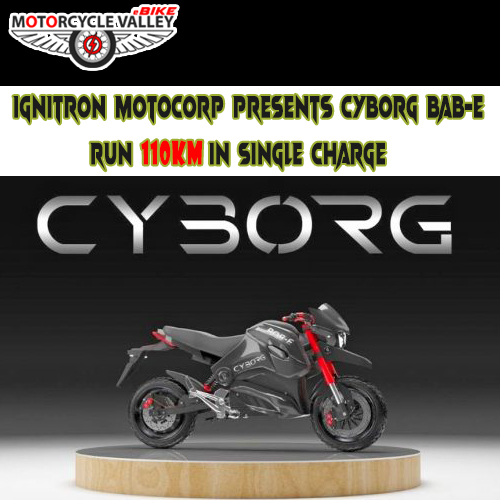 Last month, we reported that the Indian company Ignitron Motocorp Pvt Ltd was launching a number of electric two-wheelers under the Cyborg brand name. The company even showed a glimpse of a cruiser electric bike called the Cyborg Yoda. Ignitron has now unveiled the Cyborg Bob-E, another of the company's electric motorcycles. Since January 16, they have been working hard to bring their website live, which means that the company's products will be launched soon.
Here's a brief look at the Cyborg Bob-E's battery, range, motors and features:
Cyborg Bob-E Battery, Range, Motor
The Cyborg Bob-E is powered by a 2.88 kWh lithium ion battery that enables the bike to reach speeds of up to 85 kmph. Its range is 110 km on a single charge.
Cyborg Bob-E Colors & Features
Features include Geo Locket/Geo Fencing, Battery Status, USB Charging, Bluetooth, Keyless Ignition and a Digital Instrument Cluster. It is also available in two color options - black and red.
An important feature is that Cyborg's products will come with a swapable battery option. These batteries can be fully charged again in four to five hours using a 15 amp home charger. On the other hand, it will have three riding modes - Echo, Normal and Sport. In addition to these it has reverse mode and cruise control. There is a telescopic fork in the front and monoshock suspension in the rear.
Raghav Kalra, co-founder of Ignitron Motocorp, said of the products, "The Cyborg brand has been successfully launched, and with the overwhelming response to our first cruiser motorbike Yoda, we are launching the second electric two-wheeler in the sport segment. " He even said that their upcoming Bob-E motorbike will be mainly about the new generation, which is India's first compact sporty A-I enabled electric dirt motorbike.
It is good to say that, Ignitron Motocorp is busy expanding the network and capturing the market in India before launching the products. The company is already looking for a partner to launch battery swapping and pay-as-you-go stations. From where customers can charge 50% in just 30 minutes.
Total view: 96