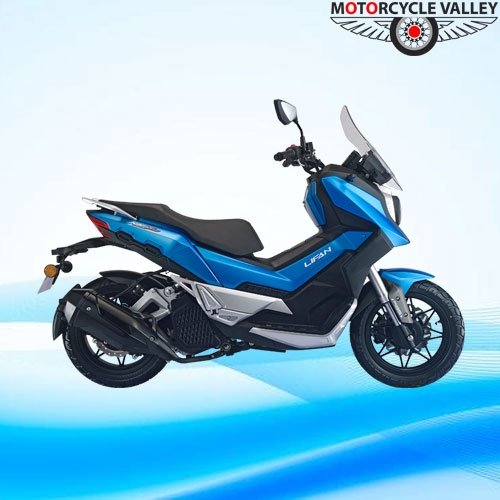 ADV type of particular scooter can give adventure felling plus commuter performance. KPV 150 seems to be an adventure scooter. Many of us may think it is strange to have a segment like this, but it is true. In our daily life, scooters are now getting popular for use, and it someone is up for a better experience with the scooter. After the introduction of Lifan KPV it received good response and as we mentioned earlier in KPV review article that this scooter has a ABS edition as well, so today we are going to discuss about the same features in a different package.
Attractive new features of Lifan KPV 150 ABS:
-ABS braking for more effective control and stopping power.
-Lifan KPV150 is an adventure scooter. This scooter comes with almost everything an adventure bike comes with, like extraordinary power output, speed, and comfortable seating position.
-Silent Start technology. Allows the scooter to start with minimum sound to avoid sound pollution.
-Auto Start-Stop technology will help reducing fuel consumption in city traffic.
-USB port and a 12V power outlet
-Kickstand safety switch. When you lower the side stand it shuts off all the power of the scooter to ensure safety.
-Dual channel ABS braking to ensure more safety and stability.
-Full LED light setup
-Adjustable windshield to avoid wind pressure during touring.
Design and looks: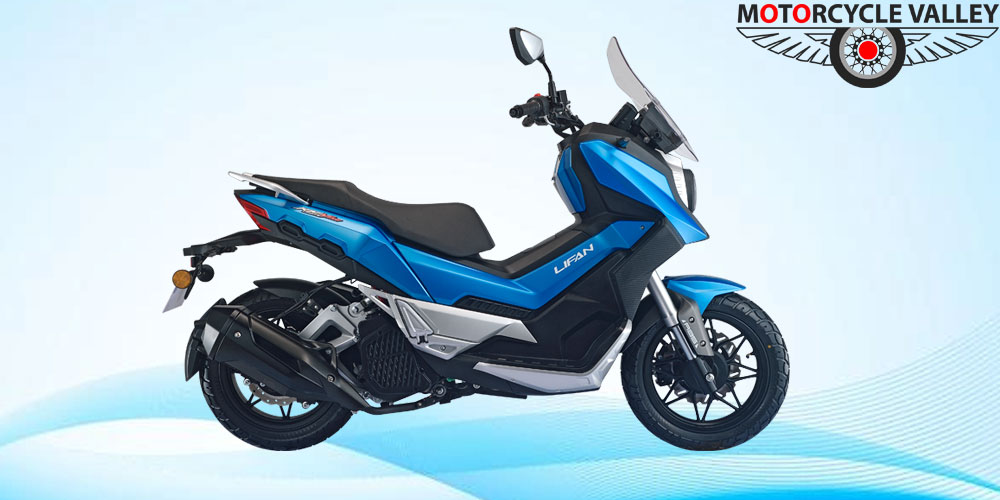 Earlier it was mentioned that KPV150 abs comes in an adventure scooter segment, so it conveys with a large body, which is intended to protect the rider from misfortunes. It is heavy weighted, for that it keeps the scooter grounded at high speeds. Full LED upper and down double beam round shaped headlight seems very innovative and gives the scooter distinctive design. Integral frame, al-alloy cradle and alloy variable diameter handlebars are light weighted and durable. The rear section is built stimulatingly bolder and depicts a motorcycle type look. Grab rails, wider rear tire and split lamps are placed to make it look better from behind. Moreover, the sporty type exhaust pipe and start shaped alloy give this scooter more added charm from the sideways.
Body dimension: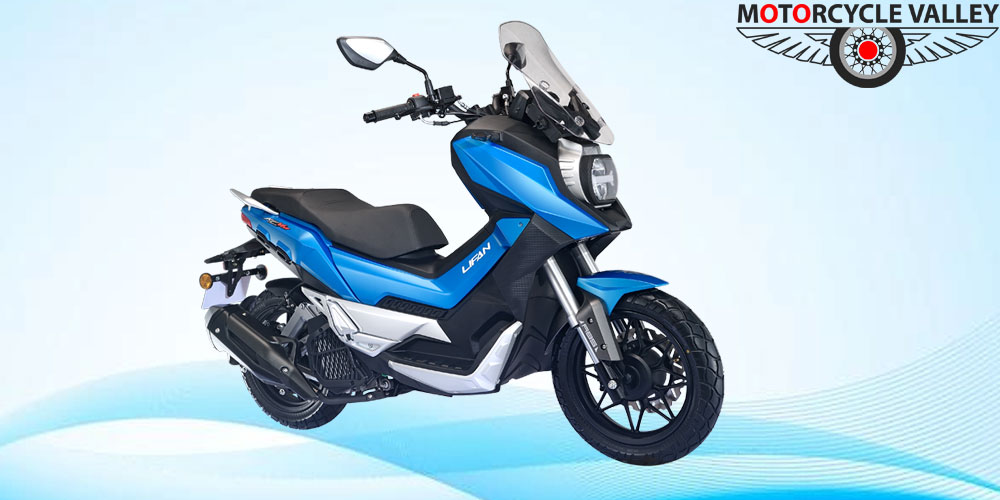 Lifan KPV150 ABS comes with an 11liter fuel capacity, so the long rides don't become a problem for you. It has a thin rider seat, with a short saddle height of 765mm. KPV 150 has a good amount of ground clearance of 180mm from the footrest, which helps it avoid lofty hurdles. The length is 1925mm, width is 760mm, and the height of the KPV150 is 1290mm, respectively. The wheelbase of the scooter is 1320mm, which seems to be suitable for cornering and riding smoothly. This scooter weighs 143 KG overall body weight, which seems to be heavy as a scooter.
Engine and Transmission: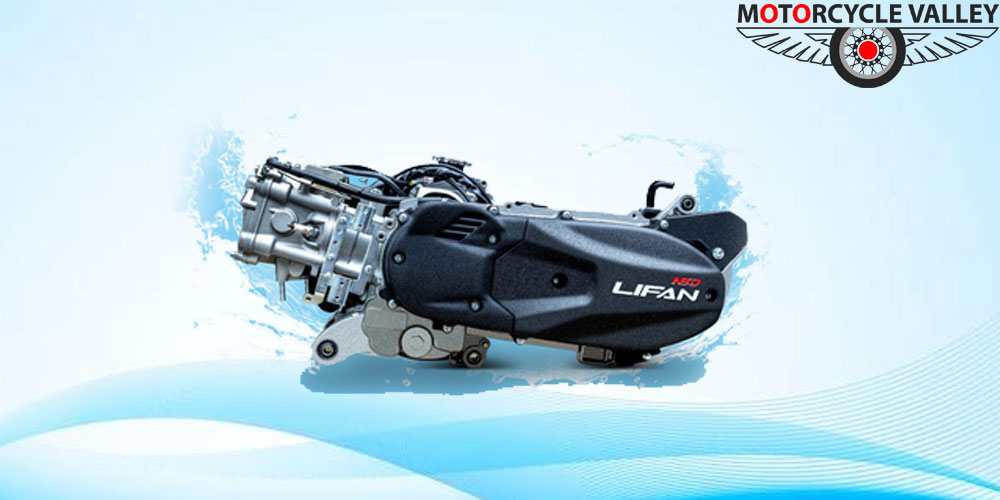 Lifan KPV150 ABS arrives with a single-cylinder, 4-stroke, and 149.3cc engine. The engine is water-cooled. The engine provides 12.1 Ps @ 8500 RPM max power and 11.8 Nm @ 5500 RPM max toque. The scooter is prepared with EFI (Electronic Fuel Injection), and that makes the fuel efficiency better for this scooter. The manufacturing company claims this scooter will provide near around 45 KM/L mileage. To fire up the engine the scooter comes with only an electrical starting option. Apart from the engine feature this scooter has a fully automatic transmission system. There is no gear shifting involved while riding this scooter. According to the company this scooter can easily reach the speed of 100 KM/H.
Brakes, and tires: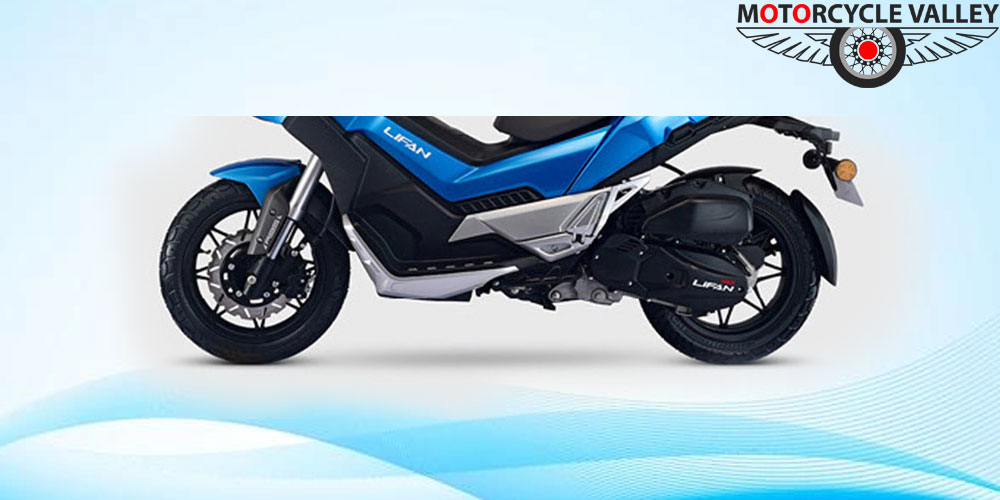 Lifan KPV150 ABS comes with a dual-disc setup as a standard and now it has ABS braking. The front wheel gets a single disc, as well as the ABS channel. At the rear wheel, which is very rear when it comes to scooters this scooter gets a Disc plate and ABS.
If we look over to the tire section of Lifan KPV150 ABS, it has tubeless tires, which are placed over alloy wheels. The front tire is 100/80, and rear tire is 120/70, both are expected to perform decently and well at both dry and wet roads.
Suspensions: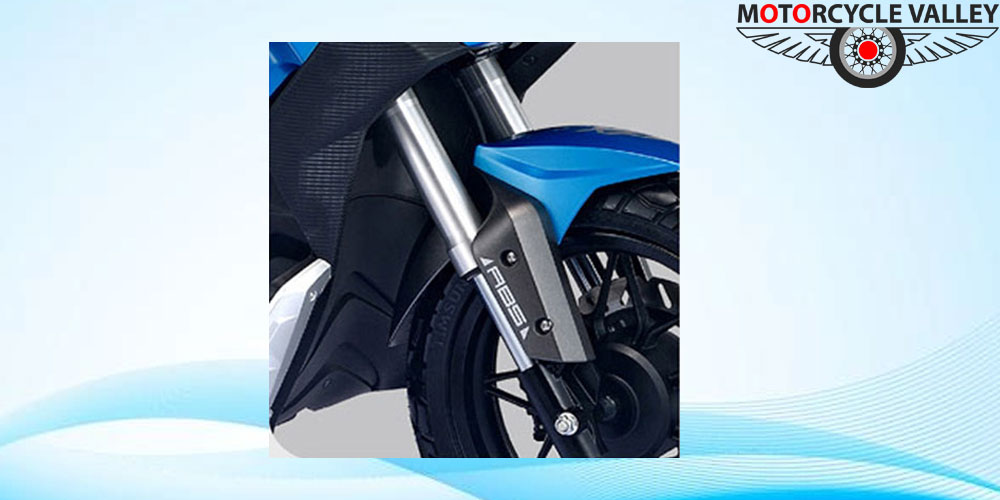 Lifan KPV150 has the combination of regular telescopic forks and a mono-shock at the rear. The front suspension of the bike is expected to perform effectively, as it can be expected to be off-road tuned. On the other hand, the sports class independent rear mono-shock will be prominent during both off road and on road cornering.
Meter cluster: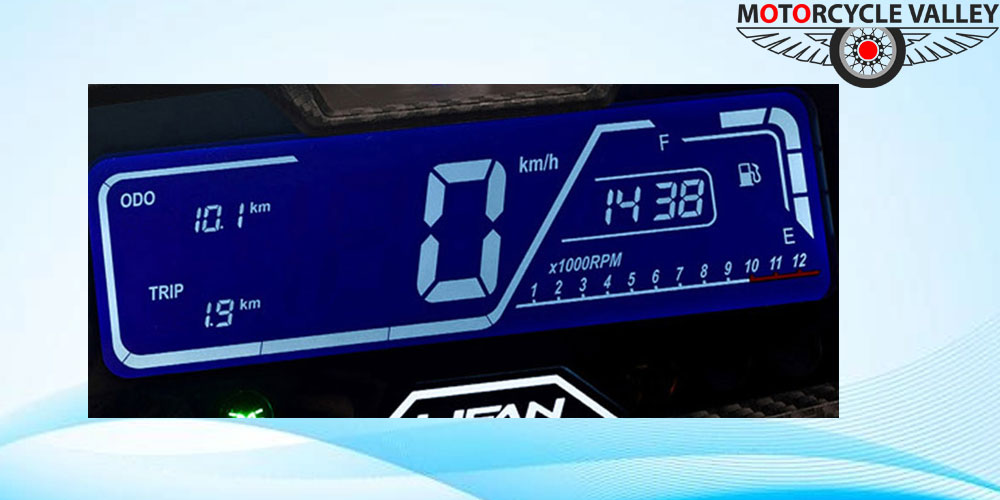 Fully digital instrument cluster is placed for Lifan KPV150 ABS. The instrument cluster seems to be appear in a negative display. The instrument cluster shows the speedometer, odometer, trip meter, fuel gauge, RPM counter, and other necessary indicators. The scooter also gets a USB port and a 12V power outlet. All the electrical lighting appeared in a LED form and the indicator signs will be visible inside the meter cluster.
Verdict: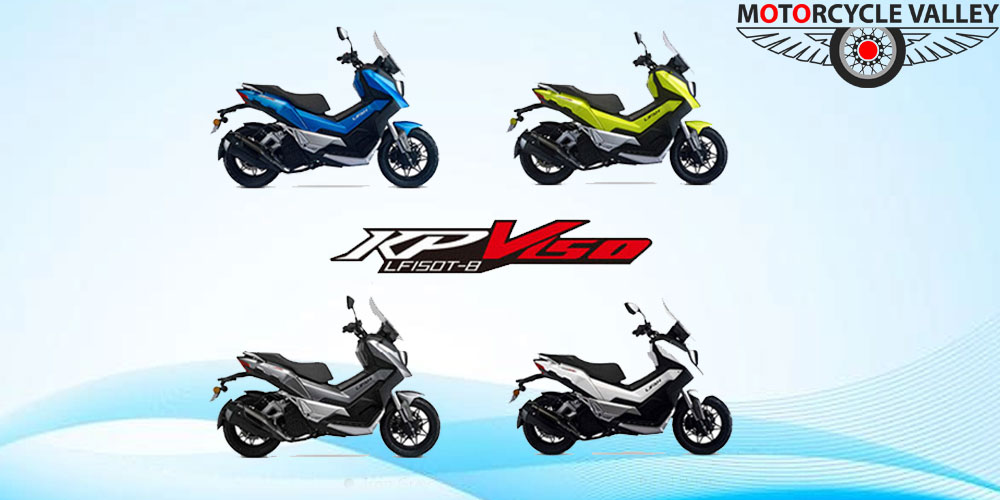 We have reviewed all the necessary attributes comes with the Lifan KPV150 ABS. Most of the features and the design seems to be adequate and similar as the base model. Nevertheless, the performance level will be more enhanced due to the ABS brakes and if we look down to the previous reputation of Lifan, this scooter will perform to win the heart of users.