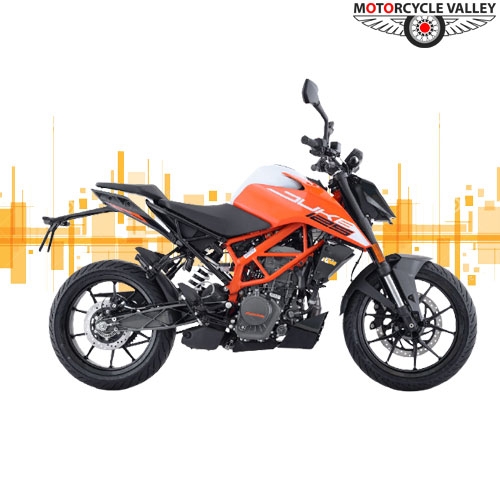 KTM Duke seems to be one of the most powerful and dynamic naked sports type motorcycle coming from a low cc segment like 125cc. This bike has all the significant features that a sports type naked bike can offer, which is why this bike has a good number of users and followers around the globe. Besides, This Austrian manufacturing company installed every necessary features for Duke 125 that can match with their tagline "Ready to race". However comparing this bike we will see this bike is way ahead from other, so the question is why? Simple question simple answer feature and the performance. This bike has all new modern features and their performance are well appreciated.
The KTM 125 DUKE may be the entry-level bike of the range, but it is built with the same attitude as the bigger bikes - and it shows. It's no holds barred with this urban warrior. This 4-stroke single cylinder has fuel-injection and a 6-speed transmission to deliver class-leading performance with low fuel consumption to keep you riding longer. From bellow the lines let us see the features of KTM Duke 125 which makes this bike precious.
Eye catching features of KTM Duke 125: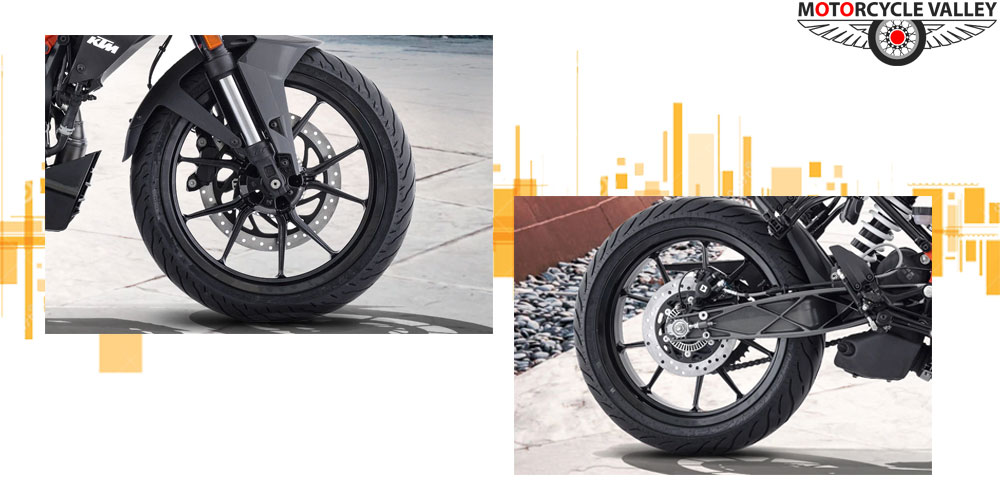 KTM Duke 125Stopping power: (Brakes)
Braking harder makes you faster is what KTM believes, therefore, in corporation with BYBRE, KTM developed high quality braking for this piece of pocket rocket. ABS mates with finest quality Disc plates for KTM Duke. With 300 mm disc on the front, paired with a 230 mm disc on the rear KTM Duke offers pro level braking for the riders allowing them to have full control over the bike.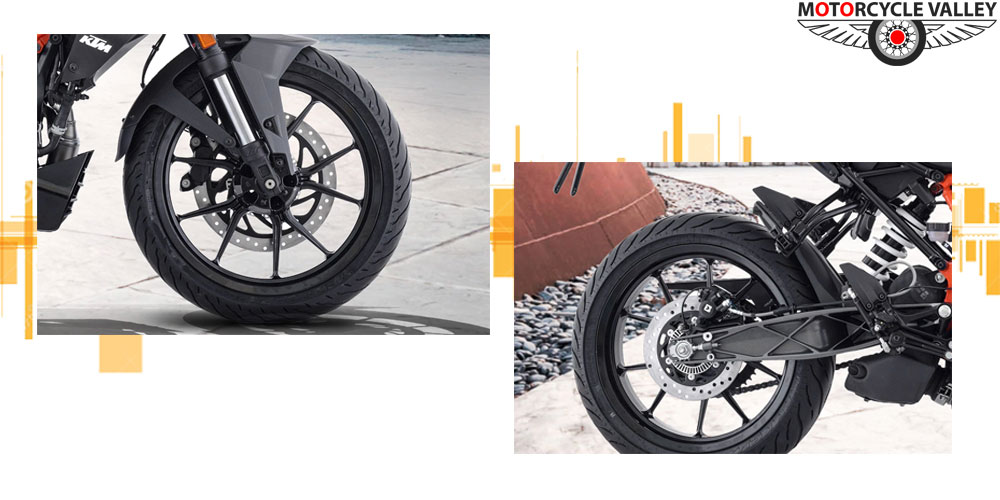 Race-spec wheels & sporty tires:
As light as they are stable, the eye catching 17 inch orange colored alloys are one of the main attraction of this bike. Besides, with 110 mm wide tyres at the front and an impressive 150 mm at the rear this bike has good stability. In addition, wrapped with premium rubber, these tyres will keep you bonded to the road in any conditions like dry, or wet.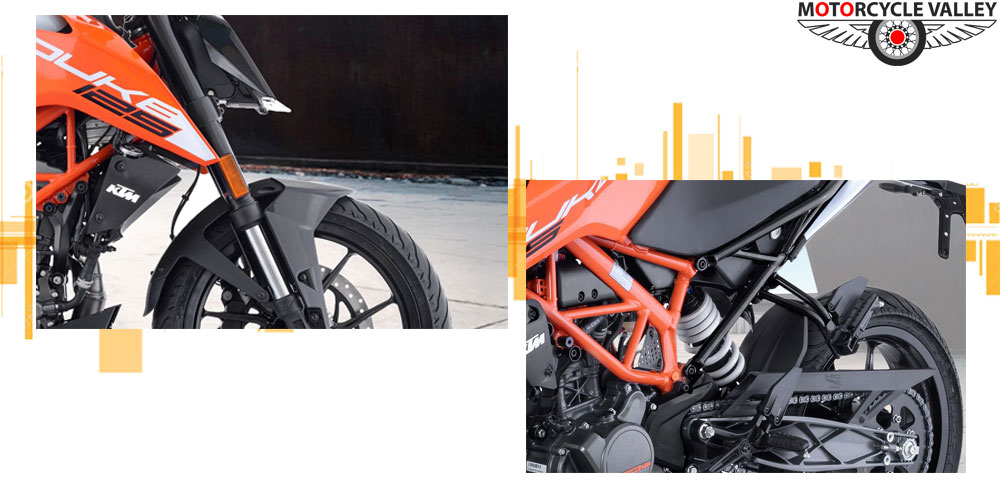 Suspension performance:
KTM Duke 125 come as standard with lightweight, high performance sporty type WP Apex-43 telescopic upside down forks at the front. These forks not provides highest level of stability and precision beyond the expectations, but also they are nice and easy to maintain. On the other hand, thanks to its progressive 162mm rear spring the same performance will be the same like front suspensions. WP APEX – Mono-shock suspensions will take care of perfect cornering and comfort.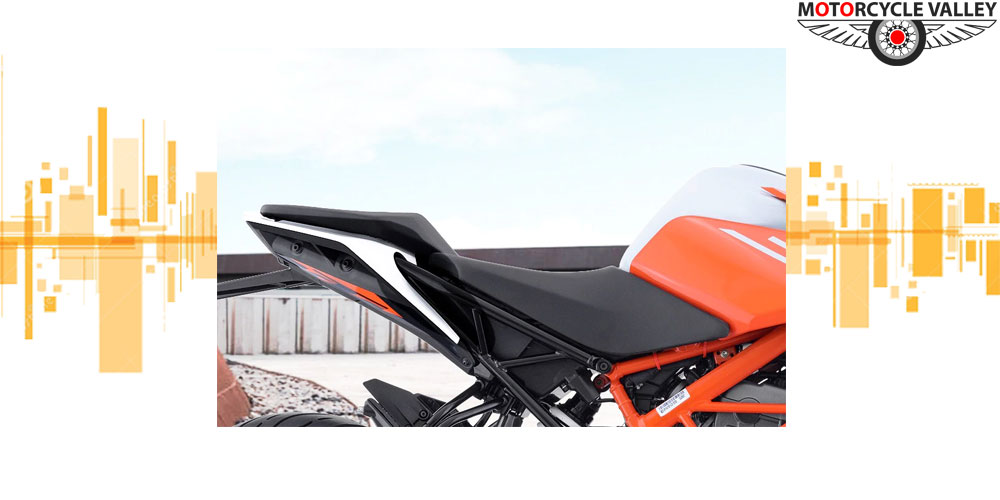 Seating position:
The two step split seats of DUKE 125 offers first class, super sport agronomics and perfect supports for bother the rider and pillion. The 818 mm seat height for the riders makes sure that you have a sporty riding posture, the pillion seat is set a little bit higher than the riding seat, but the thin tail design matched with a perfect number plate holder provides comfortable cushioning and integrated grab rails. And they can take care of the passengers comfort indeed.
Advanced LCD Dashboard:
Advanced and fully LCD display panel is completely exceptional of Duke 125. It has gear indicator, low fuel indicator, service reminder monitor, the RPM alert, speedometer and a beautiful digital clock to ease the riders riding. Most interesting part of this bikes cockpit is, its design with a rectangular shape that is not familiar on other same segmented bikes.
All these are the eye catching features that KTM DUKE 125 offers for the users. Now, if we look into the other specifications then we will see,
Specification of KTM 125: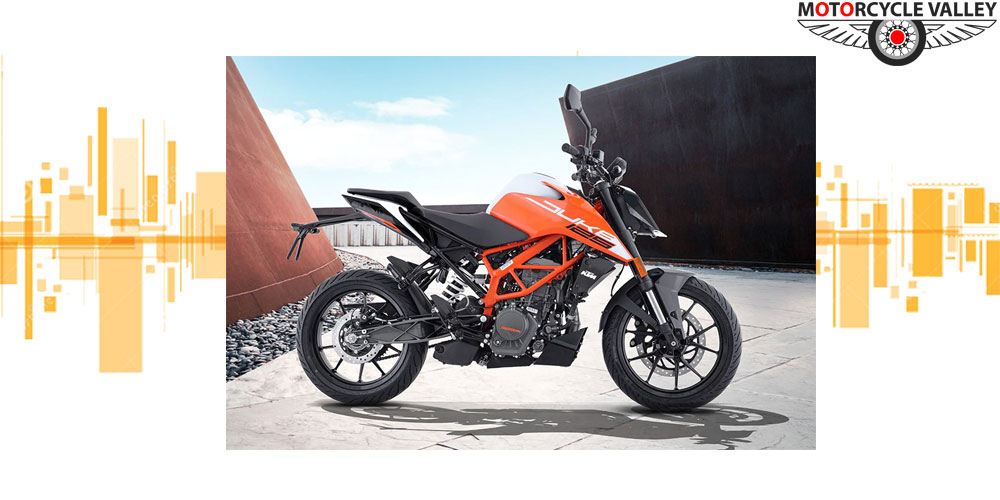 Design & looks:
Design of KTM Duke 125 is very attractive as a naked sports. At first, you have to notice the aggressive and uncommon shaped Headlamps, then the predatory stance. The front portion of this bike seems very stylish, because of the strong built fuel tanker, the whole tank is steel made, which has multiple high quality cast parts. Moreover, the orange shades, the compact under body sporty silencer and orange color alloy wheel with balanced wide tyres makes this bike perfect on its look. From the back the thin but sharp tail with a number plate holder LED tail lights completes this bikes beautiful design.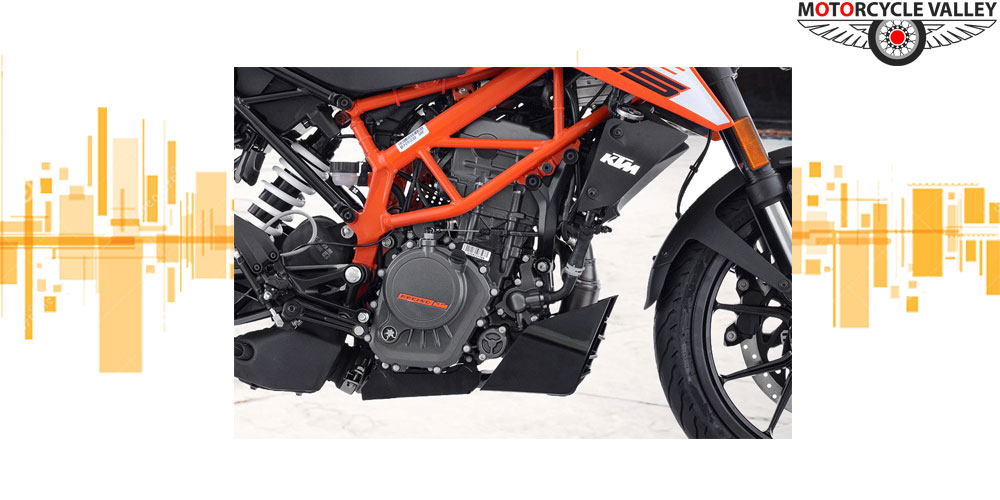 Engine and transmission:
KTM Duke 125 is powered with powerful engine comparatively to the segmented bikes. This bike is powered by 125 Single Cylinder, 4-valve, Liquid-cooled, FI, DOHC engine, which generates Maximum power 15 HP @ 10,000 rpm and its maximum torque is 12 Nm @7,500 rpm. KTM 125 Duke can run on a good speed with the twist of the wrist and it burns fuel 41 KM per Liter (approx.). On the other hand, the bike has a six-speed gearbox, which helps this bike run smoothly on high speed. To start up the engine this Duke has electric starting options only.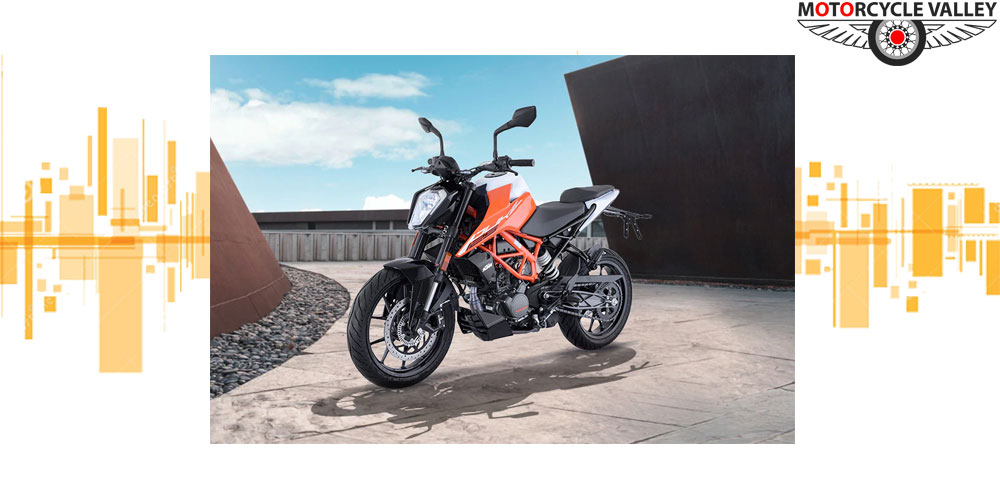 Dimensions:
Without better measurements no bike can become a well-controlled bike. Nevertheless, the bike KTM DUKR 125 has a good dimension overall. The overall body dimension of Duke 125 is 1083 mm height, 1993 mm length, and 789 mm overall width. The seat height of the bike is 830 mm, which is standard. The wheelbase is greater than most of the sports bikes comparatively, almost 1357 mm. Ground clearance seems perfect as well, which is 175 mm. However, the weight of the bike is 139 kg and its fuel tank can contain 13.4 liters of fuel which design is fully aggressive. Combining them all this bike is a classy piece from KTM.
Verdict:
KTM DUKE 125 seems to be a wonderful naked sports bike according to its features and no doubt the manufacturing quality is up to the mark. As it is mentioned, with the twist of the wrist this pocket rocket can be launched, but now the rest is up to the performance grounded on Bangladeshi users. A few days back this model is being introduced officially by Runner in Bangladesh. There are some available color of this bike.